Jimmy Carter's Library Reacted To Trump's First 100 Days In Office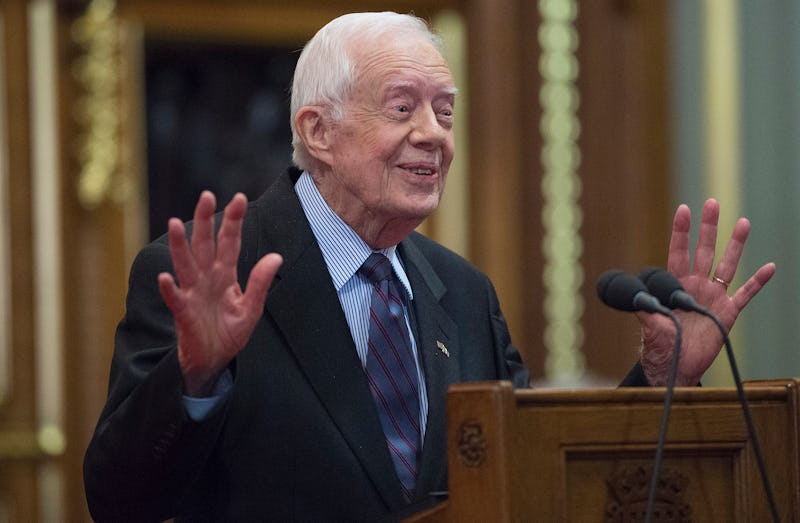 WPA Pool/Getty Images News/Getty Images
President Donald Trump's first 100 days don't look like they're going to receive stellar reviews from fellow politicians or the American public. Perhaps for this reason, Trump tweeted that the 100 day measure is "ridiculous," adding that no matter how much he accomplishes, the "media will kill" it. Well, it's not just the media who is on the offensive. Even presidential libraries have picked up on his weak spot. On Monday, the Jimmy Carter Presidential Library seemed to have trolled Trump on Twitter about his first 100 days, and it's the perfect comparison.
Now Carter is often remembered as an ineffective, unpopular president. He lost his reelection bid to every Republican's favorite, Ronald Reagan. And some comparisons have already been made between Trump and the Georgia Democrat.
For one, the poor guy had to sell his peanut farm, but Trump gets to keep the entire Trump Organization. Another comparison implies that Carter marked the end of a political era, similarly to Trump. But no matter how you look at it, he started off better.
That's something the Jimmy Carter Presidential Library, based in Atlanta, hammered home in their perfectly trolling tweet. Even though he's known for getting off on a rough footing with Congress, it seems like he accomplished a lot in his first 100 days.
Now that's only an obvious troll if you know how bad Trump is faring at the same point. He will mark 100 days this Saturday with a rally in Pennsylvania — a "BIG" rally, as he wrote on Twitter. And it's possible that the event is a distraction from the true report card. As of last weekend his approval rating was just 40 percent according to an NBC/Wall Street Journal poll. That's a full 23 percentage points lower than Carter's at the same time.
And then there's the question as to what Trump has achieved. If you remember, he released a 100-day action plan during the campaign. NPR took a look at how many of the goals have been met. Among the unmet goals they noted that Trump hasn't done much about term limits or anything with NAFTA; he froze federal hiring only to unfreeze it again, and decided that in the end China is not a currency manipulator (perhaps to ensure its cooperation with America's position on North Korea).
His biggest failure, though, is probably the GOP attempt to repeal and replace Obamacare. It lacked support from within the party and never even came to a vote, despite Trump's push to force one. But the president can't seem to let that one go, either. On Monday he tweeted, "If our healthcare plan is approved, you will see real healthcare and premiums will start tumbling down. ObamaCare is in a death spiral!"
All in all, Trump's claim that "No administration has accomplished more in the first 90 days," which Politifact rated as false, remains untrue nearly 100 days in. And getting back to President Carter, note that while he was doing better at this point, he wasn't reelected. So as 100 days turn into 200 and more (assuming Trump's not impeached), keep that in mind.