J.J. Abrams Praises The Upcoming Han Solo Film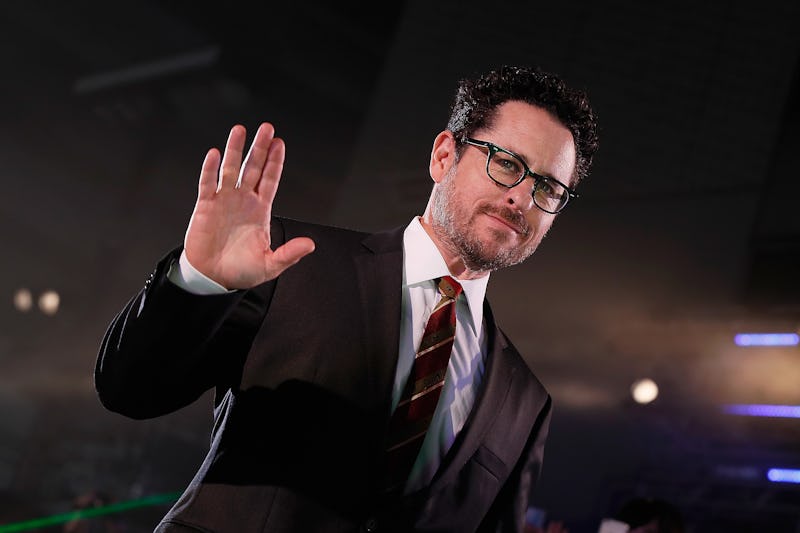 Ken Ishii/Getty Images Entertainment/Getty Images
If the whole director, producer, screenwriter, and composer thing doesn't pan out for J.J. Abrams, the guy should seriously consider getting into the hype man business. While talking to Fox on Friday, Feb. 24, about the Abrams talked about the Han Solo film in a way that only increased the hype for Star Wars fans. You know, as if it wasn't hard enough already to wait around for the May 25, 2018 premiere date of the film currently called Star Wars: Red Cup.
Abrams couldn't divulge much about the movie, which began shooting in London on Feb. 20, but he could hype the heck out of it. "I can tell you it is an amazing script and the cast is obviously extraordinary," he said. And Abrams has a lot of experience with scripts; he wrote Armageddon, Super 8, and The Force Awakens, which makes him kind of an expert on the subject. On top of that, Disney's description of the film in a press release definitely sounds interesting. Sign me up for "the duo's [Han and Chewy] adventures before the events of Star Wars: A New Hope, including their early encounters with that other card-playing rogue from a galaxy far, far away, Lando Calrissian." I'm so ready.
Meanwhile, he's right about the cast too. I can't be the only one whose heart skipped a beat when Disney released a picture of the cast chilling in the Millennium Falcon cockpit. The smiling (and some non-smiling) faces of Alden Ehrenreich as Han Solo, Donald Glover as Lando Calrissian, Joonas Suotamo as Chewbacca, as well as Woody Harrelson and Emilia Clarke really did a number on my heart strings. This cast is stacked.
Abrams also shared some sentimental feelings about his work in the Star Wars franchise:
I think it is a thrill to be a part of something that meant so much to me as a kid and to be part of allowing it to mean so much for kids now. It is fun to see it live on in various forms and ways even five years ago I would have never imagined it would have continued and knowing what is coming up is even more exciting.
Well, gosh, now I'm tearing up.
Of course, he could just be blinded by his love for one of the coolest franchises that this galaxy (and probably all the other ones too) has ever seen. Hype is tricky business. But let's be real. The Han Solo standalone is going to be interesting and iconic, no matter what happens.