J.Lo's 'SNL' Monologue Included An Appearance From *That* Versace Dress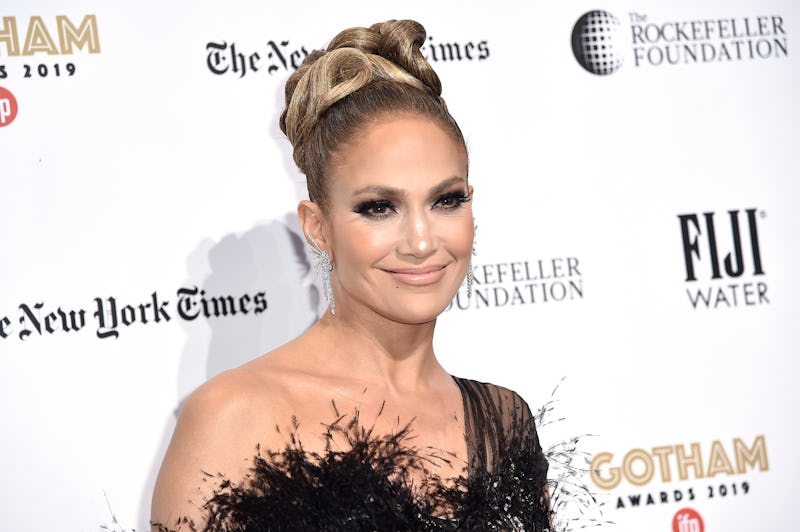 Steven Ferdman/FilmMagic/Getty Images
In addition to her latest gig hosting for SNL, Jennifer Lopez has had a landmark year. She starred in Hustlers, got engaged, turned 50, and walked the runway in that iconic green Versace dress — 20 years after she'd worn it the first time. It was apt, then, that her SNL monologue during the Dec. 7 episode ended with her wearing the dress yet again.
J.Lo first wore the green Versace dress to the 2000 Grammys, turning the plunging, jungle-print number into a fashion statement still talked about decades later. In fact, it was so eye-catching that it led to the invention of Google Images. "At the time, [Lopez's dress] was the most popular search query we had ever seen, but we had no surefire way of getting users exactly what they wanted," former Google CEO Eric Schmidt wrote in a 2015 blog post, per Women's Wear Daily. "J­.Lo wearing that dress, Google Image Search was born."
Yes, it was that good of an outfit, and much like Tiffany Haddish's Alexander McQueen dress, Lopez is still milking that Versace gown for all its worth (somewhere between $100,000 to $200,000, according to Billboard).
But as the SNL Twitter account pointed out, this is actually the second time J.Lo has worn it on the show. While hosting in February 2001, she performed her SNL monologue wearing a light blue bathrobe. At the end of her speech, Lopez removed it, revealing the slinky green dress underneath. The crowd, of course, went nuts, since it had only been a year since she'd worn it at the Grammys.
J.Lo fans were equally ecstatic that she brought out the outfit again 19 years later (which she did dramatically surrounded by the Rockettes, because why not?), and it felt like the icing on top of such a momentous year for her. The Versace is just her version of a victory lap.