Joan Crawford Was Replaced In 'Hush... Hush, Sweet Charlotte'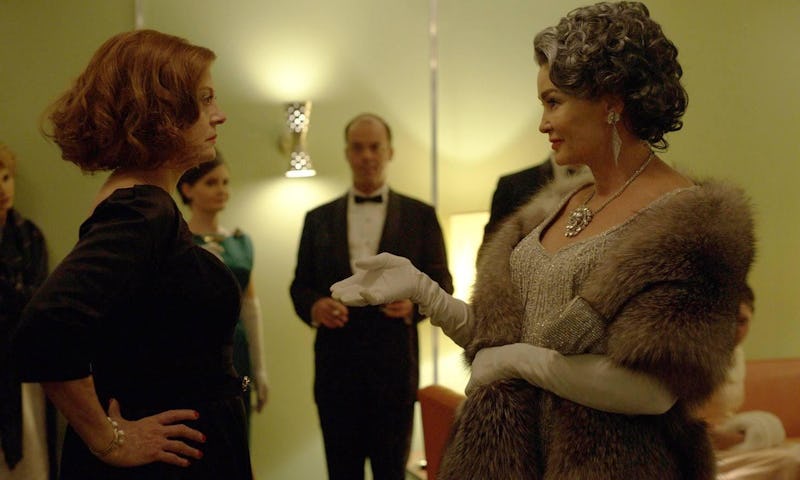 Suzanne Tenner/FX
If you have been watching Ryan Murphy's latest anthology series, Feud, then you know that the relationship between Hollywood legends, Joan Crawford and Bette Davis was strained to say the very least. Luckily the world was able to see them unite for one film in 1962, Whatever Happened To Baby Jane?, which earned Davis an Oscar nod for Best Actress. With all the success from their coupling, it looked like the two most powerful women in Hollywood would be teaming up once again when it was announced that they had both been cast for the movie Hush... Hush, Sweet Charlotte in 1964. Unfortunately, Crawford ended up being replaced in Hush... Hush, Sweet Charlotte and her feud with Davis was likely the direct reason for her early departure.
Of course, after the shocking success of Whatever Happened To Baby Jane?, teaming Crawford and Davis up for another film seemed like a brilliant idea. In fact, according to TCM, the original title for Hush, Hush Sweet Charlotte was Whatever Happened To Cousin Charlotte? Davis was the one who commented that the original title made it seem like a sequel to Whatever Happened To Baby Jane? and with the two of them starring in it, it would only perpetuate that idea. TCM reported that there is a lullaby in the film that starts with the words "Hush... hush, sweet Charlotte" and when Davis heard the line, she suggested it for the new title. Are you seeing a pattern here? Like the boss that she was, Davis was taking control of the movie right from the jump.
Beyond having her hand in the renaming of the film, Davis was making significantly more than Crawford. According to TCM, Crawford agreed to film with Davis on the condition that she receive top billing in the film. Davis went along with that but insisted that she be paid more than Crawford and in the end, she ended up making as much as Robert Aldrich, who was the director and producer of the film. That couldn't have sat well with Crawford.
Crawford ended up dropping out of the film less than a week after filming began. She claimed illness was the reason but the consensus remains that Davis and their sour relationship was the actual reason. Davis' pal, actress Olivia de Havilland stepped in to replace Crawford on a suggestion by Davis. The atmosphere on set seemed to be very cheeky once Crawford made her exit, with media historian Hal Erickson claiming, according to TCM, that Davis and de Havilland "Pulled a "Ding Dong the Witch is Dead" routine by toasting one another with Coca-Cola - a catty observation of the fact that Joan Crawford's husband was an executive of the Pepsi-Cola company!"
Crawford and Davis may not have been willing to team up for another film after Whatever Happened To Baby Jane?, but let's all consider ourselves lucky that we at least got that much from them together. It was nice while it lasted, at least from the viewer's side.