What To Know About Where Potential SCOTUS Nominee Joan Larsen Stands On Abortion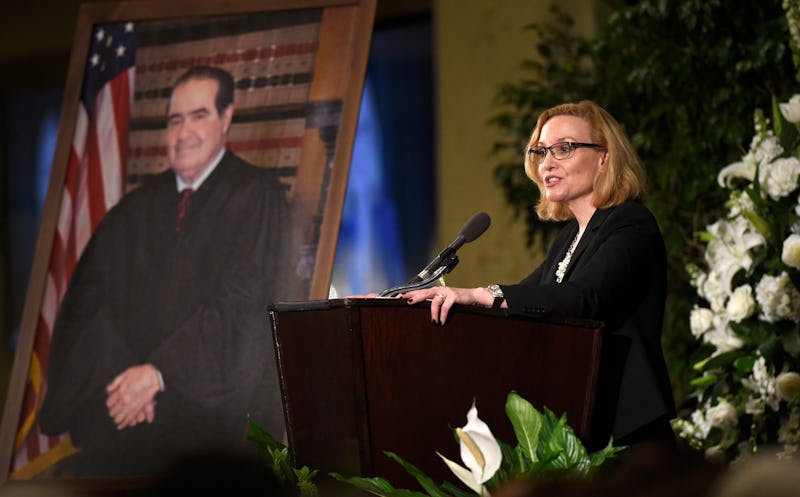 Pool/Getty Images News/Getty Images
As President Trump prepares to make his second Supreme Court appointment, the policy views of his potential choices are being intensely scrutinized — especially with regard to reproductive rights. One person rumored to be on his shortlist is circuit judge Joan Larsen, and although her stance on abortion is murky, the pro-life groups that have endorsed her in the past don't seem to mind.
Fox News reported Monday that Larsen, a former Michigan Supreme Court justice who currently sits on the United States Court of Appeals for the Sixth Circuit, is one of Trump's finalists to replace Justice Anthony Kennedy, who will be retiring at the end of the month. Because Kennedy has voted several times to uphold Roe v. Wade and its abortion protections, the prospect of him being replaced by an anti-abortion judge has pro-choice activists spooked. As such, Larsen's position on abortion has come under a spotlight.
Larsen has a conservative record, both as a judge and a political contributor. She clerked for the late Justice Antonin Scalia, a staunch conservative, and according to SCOTUS Blog, has moderated panels hosted by the Federalist Society, a conservative legal group. She also donated $1,000 to Mitt Romney's political campaign and an associated PAC during the 2012 election, according to Ballotpedia.
However, Larsen's views on abortion and the constitutionality of Roe v. Wade aren't known, as she hasn't spoken publicly or issued any rulings on the policy.
Nevertheless, pro-life groups appear to like her. When President Trump appointed her to serve on the Sixth Circuit Court of Appeals, the anti-abortion activist group Susan B. Anthony List put out a press release strongly supporting her selection.
"President Trump made an outstanding choice when he nominated Judge Joan Larsen, a former clerk for Justice Antonin Scalia," the group wrote. "We thank President Trump for keeping his promise to nominate judges who will respect the Constitution and not impose a pro-abortion agenda from the bench." It's unclear how Susan B. Anthony list concluded that Larsen wouldn't "impose a pro-abortion agenda," and the press release doesn't explicitly claim that Larsen opposes abortion.
This wasn't the only time an anti-abortion group threw its support behind Larsen. When running for the Michigan Supreme Court in 2016, Larsen was endorsed by Right To Life of Michigan, which opposes abortion. It's also worth noting that she was initially appointed to that seat by Michigan Gov. Rick Snyder, who's also anti-abortion. When Larsen was floated as a potential replacement for Scalia in 2016, a writer at the Detroit News asserted that she's "pro-life," although it's again unclear what evidence there is to support this claim.
Not all conservatives are convinced of Larsen's anti-abortion bona fides, however. Andy Schlafly, the son of longtime conservative activist Phyllis Schlafly, argued in 2016 that Larsen is "NOT pro-life," and claimed that she "repeatedly mentioned Roe v. Wade without criticizing it." The conservative National Review rejected this claim, however, and was unable to find any evidence of Larsen discussing Roe v. Wade while failing to condemn it.
Regardless of who Trump picks as the next Supreme Court justice, there's a real possibility that the court might overturn Roe v. Wade once Kennedy's replacement is seated. Although such a ruling wouldn't render abortion illegal at the federal level, it would give states the right to completely ban the procedure if they so desired.
Striking down Roe v. Wade would also give Congress the option of banning abortion at the federal level. However, it's unlikely that an abortion ban would pass the U.S. Senate; such a bill would almost certainly be subject to a Democratic filibuster, and Republicans only hold 51 Senate seats. Moreover, there are two sitting Republican senators — Susan Collins and Lisa Murkowski — who have been moderately supportive of abortion access in the past, and they would likely oppose an outright federal ban.