'The Bold Type's Boss Has Some Famous Inspiration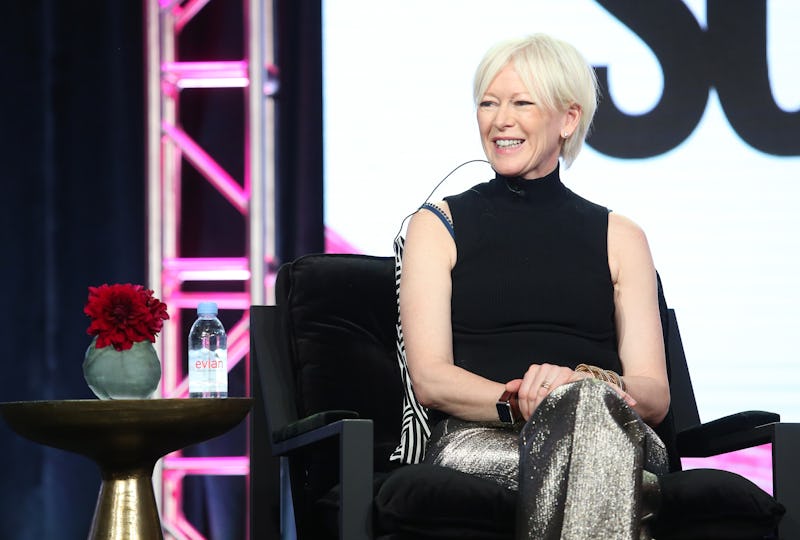 Frederick M. Brown/Getty Images Entertainment/Getty Images
Every workplace TV show has to have a great boss character. From Lou Grant to Jack Donaghy, the people who contradict and challenge the protagonists drive the story forward. The young writers and social media gurus on the new Freeform series The Bold Type are overseen by the editor-in-chief of Scarlet, Jacqueline Carlyle. Comparing Jacqueline Carlyle and Joanna Coles, the Bold Type executive producer and former Cosmo editor-in-chief, shows how the real-life woman provided plenty of her own experiences as fodder for the character. A lot of Coles clearly went into developing Carlyle... with a small dose of other famous bosses, like Meryl Streep's iconic Miranda Priestly in The Devil Wears Prada and longtime Vogue editor Anna Wintour's well-known public persona.
The Bold Type isn't the first television show to be inspired by Coles' life experiences, as So Cosmo, a reality project about her editorial experience at Hearst Media, aired on E! in early 2017. But until So Cosmo potentially returns for a second season, the closest thing to watching Coles be her boss lady self is seeing Jacqueline Carlyle in the Freeform show. And while the two women aren't exactly the same, there are some key comparisons to keep an eye on.
They Look Pretty Similar
Bold Type actor Melora Hardin's hair isn't quite as platinum as Coles', but clearly, the short blonde cut and penchant for simple but chic clothes was inspired by Coles' signature look.
But They Sound Completely Different
If the editor you're hearing has a British accent, than you're listening to the real Coles — her TV doppleganger is American. This is probably the easiest to discern difference between the two.
Coles Is A Lot Busier (For Now)
In addition to her current position as a Chief Content Officer at Hearst, Coles also sits on the boards of Snapchat and Women Entepreneurs New York City, and produces two TV shows. The Bold Type is still in its first season, so it's probably wise that on the show, Jacqueline is still just running Scarlet.
They Have Similar Views Of Young People
While Jacqueline is tough on her employees, she's not needlessly antagonistic because their point of view might differ from hers. As showrunner Sarah Watson said to The New York Times, "I've had incredible female bosses, and I wanted to show someone one wants to bring up the next generation of strong women writers." Similarly, So Cosmo showed that Coles is like a mentor towards the young people rising up the ranks at Cosmo.
Jacqueline Is A Little Earlier In Her Career
It's also worth noting that Coles hasn't been the editor-in-chief of Cosmopolitan since 2016. So this character is a bit behind the real Coles, and maybe The Bold Type will show that she still has plenty of dreams and goals ahead, just like the young women she's overseeing.
There's Still A Lot To Learn About Jacqueline
In real life, according to a 2016 New York Times profile, Coles is married, and has two children. "I always wanted children so, for me, the sadness would have been not having them, not the challenge of having them, so I'm not someone who's particularly interested in balance," Coles said to The Belfast Telegraph about her family life. From just a few episodes of The Bold Type, it's impossible to tell yet if Jacqueline feels the same way.
But keeping the Scarlet boss' private life under the radar at first allows the writers to take Jacqueline Carlyle in a different direction than Joanna Coles. Still, so far, it seems like the fictional magazine guru is deeply inspired by the real woman.