The First Photo Of Joaquin Phoenix As The Joker Might Not Be What Fans Expect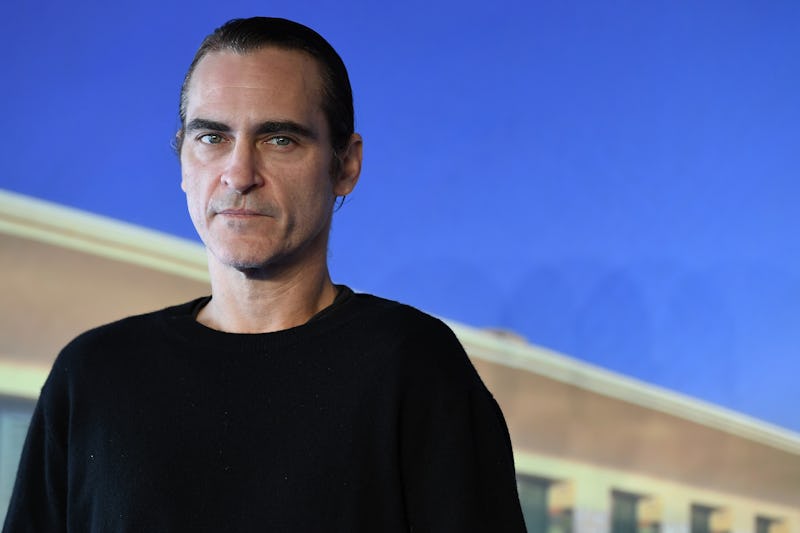 Pascal Le Segretain/Getty Images Entertainment/Getty Images
An iconic character like the Joker has been done many times, each one a little bit different than the last. There are almost-endless iterations of the comic book Joker, and then there are countless cartoon and video game versions. On top of that, there have been a handful of memorable interpretations on the big screen. Everyone has their favorite, but fans of superhero movies might need to get ready to add another new fave to the list. That's because the first picture of Joaquin Phoenix as the Joker was released and it's very different than what fans are used to.
On Sept. 16, director Todd Phillips posted a headshot of Joaquin Phoenix and simply captioned it "Arthur." It presents Phoenix with long hair, wearing a basic collared shirt and jacket. If followers didn't know Phillips' current project, they'd probably assume "Arthur," was an everyday man with nothing sinister about him. If nothing else, they'd think they were looking at an average man with an unfortunate haircut. But appearances can be deceiving, and this is the new face of the Clown Prince of Crime.
Warner Bros. and DC have made a push for more movies in the past five years to make up their DCEU (DC Extended Universe), starting with Man of Steel, starring Henry Cavill as Superman. Since then they've released a handful of blockbusters, including Wonder Woman and Justice League. But the studio has also made moves to start producing spinoffs of the established cinematic universe, according to Deadline, and that's is starting with this new Joker movie starring Joaquin Phoenix. "This will be the first film under a new banner that has yet to be named in which WB can expand the canon of DC properties and create unique storylines with different actors playing the iconic characters," Deadline reported when the film was first revealed in August of last year.
This would explain why Phoenix is playing the titular character in this film, and not Jared Leto, who starred as the Joker in Suicide Squad. Leto is expected to reprise his role in the sequel to Suicide Squad, the Harley Quinn solo movie, and his own Joker solo film. But it's safe to say that his take on the character will be vastly different from Phoenix's. This version, as directed by Phillips (War Dogs, The Hangover trilogy) and co-written by Phillips and Scott Silver (The Fighter), is an origin story of the Joker. So, presumably, this first look shows Phoenix's character way before he started wearing frightening makeup and an even more frightening smile.
While there have been many different Jokers and origin stories established over the years, it seems that this version of Joker will be Arthur Fleck. The film will be set in the 1980s and will show Arthur as a "failed stand-up comic who turns to a life of crime and chaos after bombing with audiences," according to Digital Spy. Now, this doesn't seem to account for his psychotic manner that is a staple for any version of the Joker. So there may also be room for a vat of toxic waste, which is what traditionally turns a regular guy with criminal tendencies into the smiling, green-haired Harlequin of Hate (an origin that was hinted at in Suicide Squad).
The release date is currently set for October 2019, and there's no trailer in sight. But judging by the gritty realism in the new photo and the people involved, it looks like fans might be getting a more grounded depiction of the Joker than ever before. It might be a familiar name, but Phoenix's Joker will definitely be an unfamiliar face in the onscreen world of DC.