The Joker & Harley Quinn Movie Needs To Explore How Toxic Their Relationship Is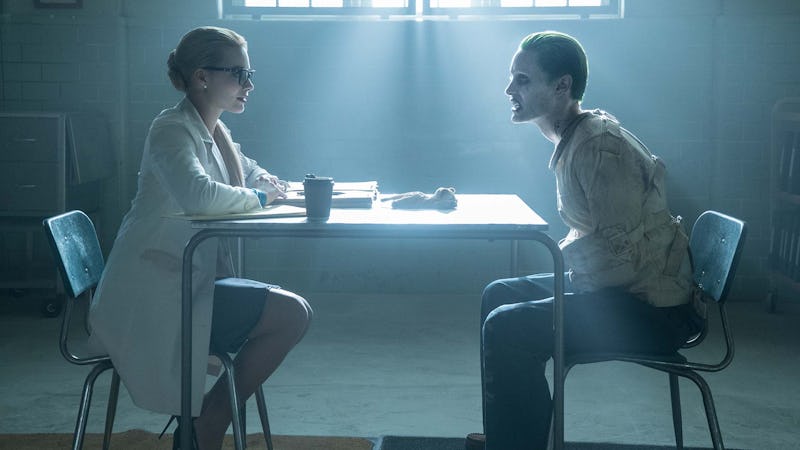 Warner Bros. Pictures
Hot on the heels of the announcement of a standalone Joker origin movie, Warner Bros. has now revealed their plans for a movie about the Joker and Harley Quinn, according to The Hollywood Reporter. The news is interesting, because it indicates the studio is doubling down on the same approach that Disney is using for its Star Wars movies, in which "episodes" of its main franchise are interspersed with disconnected spinoffs and origin stories. But the news is also concerning, because Suicide Squad's portrayal of Harley and Joker's relationship was problematic.
Ever since it was announced that the character would be making her live-action, big screen debut in Suicide Squad, Harley Quinn fans were concerned about how the film would handle the complicated villain and her abusive relationship with the Joker. The concerns weren't unfounded, it turns out, since the finished product glossed over the more worrying aspects of their twisted romance in favor of a glamorized and overly sexualized version that undermined everything Harley Quinn stands for as a character.
"To associate the word 'love' with the dynamic between Harley and Joker is to legitimize a toxic, abusive relationship founded on manipulation, shock therapy, and brain-altering chemicals," Bustle's own Samantha Rullo wrote at the time. And, unlike the previously announced Joker origin film, which will supposedly feature a younger take on the character and starring someone other than Jared Leto, THR reveals that this Harley & Joker movie would star both Leto and Margot Robbie, reprising their Suicide Squad roles… and thus using that disappointing film as a jumping-off point.
However, there is some reason for optimism here. While Suicide Squad was written and directed by Training Day's David Ayer (and edited by a company that cuts movie trailers), THR reports that the Harley & Joker film will be written and directed by Glenn Ficarra and John Requa, the filmmaking duo that directed 2011's Crazy Stupid Love — aka the movie that introduced the world to the onscreen pairing of Emma Stone and Ryan Gosling. That movie was written by Dan Fogelman, who would go on to create NBC's new hit drama This Is Us.
Crazy Stupid Love and This Is Us are maybe not the first things you would think of in juxtaposition with a blockbuster superhero movie — but that's a good thing. Ficarra's and Requa's previous works have been entirely relationship-focused, which indicates that Warner Bros. is perhaps more interested in exploring that aspect of Harley and Joker's story rather than the superpowered fisticuffs viewers have come to expect from their comic book adaptations.
While they're both ultimately light-hearted and offer their viewers catharsis through laughter, neither Crazy Stupid Love nor This Is Us shy away from examining the more painful aspects of what it means to be in a relationship, including betrayal, psychological trauma, and even death. Ficarra and Requa have proven that they're interested in honest portrayals of complex relationships — not some sanitized, glamorized version of "love" that masks hard truths under "Damaged" tattoos and Hot Topic outfits.
Fans will still likely — and wisely — approach this Harley & Joker movie with caution. But the indications that Warner Bros. is loosening its strict adherence to the plagued DCEU and allowing for more auteur-driven visions is a good sign; and the recruiting of the This Is Us team to tackle Harley Quinn's difficult story is an even better one. Hopefully, Ficarra and Requa can succeed as monumentally as Suicide Squad failed.