There's No Way These Lyrics From 'Reputation' Aren't About Taylor Swift's Boyfriend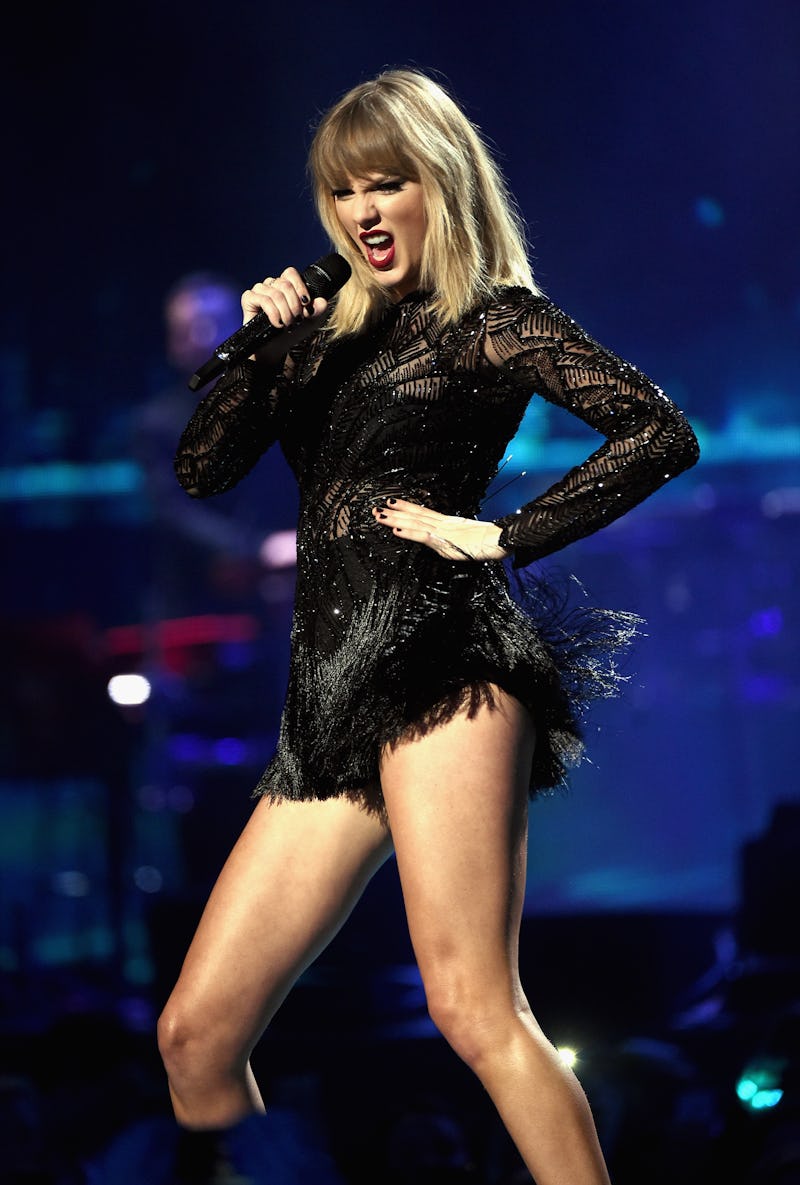 Kevin Winter/Getty Images Entertainment/Getty Images
If there's one thing Taylor Swift fans love to do, it's analyze her songs and music videos for references. Especially when it comes to lyrics that could be about Swift's boyfriend Joe Alwyn. It does seem as though Swift and Alwyn are attempting to keep their relationship out of the media spotlight. They haven't really been spotted together in public, and Swift hasn't yet spoken about or shared any photos of Alwyn to social media. However, she certainly hasn't shied away from dropping hints about the actor in numerous songs on her new album, Reputation. It isn't just the lyrics, though, as Swifties on Twitter have identified what seem to be references to Alwyn in Swift's new music videos, too.
According to The Sun, Swift and Alwyn shared that they were an item with family and friends earlier in the year, but have intentionally kept details of their romance private. The outlet reported back in May that Swift and Alwyn had been together for "several months." Sources spoke to Us Weekly in October saying that Swift and Alwyn are "very much in love," and that "they have quite a low-key relationship." The relationship is notably different than Swift has been with previous, much more publicized relationships. "It's very normal," the insider who spoke to Us continued, "and no one really knows about it right now."
However, Us does suggest that things could change, as Swift is reportedly planning to make her public debut with Alwyn "really soon." But until they make that public debut, or show up on social media together, all Swift fans can currently do is obsess over hints Swift drops about the Billy Lynn's Long Halftime Walk actor in her new music.
To fully comprehend just how often Swift supposedly references Alwyn in her new album, here's a list of all of the songs on Reputation with lyrics that seem to be about him.
"...Ready For It?"
Long before Swift released the video for "...Ready For It?" in which she seemingly hinted at her relationship with Alwyn (like the screen shot above with her and Alwyn's birth years in spray paint), fans had speculated that a number of lyrics in the song were about him. The most obvious of which seems to be the section below:
"Some boys are tryin' too hard,
He don't try at all though,
Younger than my exes but he act like such a man so."
Although not younger than all of Swift's known ex-boyfriends, Alwyn is younger than a few high-profile men Swift has been linked to like Tom Hiddleston, 36, Calvin Harris, 33, and Jake Gyllenhaal, 36.
But that's not all. As Cosmopolitan pointed out there are other examples. Such as,
"I-I-I see how this is gonna go,
Touch me and you'll never be alone,
I-Island breeze and lights down low,
No one has to know."
Notice how Swift mentions "no one" knowing about their relationship, which does seem like an acknowledgement of her effort to not be seen in public with Alwyn.
Elsewhere in "...Ready For It?" Swift also references her song "Wildest Dreams," and mentions her intent to "take her time," which as Cosmopolitan reports, some have claimed is along the lines of reports that she and Alwyn are taking things slowly.
Interestingly enough, Swift even liked a post on Tumblr where a fan analyzed all of the lyrics in "...Ready For It?" that they thought were about Alwyn. The act of which many followers immediately assumed meant that Swift was confirming the theories about "...Ready For It?" being about Alwyn. Now, although a "like" isn't an official confirmation, Swift's social media activity did encourage fans to continue looking for references in her new music.
"End Game"
Featuring Ed Sheeran and Future, "End Game," is another song that seems to be about Alwyn, or at the very least someone Swift is romantically involved with. If the main line of the chorus, "I wanna be your end game," isn't enough, Swift also sings about not wanting a person to be "another ex," which seems to hint at the public perception that Swift has a lot of famous ex-boyfriends.
"I don't wanna touch you, I don't wanna be,
Just another ex love you don't wanna see,
I don't wanna miss you."
Elsewhere in the song Swift also sings, "I can't let you go, your hand prints on my soul." The lyrics seem to speak for themselves, and they definitely seem to be about Alwyn.
"Don't Blame Me"
In "Don't Blame Me," Swift once again hints at Alwyn's age with the following lyrics from the beginning of the song,
"I've been breakin' hearts a long time,
And toyin' with them older guys,
Just play things for me to use."
Additionally, the song's chorus also seems to be about a current love of Swift's,
"Don't blame me, your love made me crazy,
If it doesn't, you ain't doin' it right,
Oh, Lord, save me, my drug is my baby."
Technically, this "baby" that is Swift's drug could be someone else, as Swift could have written "Don't Blame Me" months ago. However, since she's currently linked with Alwyn most fans will naturally assume most of the tracks on Reputation are about him.
"Delicate"
At the start of "Delicate" Swift references her own reputation as evidence that someone must really like her,
"My reputation's never been worse, so,
You must like me for me…"
Another lyric from the song that has potential to be about Alwyn is, "Do the girls back home touch you like I do?" In case you didn't know, Alwyn is from North London, so by mentioning "girls back home," Swift could be referring to girls from the UK.
"So It Goes"
The seventh track off Reputation, "So It Goes," is... you guessed it, another song full of lyrics that seem to be about Alwyn. Check out this excerpt from the chorus and judge for yourself:
"I'm yours to keep,
And I'm yours to lose,
You know I'm not a bad girl, but I,
Do bad things with you,
So it goes…"
If you haven't figured it out by now, the majority of songs off Swift's new album contain lyrics that could easily be references to her relationship with Alwyn.
"Gorgeous"
As soon as "Gorgeous" was released fans pretty much decided the song was all about Alwyn. And when you examine the lyrics it does definitely sound like she wrote the song about some special in her life:
"Ocean blue eyes looking in mine,
I feel like I might sink and drown and die."
Not only does Swift sing about someone who makes her "so happy" that "it turns back to sad," but she also specifically mentions a person having blue eyes in the excerpt above. According to People, Alwyn does indeed have blue eyes, which is why so many Swifties think that "Gorgeous" is all about Alwyn.
Then, there's this fan theory that the shot in Swift's "Look What You Made Me Do" video where many have speculated she's dressed as different versions of her former self to represent the Reputation track list also contains a hint about Alwyn.
Since Swift and Alwyn were both at the 2016 Met Gala some have speculated that a meeting at the event could have been part of their courtship, and the outfit Swift is wearing to represent "Gorgeous" in the "LWYMMD" video is similar to what she wore to the Met Gala.
"King Of My Heart"
You could probably list the full lyrics to "King Of My Heart" on this list, but the pre-chorus is probably the most obvious:
"So prove to me I'm your American Queen,
And you move to me like I'm a Motown beat,
And we rule the kingdom inside my room,
'Cause all the boys and their expensive cars,
With their Range Rovers and their Jaguars,
Never took me quite where you do."
Since Alwyn is from the UK it makes sense that Swift would want him to prove that she was his "American Queen." In the song Swift also seem to reference the length of their relatively new relationship when she mentions having met the someone she's referring to in the song a few weeks ago.
"Dancing With Our Hands Tied"
Fans have a number of theories on the meaning of "Dancing With Our Hands Tied," but the common denominator in the speculation is that Swift is once again referring to Alwyn:
"I, I loved you in spite of,
Deep fears that the world would divide us,
So, baby, can we dance,
Oh, through an avalanche?"
Perhaps her fear that the world might divide them is why Swift has been so cautious about keeping her relationship with Alwyn under the radar?
"Dress"
The main line from the chorus in "Dress" where Swift sings, "Only bought this dress so you could take it off," does sound like a pretty direct reference to a person Swift is romantically involved with. But if we dive a little deeper there does appear to be a passage more directly hinting at Alwyn:
"Nights back when you met me
Your buzzcut and my hair bleached
Even in my worst times,
You could see the best of me."
Swift was seen at a screening of Alwyn's movie Billy Lynn's Long Halftime Walk back in November 2016. In the film he played a soldier returning from the Iraqi war, and yes, he had buzzed hair in the movie.
"Call It What You Want"
In addition to supposedly being full of references to Kim Kardashian and Kanye West, Swifties have also pointed out lyrics of "Call It What You Want" that are about a person who Swift is likely dating. "Starry eyes sparking up my darkest night," she sings, again potentially hinting at Alwyn's blue eyes.
Here's another example of what appears to be a passage from the chorus of "CIWYW" that it thought to be about Alwyn:
"My baby's fit like a daydream,
Walking with his head down,
I'm the one he's walking to."
The chorus continues with Swift mentioning her "baby" again. Then concluding with, "So call it what you want yeah, call it what you want to." The ending does certainly sound like a message that Swift doesn't care what people say about her relationship and private life.
"New Years Day"
The final track on the standard version of Reputation, "New Years Day" is yet another song that appears to reference Swift's relationship with Alwyn. For example,
"I can tell that it's going to be a long road,
I'll be there through the toast of the town babe,
Or if you strike out and you're crawling home."
Being that Alwyn is a bit of an up-and-coming actor the passage above seems like Swift's confirmation that she'll be there for him whether he strikes out or becomes the "toast of the town."
After listening to Reputation, one thing is overwhelmingly clear — judging by her lyrics Swift seems quite happy and in love with someone. And although she doesn't say his name outright, if you analyze the specific references she makes, it seems pretty obvious that Swift is referring to Alwyn many, many times.