Here's Taylor Swift & Joe Alwyn's Super Confusing Relationship Timeline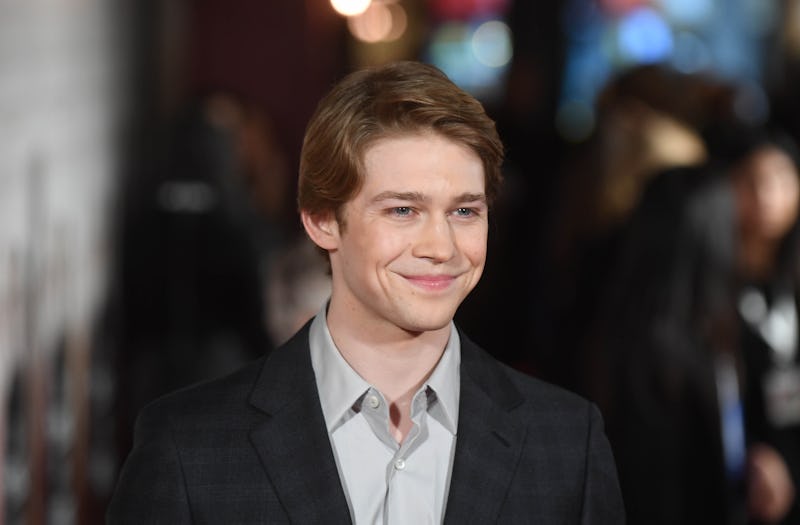 Stuart C. Wilson/Getty Images Entertainment/Getty Images
After months of anticipation, involving the release of multiple songs and much-discussed music videos, Taylor Swift's new album, Reputation, comes out Thursday at midnight. It's been suggested that a number of songs on Reputation are about Swift's new boyfriend Joe Alwyn, which no doubt has fans wondering when Taylor Swift and Joe Alwyn started dating. In years prior, Swift was notably more public about her relationships, with previous boyfriends often appearing in photos shared to social media. It is definitely her prerogative, and Swift is under no obligation to share information about her personal life, but given that material on her new album certainly seems to be all about Alwyn — especially according to fans who went to her listening sessions — it's perfectly natural to wonder about the couple.
So when did these two crazy kids get together? According to The Sun, Swift, 27, and Alwyn, 26, have known each other for a while, but in May the publication claimed that their relationship became romantic sometime recently. Alwyn is a British actor who is best known for his role in the 2016 film Billy Lynn's Long Halftime Walk, which he co-starred in alongside the likes of Vin Diesel, Kristen Stewart, Chris Tucker, and Steve Martin.
As fans have pointed out, Swift was spotted at a screening of Billy Lynn's Long Halftime Walk with her mother back in November 2016. If the sources who spoke to The Sun are correct, it's possible that the two knew each other at the time, but it isn't clear whether or not they were dating yet. "This isn't a new couple alert or a secret relationship," the insider explained to The Sun. "The only people this [relationship] has been a secret to is the media because all of us, Taylor and Joe's closest friends and their families, were aware they have been together for several months and have known each other for a long time."
So, let's break down that quote. The Sun published their article in May 2017, and their source claimed that Swift and Alwyn have been an item for "several months," which is a bit of an ambiguous statement. However, it suggests that Swift and Alwyn could have been dating since early 2017 or even late 2016. Perhaps even beginning shortly after Swift attended the screening of Alwyn's film?
Following the report from The Sun in May, additional outlets began reporting, and confirming that Swift and Alwyn were an item. A source told People that Swift, "wanted to get to him without any chaos," which is why she's avoided being seen in public with him.
Despite being tight lipped in public about her new romance, in addition to supposedly calling out Kim Kardashian and Kanye West, another main topic of Swift's new album seems to be Alwyn. For example, back in September when Swift released the second song off Reputation, "...Ready For It?", people on Twitter immediately thought parts of it were about Alwyn. For example, Elle cited lyrics like the ones below, which clearly seem to be about someone special in Swift's life:
"Some boys are tryin' too hard,
He don't try at all though,
Younger than my exes but he act like such a man so."
Keep in mind Alwyn, 26, is a year younger than Swift, 27, and is also younger than few of her high-profile ex-boyfriends (Joe Jonas is 28, Calvin Harris is 33, and Tom Hiddleston is 36). Additionally, it has been suggested that lyrics in other already released songs from Reputation could be about Alwyn.
Oh, and as fans have pointed out, parts of Swift's newest "...Ready For It?" music video seem like hints about her current romantic relationship. Like the numbers in the background in one scene that show both Swift's and Alwyn's birth years.
Given how much effort the couple has put into keeping their romance out of the headlines, it's no wonder that their relationship might seem rather new to some of us fans. In fact, the two have only really ever been spotted together once, while on their way to a gym in New York City. Even then, the couple definitely appeared to be trying to avoid the cameras.
Interestingly, although she hasn't taken any photos with Alwyn officially, she did appear to take his younger brother, Patrick Alwyn, along to visit a fan. People on Twitter were quick to identify the young man in the photos as younger Alwyn after they appeared online.
Although we don't know exactly when Swift and Alwyn's relationship went from being friends to being more than friends, signs seem to indicate that it was either end of last year, or early 2017. However, hanging out with each other's family members does suggest that things are pretty serious between two people. So regardless of the exact amount of time Swift and Alwyn have been dating, they do seem to be happy together, which is all that really matters.