Joe Biden Adopted A Dog & The Shelter Shared The Sweetest Photo Of Them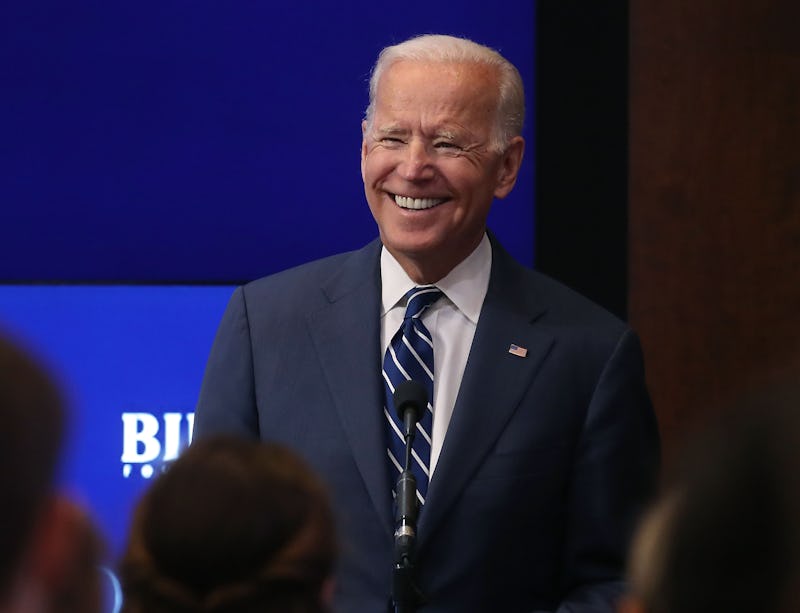 Mark Wilson/Getty Images News/Getty Images
Move over Barack Obama, because Joe Biden's got a new best friend. Former Vice President Biden has adopted a seriously cute dog named Major from the Delaware Humane Association, the organization announced on Facebook Saturday.
"We are so happy to welcome Major to the Biden family, and we are grateful to the Delaware Humane Association for their work in finding forever homes for Major and countless other animals," the Bidens — that's Joe, his wife Jill, and their other German Sheperd Champ — said in a press release shared by the Delaware Humane Association.
According to the Delaware Humane Association, the Bidens had been fostering Major, a German Sheperd, since he was a young puppy and decided to make him a permanent member of the family. "Today is Major's lucky day!" the Delaware Humane Association shared on Facebook. "Not only did Major find his forever home, but he got adopted by Vice President Joe Biden & Dr. Jill Biden! The Bidens have gotten to know Major while fostering him and are now ready to make the adoption official."
Major came to the Delaware Humane Association with his five siblings earlier this year when "financial constraints" and the puppies' exposure to something toxic forced their original owner to surrender them in an effort to save their lives. The pet adoption service said they worked with an emergency veterinary center to save all six of the puppies.
When the organization shared the puppies' story on social media in an effort to drum up potential foster homes for the pups, "Joe Biden caught wind of them and reached out immediately," according to the Delaware Human Association. It was unclear Sunday how long the Bidens had been fostering Major before they officially adopted him.
In one photo shared by the Delaware Humane Association, Biden can be seen showing Major a photo of himself as a young puppy.
Major will join the Bidens' other German Sheperd, Champ, who appears to enjoy a special relationship with Biden. In bonus footage taped when 60 Minutes interviewed Biden at his home in 2015, Biden asked Champ if he wanted to "play golf." The dog immediately began to wag his tail and bark in excitement. When Biden stood up and picked up a golf club, Champ began to jump around before running outside. According to 60 Minutes interviewer Norah O'Donnell, the interview got put on pause. "We all had to wait while the vice president went out with Champ," she said, adding the pair hit some balls together.
Delaware Humane Association said they considered it an honor to help the Bidens find a new furry family member. "It was such an honor for us to adopt a puppy to Vice President Joe Biden and Dr. Jill Biden," Executive Director Patrick Carroll said in a statement. "We make friends for life at DHA and we know that the bond between humans and their pets is incredibly strong. We have adopted thousands of animals into homes in Delaware, and we are happy to add the vice president and his family to our list."
As vice president, Biden was often seen giving children stuffed animal replicas of Champ. Could we see a Major stuffed animal in 2020?