Joe Biden Tweeted To Julia Louis-Dreyfus About Her Cancer & Your Heart Just Might Break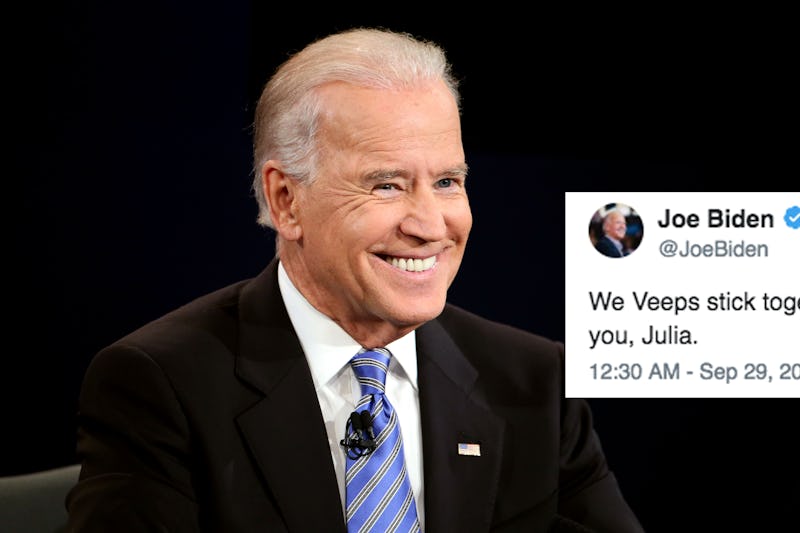 Chip Somodevilla/Getty Images
On Thursday, a well-loved actress announced that she had become the one in eight American women who will be diagnosed with breast cancer in her lifetime. Immediately, people around the world expressed their support, but it was former Vice President Joe Biden whose message to Julia Louis-Dreyfus might mean more than most.
In a tweet posted Thursday, Biden shared a photo of him and Louis-Dreyfus walking down a hallway, with Louis-Dreyfus in character as Vice President Selina Meyer from Veep, as Biden mimics her moves. "We Veeps stick together. Jill and I, and all of the Bidens, are with you, Julia," he wrote.
And while the intertwining of the real-life VP and the fictional Veep is meaningful on its own, the context behind Biden's own relationship with cancer makes the message even more potent. Biden lost his son Beau to brain cancer in 2015 and has long been a champion for better cancer care and more cancer research, including through his organization, the Biden Foundation. Earlier this year, at his keynote speech at SXSW, he said that the "only bipartisan thing left in America is the fight against cancer."
He added, "I would have loved to be the president who presided over the end of cancer as we know it."
During President Obama's final State of the Union address in 2016, he announced the National Cancer Moonshot task force and chose Biden to lead it. According to its website, the Cancer Moonshoot "aims to make more therapies available to more patients, while also improving our ability to prevent cancer and detect it at an early stage."
Obama also mentioned Biden's work with cancer when he surprised him by giving him the Presidential Medal of Freedom, the United States' highest civilian honor. Biden shed tears as Obama placed the medal around his neck, having just heard the president describe why he deserves it, for reasons including "leading our quest to cure cancer."
Louis-Dreyfus announced her diagnosis in a way that also included a call to action about how to help others who are suffering like her, but without her same privileges. She wrote:
1 in 8 women get breast cancer. Today, I'm the one. The good news is that I have the most glorious group of supportive and caring family and friends, and fantastic insurance through my union. The bad news is that not all women are so lucky, so let's fight all cancers and make universal health care a reality.
That's exactly what a VP like Joe Biden would do: use their own suffering to create change for others. Only more proof that Veeps really do stick together — and that Biden and Louis-Dreyfus are two of the best.