Your 'Stranger Things' Crush Steve Harrington Is In A Band IRL & They're Honestly Great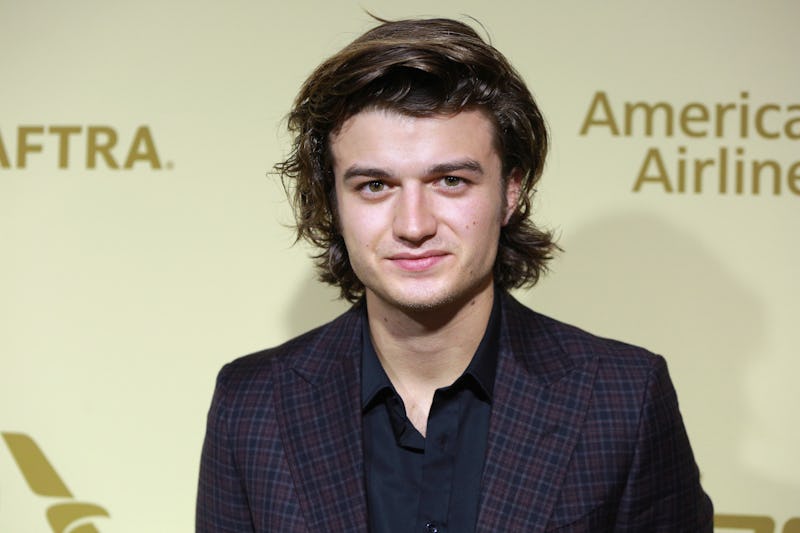 Rich Fury/Getty Images Entertainment/Getty Images
We all know each other well enough now to admit that we have a collective crush on Steve Harrington, right? Hopefully so, because there's some important new information to share: Stranger Things' Joe Keery is in a band. And not on the show, in real life. As in, you can listen to it whenever you want and you don't have to twiddle your thumbs waiting for Netflix to come out with Season 3. Not that the streaming platform isn't great, because fans will always be eternally grateful to them for bringing this whole cast into our lives. Just that this Steve Harrington infatuation is serious business, and we need something to get us through the gaps in between seasons.
And this Chicago-based band could quite easily be that thing. It's called Post Animal, and Keery has been the drummer and one of its vocalists since at least 2015, when they released their debut album, Post Animal Perform The Most Curious Water Activities. They play a style of music that their Band Camp page calls straight-up "rock-and-roll," but other outlets have gotten a little more specific with the style, referring to the group as a psychedelic rock band. And if that genre doesn't mean anything to you, Vulture compares their sound to another group that your ears are more likely to have crossed paths with ― the Grammy-nominated Australian band Tame Impala.
As recently as August 2016, Keery was an active part of the band, telling WWD, "Our music is on Spotify, Apple Music and iTunes. We've toured a little bit around the Midwest, but hopefully come springtime we're going to do more of a full-length tour." And he is credited on their single "Special Moment," released May 2012. But while Post Animal is still active, Keery's attendance seems to have tapered off in an unofficial way of late. He isn't in any recent photos, and his name doesn't appear on the band's official Facebook page alongside his bandmates Dalton Allison, Jake Hirshland, Javi Reyes, Wesley Toledo, and Matt Williams. Plus, tweets from fans as recently as Nov. 4 seem to indicate that Keery isn't joining the group on tour.
But before you get too bummed out, don't panic. Bustle did reach out to Keery's publicist, who confirmed that the Stranger Things actor is still part of the band. (Sigh of relief.) The publicist wasn't able to give an explanation for why he's not listed on the band page.
However, there seems to be a likely explanation. Stranger Things is a pretty huge deal right now. Its long-awaited and much-anticipated second season dropped on Oct. 27, and Keery has had a bunch on his plate with all the promotion in the days before and since. Meanwhile, Post Animal announced their upcoming tour via an Oct. 30 Facebook post, with 12 dates across America crammed into less than a month. The tour started in Nashville on Nov. 4 and will end in Milwaukee on Nov. 18, with cities like Chicago, New York, and Boston in between. It's a lot of jumping around, with one string of shows six nights in a row.
It's the kind of schedule that's typical of an up-and-coming indie band, but not so possible to do when you're on a publicity tour for your hit Netflix show. Because of this, it's possible that Keery's name has only been temporarily removed from the roster while his focus is elsewhere. Post Animal has their very own music and fan base separate from Stranger Things, so they likely wouldn't want to accidentally mislead fans who are more about Steve Harrington than Post Animal.
Hopefully this isn't the end for Keery and Post Animal, but even if it is, you can listen to their music from simpler times, back when the 25-year-old was undeniably part of the band. Check out their most recent single, "Special Moment," and send all your energy into the hope that your Stranger Things crush continues to make sweet sweet music with this kickass group.