Sofia Vergara Just Reminded Us Of Joe Manganiello's Adorably Nerdy Hobby & We Can't Handle It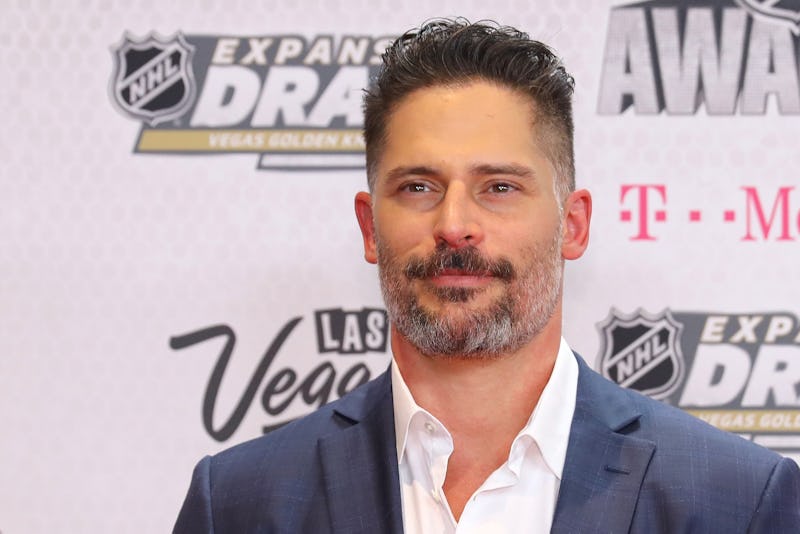 Bruce Bennett/Getty Images Sport/Getty Images
Of all the reveals that were made on the 2017 Emmys red carpet, this might just be the most adorable. According to Sofia Vergara, Joe Manganiello plays Dungeons & Dragons — and, yes, she's his enabler. Giuliana Rancic asked her to reveal something that no one knew about the actor, since she had asked Vergara the same question in the past, and Vergara reminded us all of what we may have forgotten. "He's a nerd," she said with the kind of amused exasperation every nerd is used to hearing from their friends and family, as they shake their heads over their video game collection. She could have stopped there, but, thankfully, she painted us a picture.
"The highlight of his life is to play Dungeons & Dragons," Vergara reminded us. "He comes together with eight friends, I do a spread of food, he has a dungeon room downstairs in our basement." Guys, Manganiello has a dungeon room downstairs in their basement. Alcide Herveaux has a dungeon room downstairs in his basement where he and eight friends eat Vergara's food and play Dungeons & Dragons on the regular. Does anyone remember when Dungeons & Dragons used to be a niche interest? Because it's clearly not any more, if the True Blood actor is happily playing it in his basement behind all of our backs.
But if you're wondering if the couple plays the game together, don't hold your breath. "I decorate it for him, I bring him food, and he sits there for six or eight hours playing Dungeons & Dragons," Vergara finished. "I organize the figurines and I put the chips and things, but no [I don't play]." Which is sad, because that would have made them even bigger couple goals for sure. Of course, Vergara was cheating with this answer, because this actually isn't the first time that Manganiello's love of Dungeons & Dragons has come up. He's passionately discussed it, too.
In July 2017, Manganiello caught up with The Hollywood Reporter to talk about — amongst other subjects — all things Dungeons & Dragons. The actor revealed that he started playing when he was 10 years old, thanks to the "gateway drug" that was his The Hobbit picture book and record. Eventually, he got a Dungeons & Dragons basic set that he played by himself until he could find other kids who wanted to play — kids, he says, who were "athletes" and "intellectuals" who came in "all shapes and sizes." Cue tears from every validated nerd in the country.
He also revealed,
"I was always the gamemaster... For years, I was always coming up with these worlds for the players to inhabit... The character I play now and in Force Grey is a dragon-born oath-breaker paladin who worships the five-headed dragon goddess Tiamat. His powers derive from the Queen of Darkness. Red skin, breathes fire, big nasty battle ax. He's really fun to play."
Of course, he didn't say anything about this happening in his basement, let alone with Vergara setting everything up and bringing the food. But doesn't that just make this image better?
The fact that Vergara not only cheerfully talks about Manganiello's love for the game, but also admits that she helps him out by providing the nutritional support he needs to keep going, is just the icing on the cake. It's always great to find out that celebrities are nerds like we are, but the couple that can't necessarily game together, but can support each other's gaming, is a couple that will last a long time.
As for Manganiello, it's an honor to have him in the nerd club. We have jackets.