John Boehner Thinks He Knows Why Melania "Doesn't Look Real Happy" Nowadays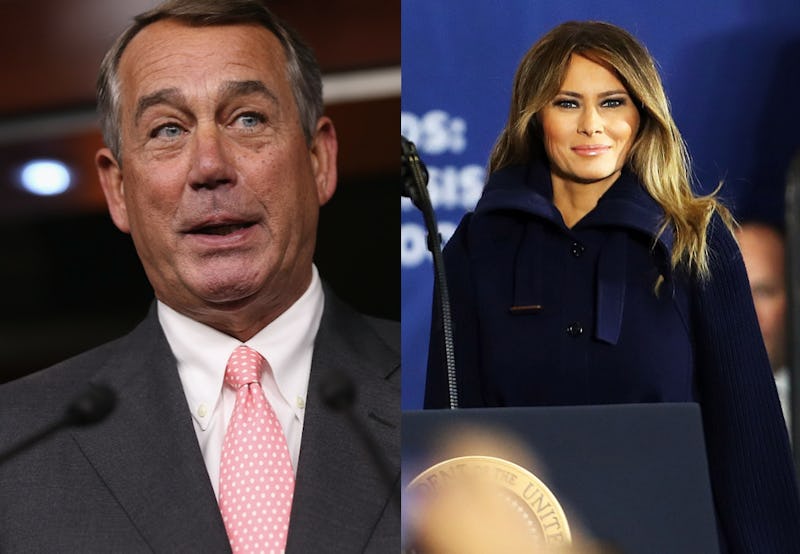 Chip Somodevilla; Spencer Platt/Getty Images News/Getty Images
You can add one more person to the list of folks who think Melania Trump never wanted to be first lady: Former Speaker of the House John Boehner. At a Thursday conference in Michigan, Boehner said he thinks Donald Trump assured Melania that he'd lose the presidential election, and that his surprise victory is "one reason" the first lady might be unhappy.
"I think Donald Trump promised Melania that he would not win. She didn't have to worry about ever living in the White House," Boehner theorized at the Mackinac Policy Conference. "It's probably why she doesn't look real happy every day. But, well — maybe one reason."
The Ohio Republican isn't the only one to suggest that the Trumps had anticipated losing the election. In his best-selling book Fire and Fury, Michael Wolff reported that most of Trump's team fully expected Hillary Clinton to win — and that Melania Trump burst in tears on election night when her husband's victory became apparent. Independent of Wolff's book, Vanity Fair reported that Melania Trump "didn't want this come hell or high water."
The first lady's press office vehemently disputes these reports, with spokesperson Stephanie Grisham saying that Trump "supported her husband's decision to run for president" and "was very happy when he" won.
Some have grown concerned over Trump's wellbeing, as she hasn't been seen in public in three weeks. She was admitted to Walter Reed National Military Medical Center in May for what the White House called a "benign kidney condition," and remained there for five days before being released. Her office said in a statement after her release that she's "resting comfortably and remains in high spirits," but she's made no public appearances since May 10, when she and Donald Trump greeted three Americans returning home from imprisonment in North Korea.
Attempts by the White House to assuage concerns about Melania Trump have backfired. When asked by reporters about her well-being on Friday, the president said she's "doing great," pointed to a nearby window and said "she's looking at us right there." According to The Washington Post, however, "there was no sign of the first lady" when reporters looked at the window Donald Trump had indicated.
On Wednesday, a tweet was posted to the @FLOTUS Twitter account, declaring that she's "feeling great" and "working hard on behalf of children [and] the American people!" This only increased suspicion about her whereabouts, however: As Huffington Post and many others noted, the tweet contained several phrases and linguistic quirks that Donald himself often uses in his own tweets, including a reference to the "media working overtime" and the administration "working hard on behalf" of everyday Americans.
As a result, several conspiracy theories surrounding Melania Trump's whereabouts have popped up, including speculation that she has returned to New York with her son, Barron, or is cooperating with Special Counsel Robert Mueller's Russia investigation. Grisham swatted down those theories on Wednesday.
"Sadly, we deal with conspiracy theories all the time," Grisham told CNN, "so this is nothing new, just more silly nonsense." She added, in a statement to Elite Daily, that "Mrs. Trump is doing great" and has "participated in several internal meetings with her staff as she continues her work on behalf of children."
Boehner, for his part, has almost completely avoided getting entangled in any Trump-related controversies, as he announced his resignation from American politics just three months after Donald Trump declared his presidential campaign. Since then, Boehner has largely remained silent on politics, though he did break his silence in 2017 to bash several of his former colleagues and opine on the Trump presidency, which he did not give high marks.
"Everything else he's done [in office] has been a complete disaster," Boehner said of Donald Trump during a question and answer session in Texas, Politico reported.