John Boyega Sees Through "Random" Airport Checks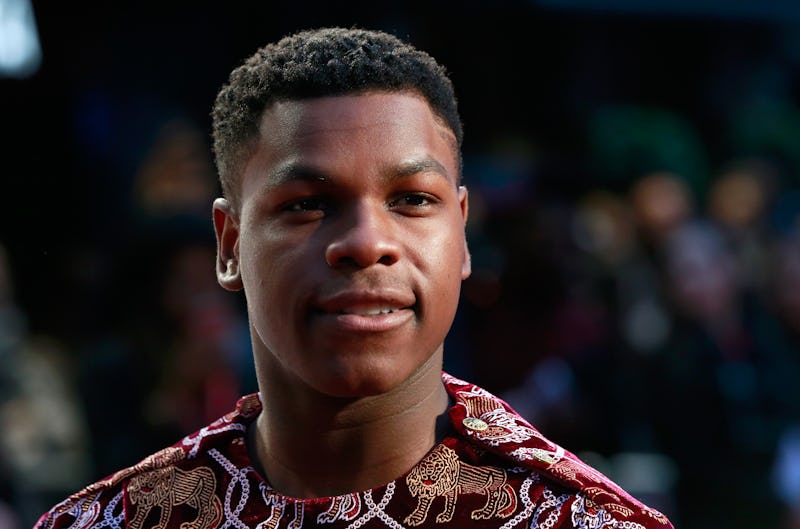 John Phillips/Getty Images Entertainment/Getty Images
Making it on time to an audition is an understandably stressful situation for actors. On top of memorizing lines, dressing the part, and zoning out the competition, actors have to maintain their composure regardless of how their day is going. Star Wars star John Boyega told the Evening Standard that no Jedi mind-trick could stop him for avoiding random checks at the airport when he would fly into the United States for auditions. Prior to gaining fame as Finn in Star Wars: The Force Awakens, the British actor told the publication he felt his check-ins weren't so random after the third or fourth time.
He said,
"I used to fly back and forth when I was hustling and auditioning for things in L.A. I'd get cheap flights and stay there for two weeks or whatever. And every time I was getting these random checks. Every. Single. Time. I wish I remembered the airline because I called them out on it, too. Like, 'This stuff ain't right.' They said it was a problem Stateside. They gave me a letter and it stopped. But before that it was consistent."
The 25-year-old Nigerian-British actor's frustrating experience is shared with many people of color who fly. Fellow Star Wars actor Riz Ahmed penned a revealing essay in The Guardian in Sept. 2016 not only about being typecast as a "radical Muslim" but also enduring racial profiling at a British airport.
Boyega told the Evening Standard that these checks aren't happening as frequently now. Although he credits this to his acting fame, he still hopes and deserves to not be seen as a suspicious person. "I understand that [these things] are for our safety but when you fly a lot and it happens three or four times there's an element of, 'Okay, I'm still not a terrorist,'" he said.
Living in a post-9/11 and now a Trump era in which many people of color are either being banned, scoped out, or flat out discriminated against for their religious beliefs and race should put us all on edge. One could argue that based on America's checkered history with racism and Islamophobia that hate is indeed the American way. But it doesn't have to be the future. Fame or not, celebrities are not immune to discrimination. Hopefully, turning a spotlight on this issue will cause a shift in policies. Until then, calling out unjust actions should become more routine.