John Boyega & Letitia Wright's Met Gala Outing Was Actually Years In The Making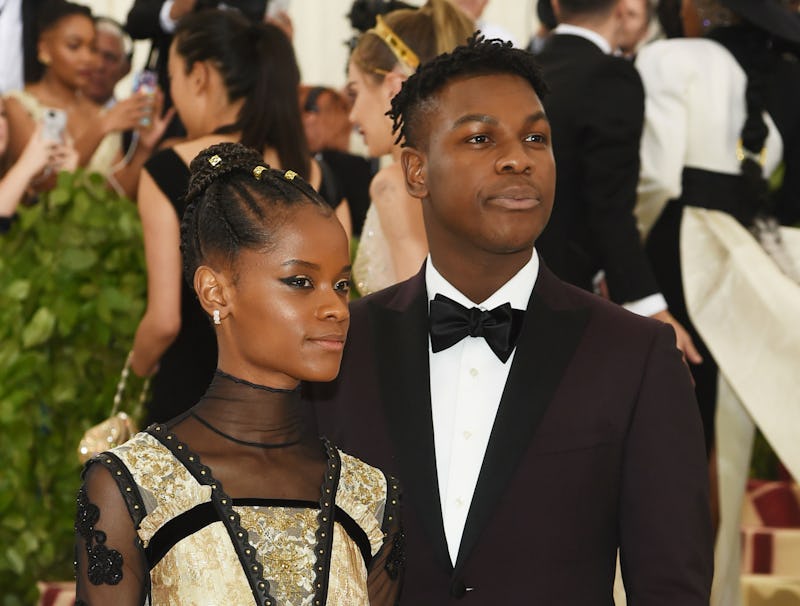 Jamie McCarthy/Getty Images Entertainment/Getty Images
Saving the world, one star-studded soiree at a time. They've both had break-out roles in major franchise action films, so when John Boyega and Letitia Wright attended the 2018 Met Gala together, it seemed like a match made in Hollywood heaven. And while Boyega and Wright do look pretty great together, it turns out that the two young stars have been friends since before they got famous.
In 2015, Boyega, 26, appeared as Finn, a Stormtrooper-gone-good, in Star Wars: The Force Awakens. He reprised that role in 2017's Star Wars: The Last Jedi, and all but solidified his status as a big-screen force — pun intended —  to be reckoned with. Wright, 24, stole countless scenes as tech-savvy Princess Shuri in Marvel's Black Panther in 2018, and is already being hailed as one to watch.
Seeing the two British break-out stars together at this year's Met Gala wasn't just a perfectly paired twist of fate, though. Boyega and Wright have been friends for a while, dating all the way back to their pre-fame days as students at London's Identity School of Acting.
"Letitia [Wright] and I were in the same class," Boyega told The Grio during a March 9 interview. "It was so special for me to see her in [Black Panther] because I have seen Letitia from when we both had nothing, had no credibility, and wanted our chance," he explained.
The actor went on to reveal to The Grio that he and Wright formed a special connection during their time together as classmates. "We would sit and after classes, everybody would congregate at a nearby McDonald's and I remember seeing Letitia and we would speak about our dreams and our visions," Boyega said.
He continued,
"We would speak about our spirituality, our relationship with God, prayer, and various other things. We knew something was cooking. We knew there was a group of people that were gonna come out of there and really do it. It felt like this group of people might just be the example and prove the success is real. We all did that and it's just mad. It's crazy for us all."
Clearly, that feeling they had about their success was pretty spot-on. And even though Boyega is now a star in his own right, he reps Wright hard. On May 7, the 26-year-old posted a video to his Instagram story while he and Wright were on their way to the Met Gala.
Boyega started filming before picking Wright up from her hotel, and when the car door opened, he seriously could not contain his excitement. "Look at her! Look at her! Yes!" he exclaimed about his long-time friend. "Look at this!" It's really sweet — and Wright did look amazing.
For her part, Wright also posted videos from the gala that featured a ton of celebs, including her good friend Boyega.
According to Page Six, Wright's custom Coach ensemble was inspired by her faith and paid tribute to Ethiopia. "Letitia is a very religious person, so we wanted to stay true to who she is while also having fun with fashion," Ade Samuel, the actor's stylist, explained. "She decided she wanted to do an Ethiopian interpretation of Christianity. If you look closely at her dress, you'll see the golden cloth and embroidery that was inspired by Ethiopian pastors' clothing. We even decided to go with a traditional Ethiopian hairstyle, to keep the African theme going."
Boyega wore a sleek, black suit from the Michael Kors Collection, as per The Cut, and looked very classically dapper. His outfit didn't exactly play to the "Heavenly Bodies: Fashion and the Catholic Imagination" theme all that much, but was seemingly meant to allow Wright's ensemble to shine. Now that's a true friend.
Fans shipping Boyega and Wright might be disappointed to learn that the two are just friends. But, hey — that doesn't mean that they can't play love interests on the big-screen one day, so maybe there's (fictional) hope yet.