How This Ex-FBI Chief Plans To Stop Trump From Swiping Anyone Else's Security Clearance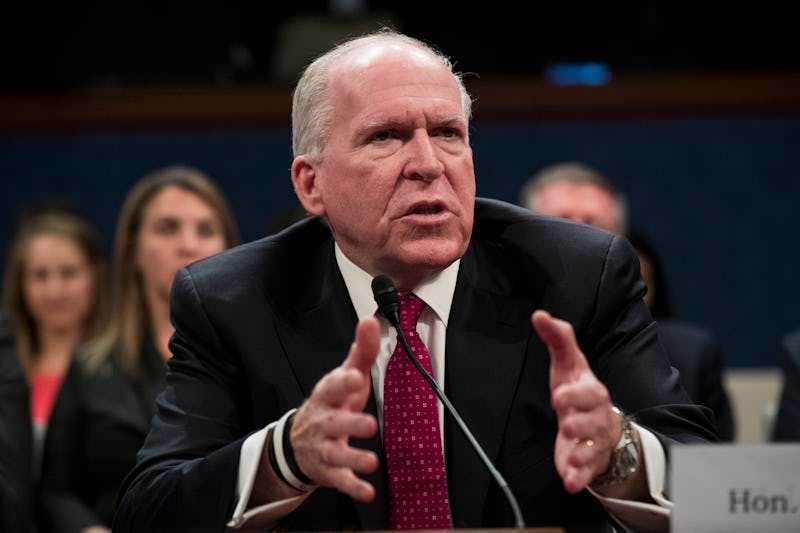 Drew Angerer/Getty Images News/Getty Images
On a Sunday appearance on NBC's Meet The Press, former CIA Director John Brennan said he's considering suing Trump so the president won't be able to take away the security clearances of other former national security officials. "I think it was a clear signal to others who still have their security clearances, both in the government as well as outside, that if you cross him, if you speak out against him, he is going to use whatever tools he might have at his disposal to punish you," Brennan told host Chuck Todd.
Brennan called it "an egregious act" that breaks traditional practices in this arena. He's talked with "a number of lawyers" about a path forward. "They have already given me their thoughts about the basis for a complaint, an injunction to try and prevent him from doing this in the future," Brennan said. "If my clearances and my reputation, as I'm being pulled through the mud now, if that's the price we're going to pay to prevent Donald Trump from doing this against other people, to me it's a small price to pay, so I am going to do whatever I can personally to try to prevent these abuses in the future."
Brennan said a lawsuit is an option. "If it means going to court, I will. I will do that," he said.
On Wednesday, Trump announced that he took away Brennan's security clearance. Brennan had served as CIA director from March 2013 to January 2017. "Mr. Brennan's lying and recent conduct characterized by increasingly frenzied commentary is wholly inconsistent with access to the nation's most closely held secrets," Press Secretary Sarah Sanders said in a statement to the White House press, according to CNN.
Brennan most recently came under Trump's intense scrutiny after Trump's press conference with Russian President Vladimir Putin. Brennan called the president's actions "nothing short of treasonous" and accused Republicans of doing nothing.
"Donald Trump's press conference performance in Helsinki rises to & exceeds the threshold of 'high crimes & misdemeanors.' It was nothing short of treasonous," Brennan tweeted. "Not only were Trump's comments imbecilic, he is wholly in the pocket of Putin. Republican Patriots: Where are you???"
Brennan told Meet the Press that he stands by his "treasonous" comments. "I called his behavior treasonous, which is to betray one's trust and to aid and abet the enemy, and I stand very much by that claim of his actions," he told Todd.
Brennan found support from his peers in the intelligence community after news of his clearance revocation spread. A letter circulated in support of Brennan on Friday. The letter signed by former Director of National Intelligence James Clapper, and former CIA directors Robert Gates, William Webster, George Tenet, Porter Goss, Michael Hayden, Leon Panetta and David Petraeus, according to ABC News.
"As former senior intelligence officials, we feel compelled to respond in the wake of the ill-considered and unprecedented remarks and actions by the White House regarding the removal of John Brennan's security clearances," they wrote. "We know John to be an enormously talented, capable, and patriotic individual who devoted his adult life to the service of this nation."