John Dingell Has Died At 92 After A Decades-Long Career In Congress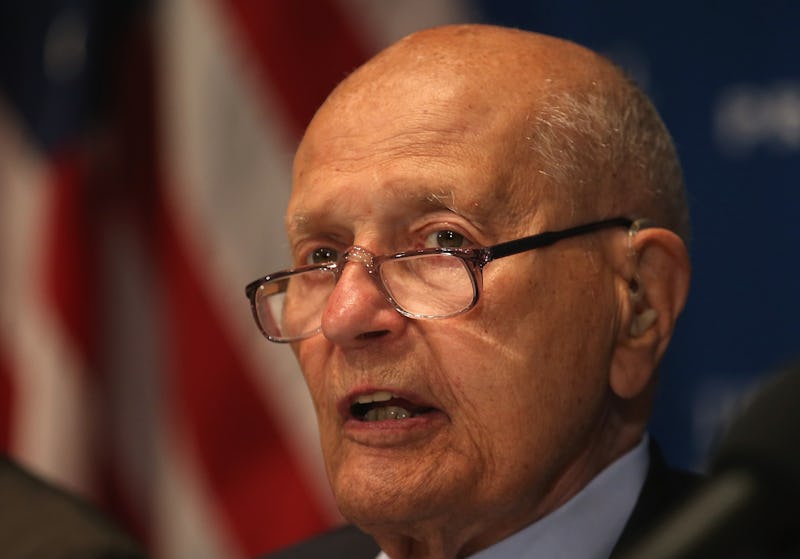 Mark Wilson/Getty Images News/Getty Images
On Thursday, America lost its longest serving former member of Congress. According to The Detroit News, John Dingell died at 92 after representing Michigan for several decades. His death was confirmed by his wife, Debbie, who now holds his seat in Congress.
On Wednesday, Dingell released a heartwarming message on Twitter, after word had been released that he was now on hospice care due to his cancer diagnosis. Dingell tweeted,
The Lovely Deborah is insisting I rest and stay off here, but after long negotiations we've worked out a deal where she'll keep up with Twitter for me as I dictate the messages. I want to thank you all for your incredibly kind words and prayers. You're not done with me just yet.
Following his tweet, Debbie Dingell wrote a similarly loving message on her own Twitter account, writing, "Friends and colleagues know me and know I would be in Washington right now unless something was up. I am home with John and we have entered a new phase. He is my love and we have been a team for nearly 40 years."
She added in a subsequent tweet, "I will be taking each day as it comes. We thank people for their friendship and support and ask for prayers and privacy during this difficult time."
Later on Thursday evening, Debbie released a full statement on her husband's death. The statement, as acquired by CNN, reads in full,
It is with a heavy heart that we announce the passing of John David Dingell, Jr., former Michigan Congressman and longest-serving member of the United States Congress. Congressman Dingell died peacefully today at his home in Dearborn, surrounded by his wife Deborah. He was a lion of the United States Congress and a loving son, father, husband, grandfather, and friend. He will be remembered for his decades of public service to the people of Southeast Michigan, his razor sharp wit, and a lifetime of dedication to improving the lives of all who walk this earth.
According to CNN, Dingell served in the House of Representatives for 59 years and 22 days, from the years of 1955 to 2015. In those 59 years, he cast 28,551 votes and served under 11 presidents, the network reports. During his time in office, Dingell was known for his early prioritization of environmentally-focused legislation. Per CNN, he played a role in passing such landmark pieces of legislation as the Civil Rights Act, the Clean Water Act, the Clean Air Act, the Affordable Care Act, and more.
After he retired, Dingell became a fierce (and often satirical) critic of the Trump administration. In an op-ed written for The Atlantic in December, Dingell lamented the "complete collapse in respect for virtually every institution of government and an unprecedented cynicism about the nobility of public service itself." He then advocated for radical change in government structure, including the elimination of money in campaigns and the mandatory participation of voters in America.
Dingell took office in 1955 after his father, the current congressman, died; he was elected at 29 years old in a special election. CNN reports that his service, combined with his wife and his father's service, accumulates to the longest consecutive service to Congress by a single family — just under 86 years.