John Green's Books Are Being Re-Released As Tiny "Flipbacks" & They're SO Cute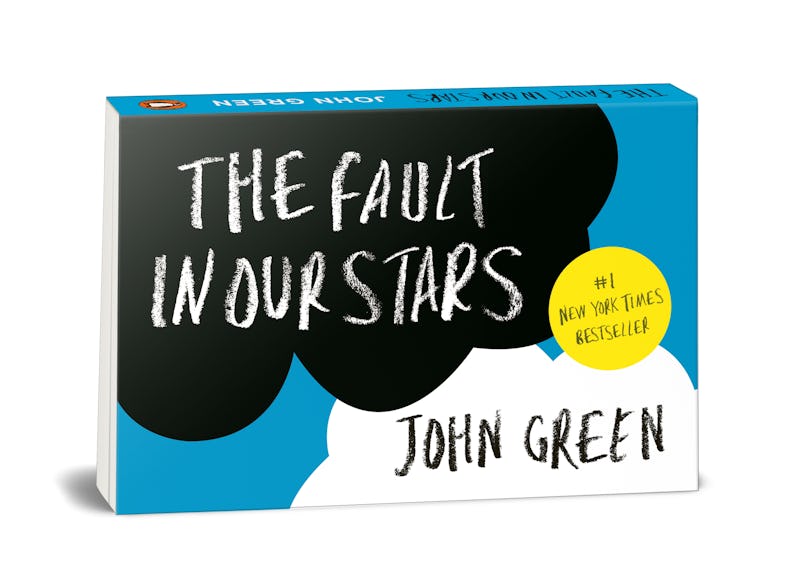 Penguin Random House
If your book bag is getting a bit too heavy these days, I've got good news for you. Your favorite YA books are now available in a miniature format, thanks to a new publishing endeavor from Penguin Young Readers. Penguin Minis are palm-sized, horizontally formatted volumes that contain unabridged versions of your favorite young adult novels in an easy-to-carry format. Best of all, Penguin Young Readers' first four Penguin Minis — An Abundance of Katherines, The Fault in Our Stars, Looking for Alaska, and Paper Towns — all come from beloved YA author John Green and will be available later this fall.
Penguin Random House isn't the first publisher to print books in this long-ways, miniature format. According to The Washington Post, "Green first saw these mini-books in the Netherlands, where they're called Flipbacks or Dwarsliggers (dwars crossways; liggen to lie)." The Flipbacks format that Penguin Minis will take is a patented design from Royal Jongbloed, and it allows readers to effectively "scroll" through the books they read. The publisher's press release notes that "the compact format has sold nearly 10 million copies in nine countries with works from authors including Dan Brown, F. Scott Fitzgerald, John Le Carre, Agatha Christie, Ian McEwan, Isabel Allende, and more."
Looking for Alaska by John Green, $7, Amazon
Penguin Random House has not revealed which books will be added to the Penguin Minis lineup after Green's four novels, but "[a]dditional titles will follow in 2019," according to the press release. Because these miniature books are being released under the publisher's Penguin Young Readers division, the next Penguin Minis will likely be more of your favorite YA titles from Green and other authors. Julie Strauss-Gabel, the president of Penguin Young Readers' Dutton Books for Young Readers division, which publishes Green's books, told The Washington Post that the publisher was "going to strive to have waves of new titles" released as time goes on.
"We're thrilled to bring a whole new way of reading to the United States with Penguin Minis, and who better to launch this line of publishing than John Green," said Jennifer Loja, President of Penguin Young Readers, in a press release. "We know that young readers, especially, still prefer print books, but are drawn to the portability of reading on their devices. We want to be right there with them – on the go, for summer vacations, or as the perfect stocking stuffer. We can't wait to see all the places the Penguin Minis will go."
The inaugural set of Penguin Minis will be available as standalone books or in a boxed set. Individual volumes will cost a modest $12 each, with the boxed set priced at $48. The books will hit store shelves on Oct. 23.
An Abundance of Katherines by John Green, $8, Amazon
"The Penguin Minis are totally collectable, look and feel like a beautifully crafted item, and by some magic contain all the words I've put into my novels in this compact format," Green said in the press release, adding that he is "excited to see which of [his] favorite books come next."
What books do you want to see added to the Penguin Minis lineup in 2019?