John Krasinski Had A Secret Role In 'A Quiet Place' That Will Change The Movie Forever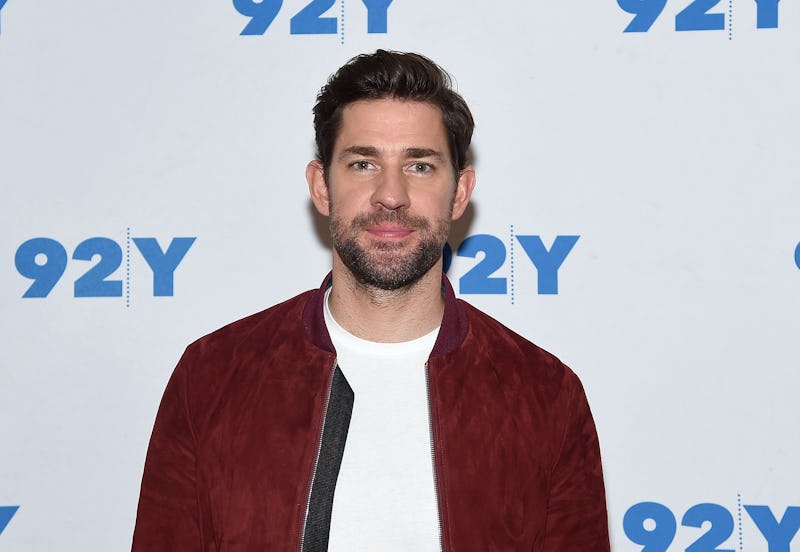 Jamie McCarthy/Getty Images Entertainment/Getty Images
When ii came to making the horror-smash of last winter, A Quiet Place, writer, director and star John Krasinksi was involved in every single aspect of bringing the story to life. And yes, I do mean every aspect, because it turns out, John Krasinski had a secret role in A Quiet Place — he played the alien creatures that hunted the Abbot family throughout the film!
The Office alumnus revealed his secret role during an appearance on Jimmy Kimmel Live on Oct. 16, telling host Jimmy Kimmel that he had planned to keep his time as the motion-capture monsters under wraps for as long as possible. "Nobody knows it because I've kept it quiet," Krasinski admitted.
During the early days of production on the film, Krasinski was working with the effects team to develop the look and movement of the monsters when the actor/director decided to simply demonstrate the terrifying creatures that were in his head. "The amazing people at [Industrial Light and Magic] asked, 'So how does the creature move?' and I said, 'Well, this is how I think he's gonna crawl,'" Krasinski explained of the pre-production process that resulted in his secret cameo. "And they said, 'Well, why don't you throw on the suit?' And I was like, 'Totally!'"
Kimmel even showed the audience a shot of Krasinski in full monster mode, which the actor joked would "end my career." And, in an effort to explain the intense screaming that he was doing in his motion-capture suit, Krasinski also reiterated that the "commitment level was very high" when it came to making A Quiet Place.
But as scary as having his secret cameo revealed to the world may have been for Krasinski, the actor did admit that the scariest part of making the horror film was actually the prospect of possibly directing his wife, Emily Blunt, onscreen. "That's why I never asked her to do it," Krasinski admitted to Kimmel, adding, "It's true. I never asked her to do the role. I wrote the movie with her in mind … but I got so scared."
In the film, Blunt played Evelyn, the pregnant wife of Krasinksi's Lee Abbot, who is attempting to raise their children with a sense of normalcy in the middle of their terrifying, post-apocalyptic world. But though Blunt earned critical acclaim for her performance, Kransinski was hesitant to formally offer her the role, out of fear that she would feel a sense of obligation to help him out, without actually feeling connected to the film.
"First [I was nervous], that she would say 'no,' because that's just gonna be an awkward dinner," Krasinski explained. "But I was actually more afraid that she'd say, 'Yes, I'll do it for you.'"
He elaborated: "I've been next to her when she's made all these amazing decisions and she's without a doubt the classiest, smartest, most dedicated actress I've ever known. And when you see how much she puts into every role, I didn't want her to come to set just for me."
Luckily for him, Blunt made the decision for him when she asked to read the script while the couple were on a flight together. "She genuinely looked sick," Krasinski said of Blunt's reaction to reading the story for the first time. "And I was reaching for a barf bag thinking she was gonna throw up, and instead she said, 'You can't let anyone do this movie.'"
If the pair can recreate that magic for the film's proposed upcoming sequel, Krasinski should have yet another box-office dominating horror film on his hands.