I'm Just Gonna Sit Back & Let John Legend Explain Why You Owe It To Others To Vote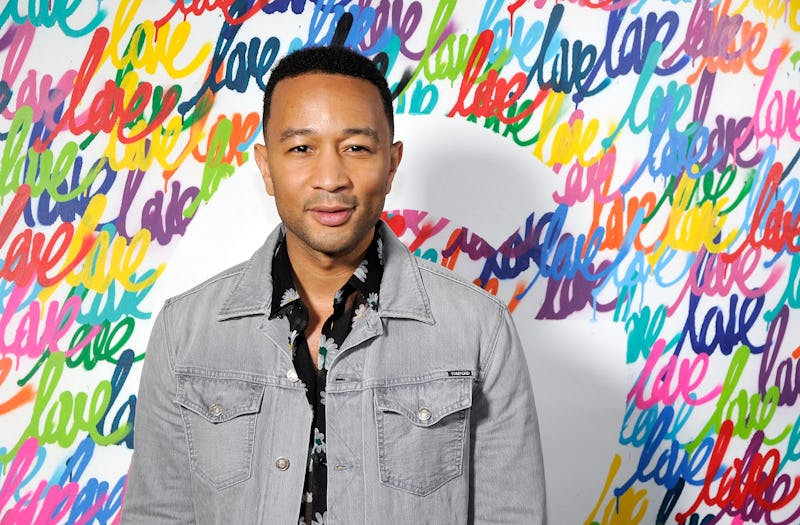 John Sciulli/Getty Images Entertainment/Getty Images
John Legend and Jared Kushner have at least one thing in common: Both had a parent who was incarcerated, and in the past decade, both have stated that they're driven to act on criminal justice reform because of that experience. But that doesn't mean the singer is particularly impressed by how this administration is handling the issue — and it's one of the major reasons why John Legend wants you to vote in the 2018 election.
"Honestly I haven't really seen anything that [this administration has] done or accomplished," Legend tells Bustle about criminal justice reform, despite the Republican Party having a full federal majority. He adds that with Jeff Sessions as attorney general, the system seems to be moving backward. "I grant that Jared Kushner may want to go the opposite direction, but if the administration's not singing from the same page on the same hymnal, right now, I don't see how we can get any kind of criminal justice reform."
Legend says he "genuinely cares" about criminal justice reform as his mother was arrested more than once on drug-related charges, and he has family members, neighbors, and friends who have also been impacted. With his nonprofit FREEAMERICA, he's been trying to get other people to not just care, but be educated on the issues around it — and to vote for changes.
On Thursday, Legend released a video with FREEAMERICA where he speaks with Jason Cleaveland, an entrepreneur who was incarcerated and who Legend met through Unlocked Futures, an accelerator that supports entrepreneurs impacted by the criminal justice system, about a variety of issues related to the topic. Many of those issues, Legend tells Bustle, can be changed by the upcoming election.
First, Legend says, if you care about criminal justice reform, you should pay attention to your local district attorney and if there is an election for that role. It may not be the hippest topic of 2018, but those are the people who directly impact what happens to people in your area going through the justice system by deciding on the severity of prosecutions. How district attorneys get the office differ throughout the country, but you can check on BallotReady to see if there's a district attorney election on your ballot this year.
Next, Legend points to several states with ballot initiatives about criminal justice. With ballot initiatives, voters are often literally deciding whether to pass or repeal certain policies. Louisiana, for instance, is one of two states in the country that does not require a unanimous jury for a guilty conviction. This year, Louisiana voters can vote to change that law.
"We're trying to change that," Legend tells Bustle, "because it ends up resulting in false convictions, and it's part of the Jim Crow era that we want to make the past." According to an August 2018 American Bar Association report advocating for Louisiana and Oregon to change their jury law, Louisiana has the second-highest rate of wrongful convictions in America.
In Ohio, voters can enact a policy that would make drug possession and drug use a misdemeanor rather than a felony. Legend says FREEAMERICA and others are working to change the law so drug enforcement focuses more on rehabilitation than punishment — "putting far fewer resources in the business of locking people up and putting a lot more resources into giving people the help they need."
Finally, in Florida, you can vote for a ballot referendum that would restore voting rights to people who were convicted of nonviolent felony crimes and completed their sentence. Legend has personally been to Florida campaigning for Amendment 4, "hoping that people will decide to give people who've been convicted of felonies in the past a second chance when it comes to voting."
"I've seen the effect it can have on your family when you're not able to find work, when you're not able to find housing, when you're not able to participate in society, when you're not able to vote. All these things are really crippling for people when they try to get their lives back together," Legend says. "We need to make sure that even after people have committed crimes and they return as citizens to the community, that we give them the opportunity to not only just return to the community, but be participants in the economy, in civil society, in our elections."
Even if you're not from one of those states, though, your vote can impact criminal justice reform — and help keep democracy intact.
"I mean, just turn on the news for one hour," Legend says. "Look at what the president is trying to do to our institutions, to our norms, to freedom of the press, to birthright citizenship. Look at what he's doing to encourage anti-Semitism and racism in the country. Look at what he's doing to weaken the rule of law when it comes to him and his cronies. Look at what he's doing to try to take health care from millions of people."
Legend pointed out that we're not powerless. "There's so many reasons we need to hold this president accountable and to provide a check against his abuse of power," he said. "The only way we can do that is — well, the most important way we can do that in this time is to vote."