John Legend Is Worth A Follow On Snapchat If You're A Fan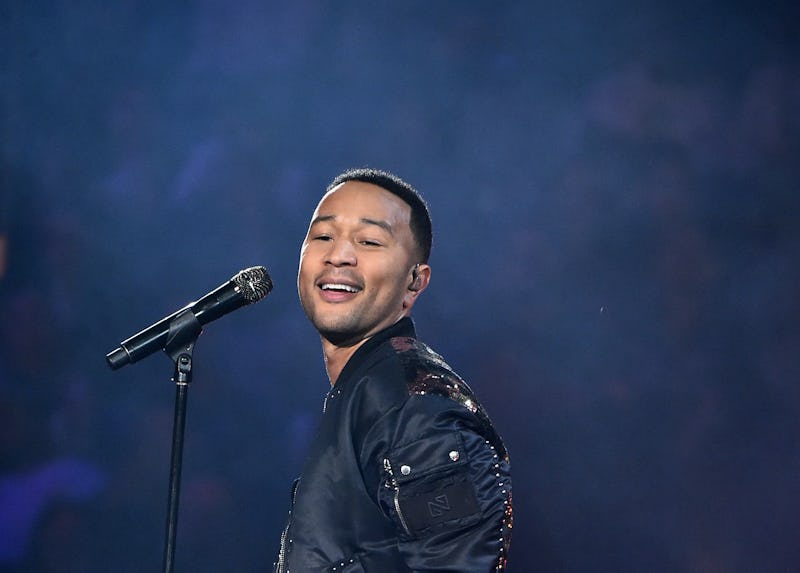 Theo Wargo/Getty Images Entertainment/Getty Images
John Legend's social media presence is, indeed, the stuff of legend (sorry). Legend and his wife, Chrissy Teigen, have an active presence on the internet, and their posts will make you laugh, cry, and think more than most other celebs. But with Teigen's snaps, tweets, and Instagram posts always going viral, it raises an important question: Does John Legend's have a Snapchat?
Legend and Teigen have a super funny rapport, and whether it's the endless tweets about food or goofy vacation pics on Instagram, their posts will make you smile. Not to mention how #goals their relationship is; Legend regularly tweets and 'grams his love for Teigen, and after the Oscars, Teigen posted a series of adorable drunk Snapchats where Legend helped her take off her jewelry.
It turns out Legend does have a Snapchat account, too, but he's not as active on it as other social media. The singer has a clear preference for Twitter and Instagram, and updates these platforms more regularly. Snapchat seems to be less of a priority, but he's still might be worth a follow, as you never know when he is going to bust out a new song via snap.
Legend joined the platform in February 2016, mostly to take fans backstage at the Grammys. He posted a video to Twitter and Facebook to share his Snapchat name and to tease the kind of snaps fans could look forward to.
This may be a pretty big shock, but Legend's name on Snapchat is, ahem, johnlegend. While he may not be the most prolific snapchatter, Legend might be keeping that account for other reasons, like following his wife, who has a much stronger Snapchat game. A lot of Teigen's family updates on Twitter feature some sort of Snapchat video or picture and, like Legend, she isn't afraid to embrace a funny filter.
As of now, Legend hasn't had any notable Snapchat moments. While he and his fam love to keep fans in the loop with candid updates online, it seems he really made his Snapchat for more professional purposes. That doesn't mean you can't catch up with him via Snap. He and baby Luna make regular appearances in Teigen's funny Snapchat sagas.
Personally, I wish that Legend would embrace Snapchat with the same enthusiasm he has for other social media. It's mostly because I like his music and want regular private concerts, but I guess being an international pop superstar doesn't leave a ton of time for Snapchatting. The good news for Legend lovers looking to catch up with the singer is that the star keeps fans in the loop elsewhere.