John Legend Stumbled Upon The Perfect Cafe While On Vacation & The Photo Is Too Good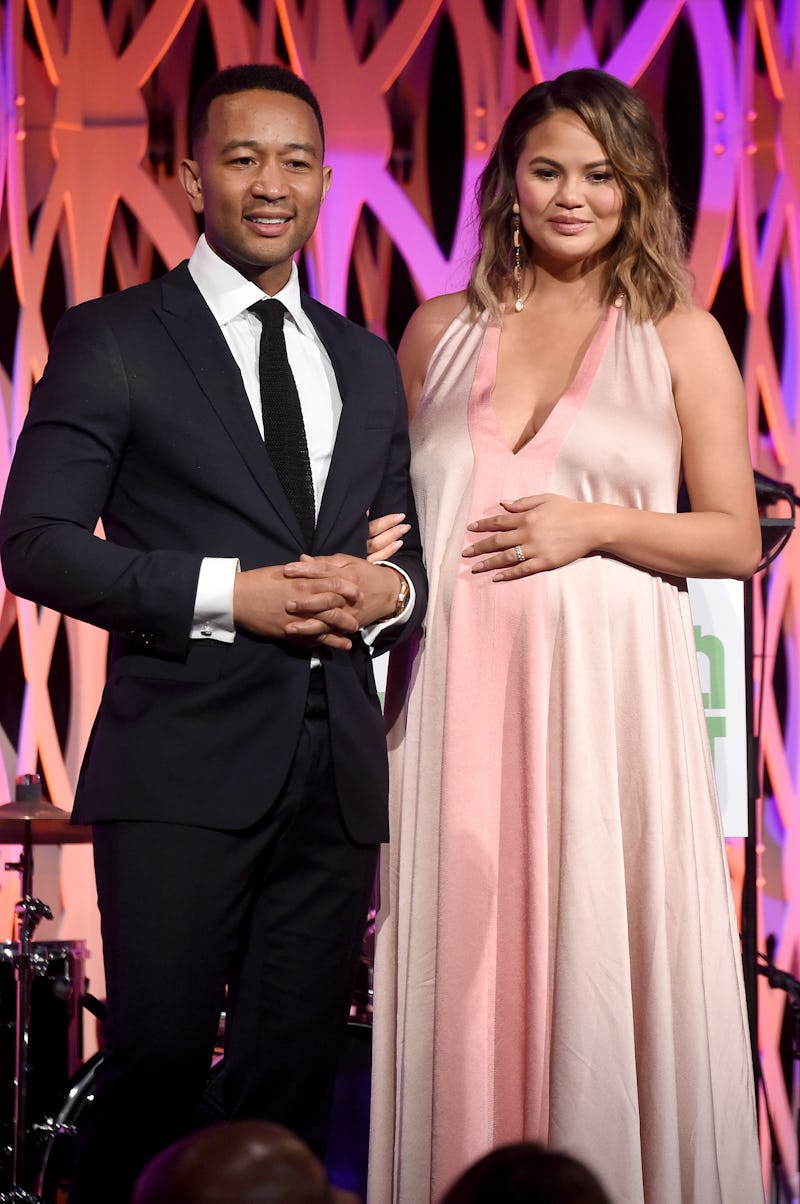 Jamie McCarthy/Getty Images Entertainment/Getty Images
Even though John Legend is a Grammy-winning musician and Chrissy Teigen is a beloved supermodel, they still mange to be the most relatable couple in the entertainment business. Their shared down-to-earth outlook is why they both have such loyal social media followers. Recently John Legend shared a photo from his family vacation in Bali that'll make his fans laugh.
While on vacay, Legend saw a restaurant called The Legend Cafe and just like anyone else would, he took a photo posing in front of the sign. Celebrities really are just like us. Well, maybe not "just like," but they do a lot of "normal" things too, which is very refreshing when so many other stars are constantly flexing and showing off luxurious purchases. Not only that, but Teigen and Legend are both hilarious with their commentary, which is always appreciated.
As much as some of their most devoted fans would love to be along for the family's Bali vacation with their 2-year-old daughter Luna and 2-month-old son Miles, that's just not possible. Thankfully the couple has been sharing some sweet and hilarious updates from their travels, so their fans get a glimpse into the fun times.
Along with the photo in front of the restaurant, Legend joked, "I haven't eaten here yet but I assume it's delicious." That really is a logical assumption considering how successful he is. The word "legend" had enough weight on its own, but as the singer's chosen moniker, it's really been elevated to another level.
Meanwhile, Teigen shared an adorable video of herself, John, and Luna getting transported around Bali.
And in case that's not enough, Legend posted a photo with Luna and Miles lounging around on vacation with the simple caption, "Babies in Bali." It looks like a "normal" photo that any dad would share so it's easy to forget that most dads are not casually vacationing with babies in Indonesia.
Even though Luna is a child of two super famous celebrities, which seems like a great life to live, even she needs to relax here and there. Her dad shared a photo of her laying down on a pillow, covered in a white blanket while enjoying a snack. He captioned the photo, "Living her best life." She really is, though — on vacation and every day.
Luna isn't the only child getting some good rest in Bali. Teigen shared a photo of baby Miles napping in her arms.
The mother of two channeled the locals while giving her arms a little bit of break and held Miles in a Balinese sling. She even anticipated some mixed reactions in the comments and joked, "learned a little Balinese sling action! please feel free to get angry and judgemental in my comments below! I know you can't wait!!"
The trip wasn't all lounging around though. Little Luna had fun switching up her look by sporting a flower behind her ear.
Luna also got some daddy-daughter time in playing with her father outside in a photo that the "All of Me singer" shared on Instagram.
Legend also spent some time outside with Miles, singing Christmas music — during the summer — in a video that Teigen tweeted.
Teigen also shared another video of her husband enjoying some holiday music and joked, "In a tropical paradise. August. John excitedly listening to his Christmas album every day all day. He's very excited for you guys to hear!"
Legend may be the Grammy winner, but he is not the only parent who sings to their kids. Teigen shared a candid photo singing to a smiling baby Miles with the caption "favorite song: copacabana."
It's great to be in this family anytime, but it seems especially enjoyable, funny, and adorable on this Bali vacation.