John Legend Posted A Super Chill (& Super Adorable) Vacation Selfie With His Kids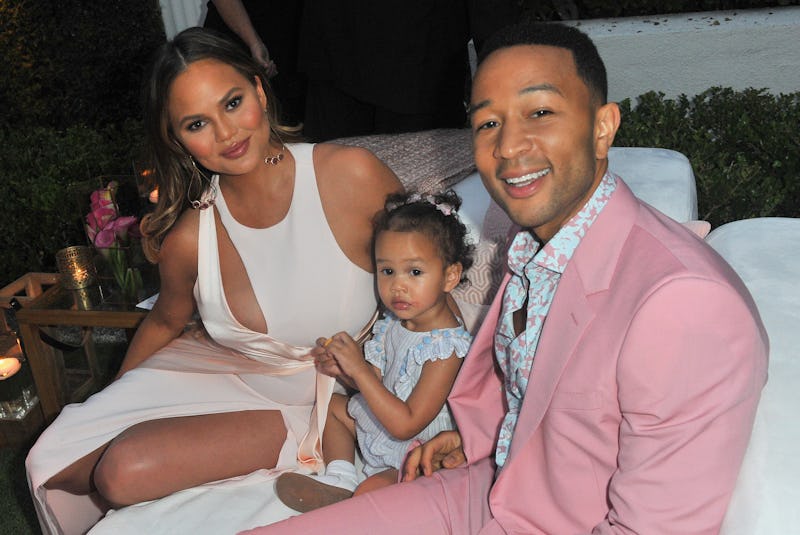 Jerod Harris/Getty Images Entertainment/Getty Images
Warning: Cuteness overload ahead. Chrissy Teigen and John Legend's family vacation photos are so precious you won't know what to do with yourself. For the first time, they are vacationing as a family of four, and based on the following photos, the trip is going great. They are currently in Bali, Indonesia and the trip suits them all very well.
The "A Good Night" singer posted an Instagram Wednesday with a very happy Luna and a totally chill Miles. "Babies in Bali," he captioned the image. This is the perfect family selfie, but it'd be even better if Teigen was in the photo, of course. Speaking of the Cravings: Hungry for More author, she posted a new picture of Miles being his cool self in Bali. As you can see below, he's lounging on the couch in his diaper and holding his pacifier. The way he's posing is the sweetest. What makes the photo even better is Teigen's caption. She wrote next to it, "hello ladies."
On July 22, Teigen tweeted about flying with both Miles and Luna. She posted, "Have survived first 15 hour flight with 2 year old and newborn. One more leg to go." She later tweeted, "I truly love hearing other kids cry now because it means it's not my own. That's a better feeling than silence, honestly." Other parents can probably relate to Teigen's thoughts and experiences while traveling with little kids. It definitely can't be easy at times.
This isn't the first time Legend and Teigen have been in Bali. They traveled to the Indonesian island in July 2017, so basically one year ago. Luna tagged along, too. They had a fabulous time, like they are now.
Next to an image of the Lip Sync Battle star and singer in traditional Balinese clothing, Teigen wrote on Instagram, "We had the most beautiful, wonderful time in Bali. Como Shambhala, my body and mind have never felt so clear." She continued, "Thank you for getting me to move again (first time since I was 8 months pregnant and Luna is ummmm 15 months old) and giving me some much-needed body and nutrition schooling! And thank you for dressing us in your beautiful, traditional ceremonial costumes! And don't worry, everyone. I still love me some .99 two tacos. Balance! #notbeingpaidtosaythis."
You can see how much Luna has grown up in a year. She looks so little in their Bali photos from last year. And now she gets to be on vacation with her baby brother. Who knows, maybe next time they go to Bali, there will be another mini Teigen and Legend in tow.
In May, Legend talked about having more kids with Teigen. "I think we'll probably have some more," he told Access Hollywood. "We'll take it as it comes and won't try to rush into it. We love having two kids. It feels more like a family. It's really exciting to see them interact with each other and for us, as a couple, to take care of two kids, it's very exciting."
It definitely looks like they're having an exciting time all together in Bali. Here's hoping Legend and Teigen share more adorable family photos from their vacation.