McCain Says Trump's Russia Woes Are Moving Faster Than Watergate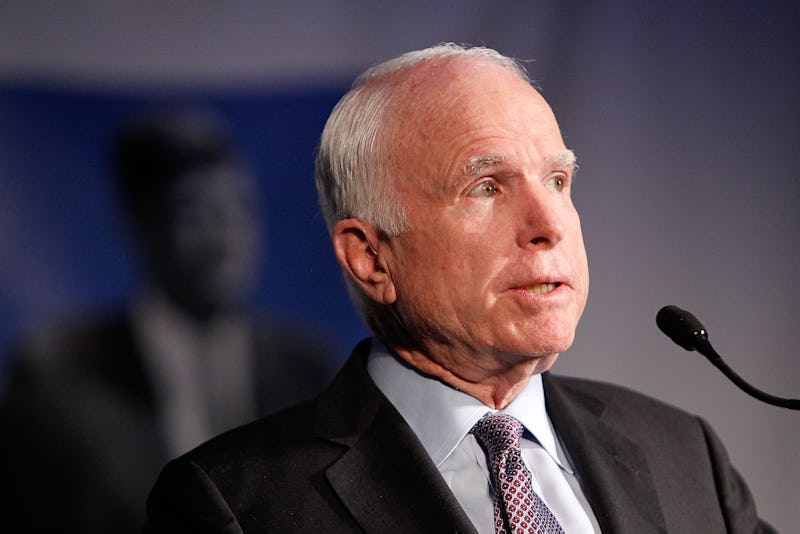 Paul Morigi/Getty Images Entertainment/Getty Images
Donald Trump's dismissal of James Comey, the former director of the FBI who was leading the investigation on potential collaboration between Trump and Russia, was abrupt and disturbing. So disturbing, in fact, that it's drawn plenty of comparison to the shocking incident to Richard Nixon's Watergate scandal, which took four decades ago.
In similar fashion, Sen John McCain likened the development to Nixon's ordeal but with a special note: according to McCain, Trump's Russia scandal is moving faster than Watergate, even. In a video clip shared by NBC News' Vaughn Hillyard, the Arizona Republican described Trump's Russian scandal in the following words: "It's just another scandal but, unfortunately, it continues [...] Only now it's accelerated." McCain went on to say, "Watergate took many months. This thing seems to be taking hours."
The statement, which was delivered on Tuesday night, was later on clarified by McCain's office. His spokeswoman Julie Tarallo told CNN, "Sen McCain's comments [on Tuesday night] were simply meant to convey that the constant revelations of events surrounding Russia's interference in the 2016 election." The statement pointed out that the "revelations" surrounding the Trump-Comey story are antithetical to the prosperity of the United States and should be dealt with "scrutiny." As stated before, this is not the first time people have highlighted how "Nixonian" the entire tension between the FBI and Trump probe has been.
On Wednesday, McCain noted that there was a viable way for Trump to circumvent the mass paranoia and suspicion caused by the Russian investigation. He pointed to a case from another American president, Ronald Reagan, and how Reagan's handling of the Iran-Contra affair (also known as Irangate or the Iran-Contra scandal) diffused the controversy effectively.
McCain told CNN, "The way Reagan was able to overcome Iran-Contra was he got everything out so there were no more questions so the country could move on." McCain was possibly referring to the Tower Commission formed in 1986, which was appointed by Reagan to look into the scandal at that time.
The president has been consistently called on by various Democrats, Independents, and several Republicans to address the mounting lack of trust which mushroomed after Comey's dismissal. Many demand for an independent investigation to put an array of suspicions — including possible collusion between Trump and Russia during the 2016 election — to rest.
Although not one to heed advice, Trump may do well to take McCain's advice as the pressure on him continues to mount. It might even lighten up the mood in the White House, which doesn't seem so uplifting, according to The New York Times.