Debra Newell From 'Dirty John' Wasn't John Meehan's Only Victim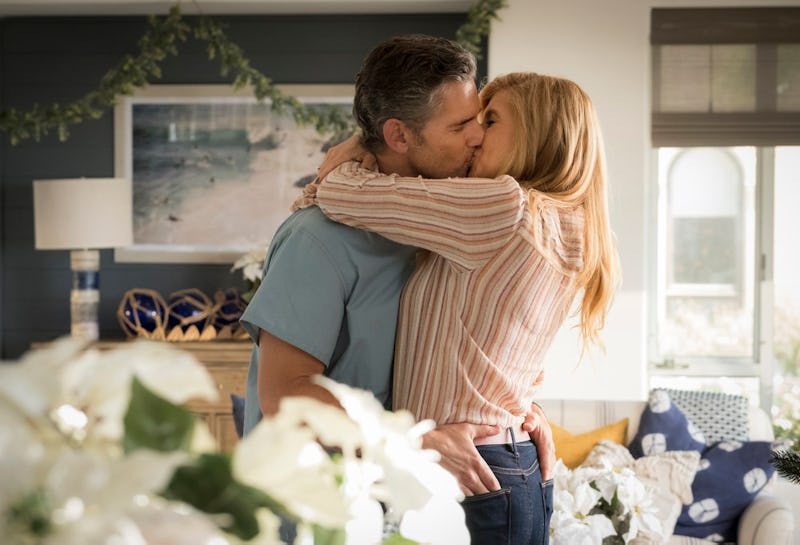 Nicole Wilder/Bravo
Dating is scary enough, but if there's one thing millions of listeners have learned from listening to the Dirty John podcast and watching the television show of the same name, it's that online dating is even scarier at times. Debra Newell met John Meehan online, fell hard, and then found herself in the most extreme, most terrifying ordeal of her entire life. But Newell wasn't the only one who fell victim to Meehan's crimes. The Dirty John podcast describes more of Meehan's alleged victims, and all of it is pretty haunting.
According to the Los Angeles Times, Newell may not have found something off about Meehan, but her daughters, Terra and Jacquelyn, sure did. Both refused to be around Meehan and urged their mother to look more closely into this man's strange past — saying that he worked for Doctors Without Borders, that all his clothes had been stolen... they were red flags for the girls. And if anyone had spoken to Meehan's ex-girlfriends or family, the Newell women would have known much more quickly that Meehan was not a man to be involved with.
The podcast is about Newell's ordeal with Meehan, but Meehan's victims, though scattered all over the country, had one thing in common with the Newell women — they were all terrified of him.
Ex-Wife Tonia Sells
Meehan and Sells, according to the Los Angeles Times, married in November 1990. He had reportedly already lied about his age (he was 31, not 26) and his name (John, not Jonathan) before they were married, and things just got worse. After ten years, Meehan wanted a divorce, and he truly became a horror after Sells called his mother — something Meehan always forbade. Sells received death threats from Meehan, and he was convicted of menacing, according to the same report.
A Woman From Porter Ranch, CA
According to the Los Angeles Times, Meehan allegedly threatened a woman, via anonymous letter, "You are my project for years to come," he wrote, saying that he had taken nude pictures of her while she was under anesthesia and would share them with her loved ones at any given moment.
Another Ex From Laguna Beach
Meehan posed, according to the podcast, as the woman's anesthesiologist to get her to go out with him, and then he tried to make her transfer over money to him so that her ex-husband wouldn't find it. When she refused, the podcast says, Meehan sent explicit pictures of her to her family. When police investigated, they found binoculars, cyanide capsules, ammunition, cable ties, a pocket saw, and more in Meehan's apartment. He eventually pleaded guilty to stalking the woman, according to the Los Angeles Times report.
Other Ex-Girlfriends
The Los Angeles Times reports that at least three women (all ex-girlfriends) had restraining orders on file against Meehan, and all had allegedly received death threats or threats of revenge porn if they didn't comply with Meehan's wishes.
Meehan's Sisters
All of Meehan's sisters commented on the Dirty John podcast, expressing that Meehan learned to become manipulative "from an early age." Meehan's sister Donna took him in after he got out of jail, only to reportedly be stolen from and left afraid, much like the rest of Meehan's victims.
Attorney John Dzialo
Dzialo was the divorce attorney tasked by Newell to separate her from Meehan. When Meehan found out about the plans for a post-nup, he was incensed, and he threatened Dzialo, saying he was going to "ruin him." Dzialo says Meehan was the "scariest man he's ever met," in the podcast.
As the Dirty John podcast shows, Meehan had plenty of time to meet other victims before setting his sights on Newell. The show has time for only one storyline, but make no mistakes — Meehan's exploits could fuel a whole series.