John Oliver Grilled Dustin Hoffman About His Sexual Harassment Allegations & It Got Ugly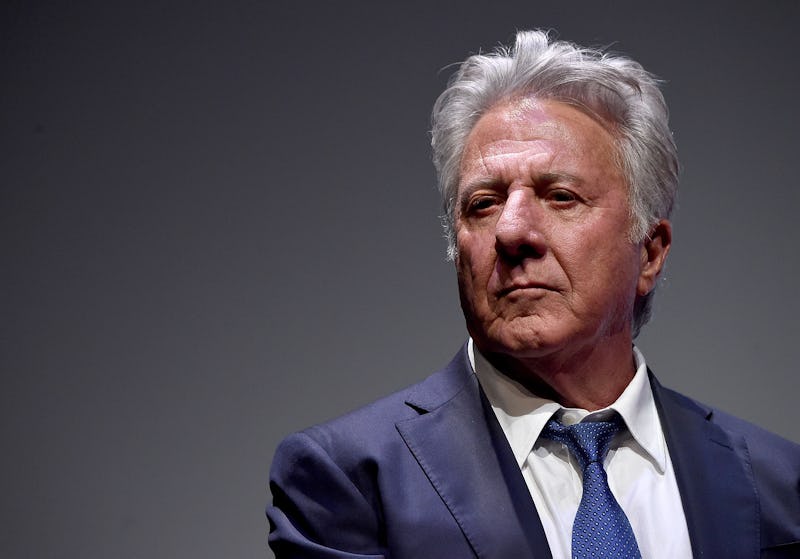 Jamie McCarthy/Getty Images Entertainment/Getty Images
While interviewing Dustin Hoffman before a 20th anniversary screening of Wag the Dog on Monday, John Oliver said he needed to address the "elephant in the room." The Q&A then got tense as Oliver asked Hoffman about sexual harassment allegations against him, calling the actor a "creeper."
"This is something we're going to have to talk about because … it's hanging in the air," the Last Week Tonight host told the New York City crowd. "We're about to watch a movie where sexual harassment is an under-plot and there's an elephant in the room because this conversation is not being had."
Anna Graham Hunter alleged last month that Hoffman groped and sexually harassed her on the set of the TV movie Death Of A Salesman in 1985, when she was a 17-year-old intern. She claimed Hoffman asked her for foot massages, grabbed her butt, and was "openly flirtatious." Hoffman apologized in a statement, saying he felt "terrible that anything I might have done could have put her in an uncomfortable situation." However, Oliver bringing up the allegations in front of a live audience and asserting that he believes Hunter's claims led to a heated conversation.
"It's hanging in the air?" Hoffman asked Oliver. "From a few things you've read you've made an incredible assumption about me. You've made the case better than anyone else can. I'm guilty," he sarcastically quipped.
Oliver proceeded to ask Hoffman if he felt his short apology was enough. "First of all, it didn't happen the way she reported," Hoffman replied, casting doubt on the details of Hunter's story.
Hoffman had ended his apology statement by saying, "I am sorry. It is not reflective of who I am," which Oliver took issue with. "It's that part of the response to this stuff that pisses me off," Oliver told the actor.
It is reflective of who you were. You've given no evidence to show that it didn't happen. There was a period of time when you were a creeper around women. It feels like a cop-out to say, "Well, this isn't me." Do you understand how that feels like a dismissal?
Hoffman responded, "You weren't there," But Oliver didn't let up, adding, "I'm glad."
Hoffman then told Oliver he was putting him "on display," arguing that Oliver wasn't treating him fairly. Hoffman said: "You have indicted me… That's not innocent until proven guilty."
Pressing forward on the issue, Oliver read aloud from Hunter's guest column detailing her allegations against the actor in The Hollywood Reporter. Hunter alleged Hoffman talked about sex to her and in front of her, and described one particular alleged incident.
One morning I went to his dressing room to take his breakfast order; he looked at me and grinned, taking his time. Then he said, "I'll have a hard-boiled egg ... and a soft-boiled clitoris." His entourage burst out laughing. I left, speechless. Then I went to the bathroom and cried.
Oliver told Hoffman he believes Hunter's allegations, saying there's "no point" in her making up lies about Hoffman. "Well, there's a point in her not bringing it up for 40 years," Hoffman replied.
The Q&A got so tense that audience members reportedly began chiming in. One woman yelled, "Thank you for believing women!" while someone else told Oliver to "move on."
Producer Jane Rosenthal, who sat beside Hoffman on the panel, also jumped in at one point in an attempt to shift the conversation away from Hoffman's alleged misconduct. "[Wag the Dog] wasn't produced by Weinstein Co. or Miramax, so you don't have a really big conversation," she said. "Kevin Spacey wasn't starring in it. Let's look at real sexual criminal predators."
"That's a low bar," Oliver responded.