John Oliver Is Being Sued For Insulting A Coal Tycoon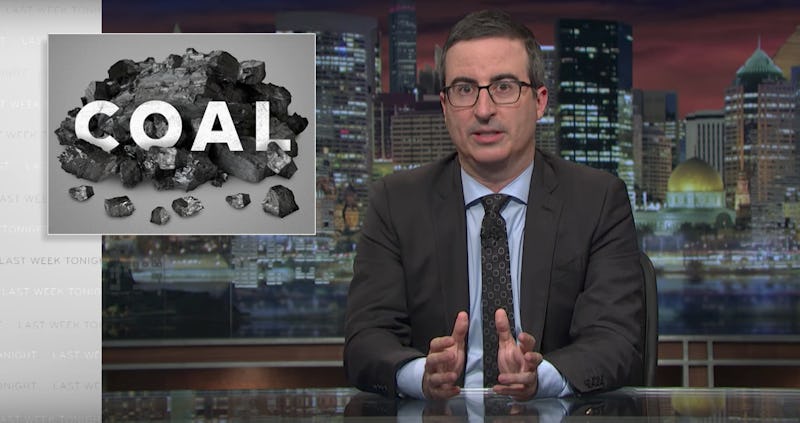 Last Week Tonight with John Oliver/HBO
Famous Last Week Tonight host John Oliver is being sued by Robert Murray, the CEO of a major coal company, for satirizing Murray during Sunday's episode of the show. According to Oliver, Murray sent him a cease-and-desist letter before the episode even aired, demanding that he not engage in "any effort to defame, harass, or otherwise injure Mr. Murray or Murray Energy." Oliver neither ceased nor desisted, and instead devoted 10 minutes of his show to skewering Murray.
In his lawsuit, Murray and his associates claim that Oliver "executed a meticulously planned attempt to assassinate the character and reputation" of Murray by "knowingly broadcasting false, injurious, and defamatory comments to HBO's approximately 134 million paying subscribers." The lawsuit repeatedly cites Murray's "ill health," and contends that Oliver's comments caused Murray to suffer "physical distress and damage."
"[M]edical doctors have informed Mr. Murray that he should stop working because the stress is shortening his life," the lawsuit says. "But nothing has ever stressed him more than this vicious and untruthful attack."
A spokesperson for HBO told the Daily Beast that "While we have not seen the complaint, we have confidence in the staff of Last Week Tonight and do not believe anything in the show this week violated Mr. Murray's or Murray Energy's rights."
A portion of the lawsuit involves comments Oliver made about the 2007 collapse of the Crandall Canyon mine in Utah, in which nine miners were killed. Oliver claimed on his show that Murray, who owned the mine, falsely said that the collapse was caused by an earthquake, when in fact, Oliver said, it was reportedly caused by negligence on the part of a Murray-owned company. Murray claimed that Oliver omitted any mention of studies that reportedly affirmed Murray's earthquake claim, thus "intentionally and falsely impl[ying] that there is no such evidence" that an earthquake caused the mine to collapse.
In a 2012 settlement with the Labor Department, the Murray Energy subsidiary that operated the mine "acknowledged responsibility for the failures that led to the tragedy at Crandall Canyon," according to the text of the settlement.
Murray's lawsuit also claimed that after the show aired, the website of Murray Energy was hacked and vandalized with a comment, "Eat Sh*t, Bob!," that originated on Oliver's show; as such, Murray's legal team claimed that Oliver had also succeeded in "inciting injury" unto Murray and his company.
Although Oliver hasn't publicly commented on the lawsuit, he said during the episode in question that "an honest conversation about coal and its miners needs to be had, and we should neither cease nor desist from having it." Oliver also predicted — accurately, as it turns out — that Murray might sue him in response to the segment.