John Oliver's Career Path Is As Wild As You'd Hope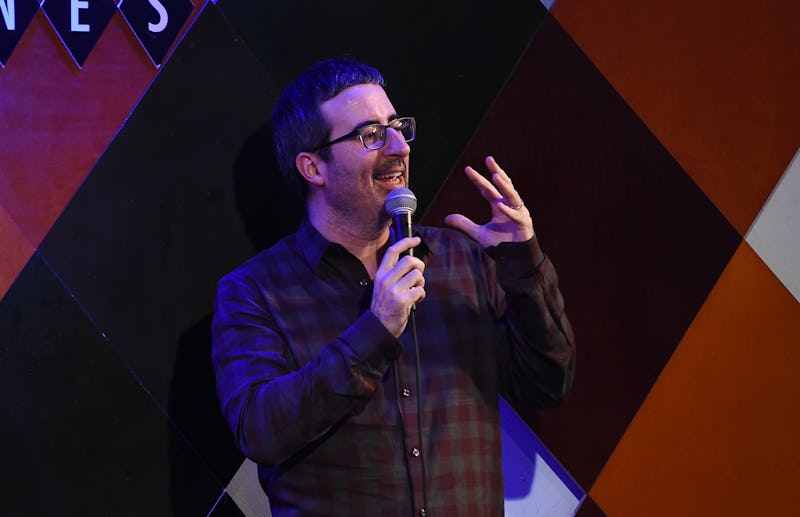 Ilya S. Savenok/Getty Images Entertainment/Getty Images
John Oliver's popular news satire show, Last Week Tonight, returned for its long-awaited fourth season on Feb. 12 and subsequently received high praise. In honor of the British comedian's return to television, here's a look back at Oliver's career timeline to Last Week Tonight.
Many people know of John Oliver from his years working in U.S. television, first on The Daily Show with Jon Stewart and then on his own show, Last Week Tonight. However, Oliver had a fairly extensive comedy-centered career in England prior to his move to the United States.
Oliver was born in Erdington, a town near Birmingham, and attended Cambridge University. He became heavily involved in the comedy scene at his college and subsequently became a regular performer at English theater festivals as well as made regular appearances on a popular BBC television show.
Oliver eventually relocated to the United States in order to join the cast of The Daily Show with Jon Stewart. It is particularly interesting to watch his first-ever clip on U.S. television, and see how far he has come since his early days.
Oliver's career trajectory has had many twists and turns, but it's clear he has always possessed an innate, impressive comedic talent that's continuing to absolutely delight viewers in what is an otherwise dark political climate.
Cambridge University
In the 1990s, Oliver attended Cambridge University, specializing in English. While at Cambridge, he was a member and eventual vice president of the Cambridge Footlights, a student sketch troupe well-known for its comedic sketches and stand-up. Cambridge seems to have played a significant role in helping establish Oliver's comedic roots and expertise.
Theater Festivals
In the years following his graduation from university, Oliver eventually become a prominent figure on the English theater festival scene. He made one of his first festival appearances in 2001 at the Edinburgh Festival as part of a group showing and subsequently held solo shows at the same festival in 2002 and 2003.
BBC Appearances
At the Edinburgh Theater Festival in 2004, Oliver created the show Political Animal, along with comedian Andy Zaltzman; Political Animal is a comedic political radio show that eventually moved to BBC 4.
Oliver was making appearances on the British stand-up and TV circuits, including serving as a panelist on the popular BBC show, Mock the Week, when he was asked to audition for Jon Stewart's The Daily Show in 2006.
The Daily Show's Senior British Correspondent
Oliver speculates that Ricky Gervais may have been the one who recommended him for the show, according to the The Independent. He flew to the United States for the first time in his life to audition, and was offered the position of Senior British Correspondent two weeks later.
Oliver remained with The Daily Show for eight years.
The Bugle Podcast
While continuing to work on The Daily Show, Oliver also created The Bugle, a weekly satirical podcast, with Andy Zaltzman, in 2007, and continued to co-host the podcast for almost nine years.
Stand-Up Comedy Shows
Oliver hosted his first Comedy Central stand-up show called John Oliver: Terrifying Times in 2008 and subsequently hosted four seasons of his own Comedy Central stand-up series entitled John Oliver's New York Stand-Up Show.
Guest Hosting The Daily Show
In 2013, Oliver guest-hosted The Daily Show for two months while Jon Stewart was on a leave of absence. Oliver's guest-hosting stint really helped showcase his talent for carrying a political satire television show and contributed to his securing a contract for his very own show the following year. Indeed, according to an HBO representative who spoke to The Telegraph:
We weren't otherwise searching for another weekly talk show, but when we saw John Oliver handling host duties on The Daily Show, we knew that his singular perspective and distinct voice belonged on HBO.
Last Week Tonight
Of course, as many know, Oliver left The Daily Show and moved to his current hosting position on his own show political and satirical comedy show, Last Week Tonight, after signing a contract with HBO. Last Week Tonight has had a highly successful three seasons so far, and many people are very much looking forward to seeing what Oliver will bring to table this season during Trump's presidency, as political commentary is arguably now more important than ever before.
Overall, Oliver's career trajectory has seemingly very well prepared him for the important task he faces today: presenting comedy while also engaging in important political commentary in a highly volatile political environment.