The Neil Gorsuch Lobster Justice Vote Is Close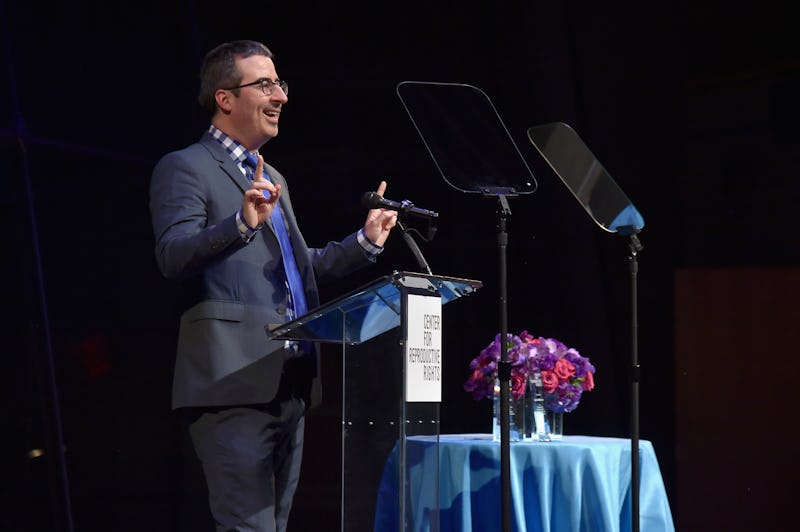 Michael Loccisano/Getty Images Entertainment/Getty Images
The Supreme Court has had a vacancy for over a year. Following the death of Antonin Scalia last February, Barack Obama nominated Merrick Garland to be his replacement. But Garland never received a Senate hearing, and in January, his nomination expired after 293 days. Donald Trump subsequently nominated Neil Gorsuch — which means a key vote will take place. No, we're not talking about the Senate confirmation; clearly, its John Oliver's vote to select Gorsuch's lobster justice counterpart on the show's all-dog Supreme Court.
On Sunday night's episode of Last Week Tonight, Oliver introduced the crustaceous options to represent Gorsuch. The race offers three options: Cin Clawford, who is comically described as a "pro-life" lobster; Pinchers Von Shellington III, "a staunch opponent of judicial activism"; and Mike, who is just an ordinary lobster.
Last Week Tonight has an all-dog Supreme Court to reenact oral arguments because cameras are not permitted in the courtroom. As Oliver reminded the audience, a similar poll created after Garland's nomination resulted in a dog named Mollie being appointed to represent Garland on the show's court — but given that Garland never got to serve, neither did Mollie. So now, instead of finding a dog to represent Gorsuch, Oliver has decided that a lobster will do the job instead, to reflect the fact that "it has no place in that spot on a dog court."
On Facebook, the results seem to be in Pinchers' favor. Pinchers' photo has the most reactions, even as Facebook users comment about Mike's appeal. But on Twitter, Mike seems to be the clear frontrunner, taking 42 percent of the over 14,000 votes cast thus far. Clawford is trailing behind Pinchers and Mike in both the Facebook and Twitter polls.
No matter who ultimately wins the vote and goes on to represents Gorsuch, the lobster justice race has already yielded some fantastic social media commentary about the lobsters' qualifications. Twitter users had a variety of reasons for voting for their chosen candidates; let's take a look at what some of them had to say.
Oliver's decision to put a lobster-Gorsuch on his show's all-dog Supreme Court is more than just hilarious, though. It draws attention to the fact that, as Oliver said, "Gorsuch's nomination is a historical aberration." Garland's nomination sat before the Senate for more than twice the amount of time as any other Supreme Court justice nominee and for him to have never received a hearing was unprecedented.
Whichever lobster wins the race, this new change to Last Week Tonight's all-dog Supreme Court will be a permanent reminder of Republicans' blocking Garland's nomination.