John Stamos & Lori Loughlin Lip-Syncing Will Remind You What It Feels Like To Smile Again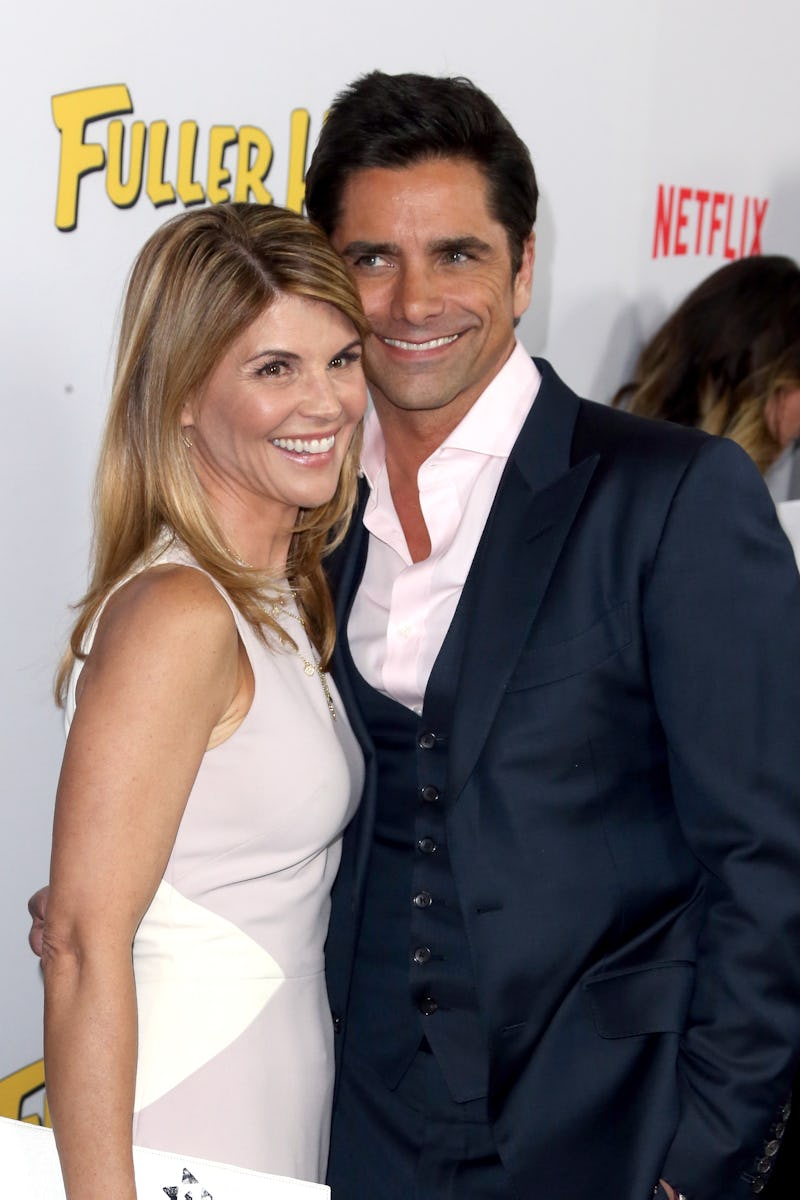 Frederick M. Brown/Getty Images Entertainment/Getty Images
Stars of the now iconic Full House, and guest stars on the Netflix revival Fuller House, John Stamos and Lori Loughlin — lovingly known as Uncle Jesse and Aunt Becky to fans — have given the world a much needed reason to smile again. On Wednesday, Aug. 23, Stamos shared a video of himself and Loughlin recorded in front of what looks like the exterior door of the house in Fuller House. But he didn't just share any regular video, oh no, the clip Stamos posted to Instagram features the duo lip syncing to "Love Is An Open Door" from the 2013 animated Disney film Frozen. To be honest though, using the phrase "lip syncing" doesn't even begin to do the video justice. It's well choreographed, perfectly timed, and the expressions on Stamos' and Loughlin's faces show how much fun the two undoubtedly had shooting the vid.
"Love Is An Open Door" was originally performed by Kristen Bell and Santino Fontana, who provide the voices of Anna and Prince Hans in Frozen, and is regarded by many as one of Disney's best duets in a while. So it's downright adorable to see Stamos and Loughlin, who have been friends for decades, doing their own rendition of the song.
Without further ado, I present you with the video that you'll probably spend watching on repeat for the next ten or so minutes.
Who knew that Stamos and Loughlin were close enough to finish each other's... sandwiches?
This isn't the first time that Stamos has shown off his apparent love for the hit Disney film. Back in January 2016, the Fuller House actor shared a photo of himself posing with Anna and Elsa impersonators at Disneyland.
Charlie's Angels much?
This also isn't the first time Stamos and Loughlin have lip synced a scene together. On Aug. 19, Stamos turned 54 years old. Hard to believe, right? In honor of his birthday Loughlin posted a video that also seems to have been shot in front of the Fuller House home. In the clip the two mouthed the words to a scene from the 2008 movie Step Brothers that referenced Stamos.
Isn't it great seeing the two of them frequently showing up one one another's social media? It's a pure dose of smile inducing, gold ol' fashion nostalgia.