Johnny Depp Finally Addressed The Controversy Surrounding His 'Fantastic Beasts' Casting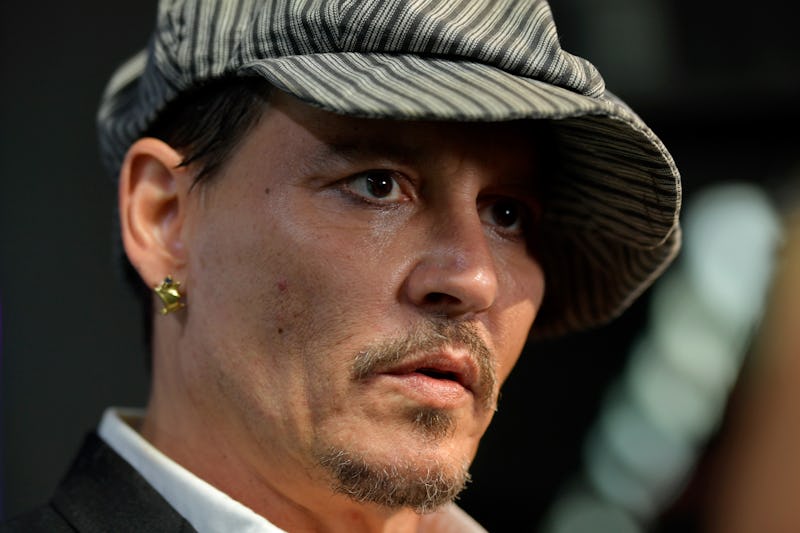 Thomas Lohnes/Getty Images Entertainment/Getty Images
Just over a month ahead of the movie's release, Fantastic Beasts: The Crimes of Grindelwald actor Johnny Depp has responded the controversy surrounding his Fantastic Beasts casting, in an interview with Entertainment Weekly published on Oct. 11. The publication asked about the controversy and backlash to him being cast as Grindelwald in the film and Depp started off with a statement of appreciation for Rowling.
"I felt bad for J.K. having to field all these various feelings from people out there. I felt bad that she had to take that," Depp told EW. "But ultimately, there is real controversy."
The actor went on to tell the magazine,
"The fact remains I was falsely accused, which is why I'm suing the Sun newspaper for defamation for repeating false accusations. J.K. has seen the evidence and therefore knows I was falsely accused, and that's why she has publicly supported me. She doesn't take things lightly. She would not stand up if she didn't know the truth. So that's really it."
In May 2016, TMZ reported that Heard filed a restraining order against Depp, claiming domestic abuse. Heard filed for divorce during the same month. In August 2016, Heard dismissed her domestic violence petition and the case was settled. At the time, the former couple released the following statement to TMZ on their divorce case, which was in conjunction with the domestic violence petition:
Our relationship was intensely passionate and at times volatile, but always bound by love. Neither party has made false accusations for financial gains. There was never an intent of physical or emotional harm. Amber wishes the best for Johnny in the future. Amber will be donating financial proceeds from the divorce to a charity.
Heard and Depp's divorce was finalized in January 2017.
In November 2016, Depp appeared as Grindelwald at the end of Fantastic Beasts and many fans on social media were appalled by the casting decision. The backlash to his casting in the film franchise continued as more information about the sequel was announced and Depp's role in it became more defined in 2017 and 2018.
In a statement posted on her website in December 2017, Harry Potter author and Fantastic Beasts screenwriter J.K. Rowling defended Depp's casting, writing that she was "genuinely happy to have Johnny playing a major character in the movies." But the new EW interview marks Depp's first time responding to the backlash to his casting in the film.
Depp also talked to EW about his relationship with Rowling, noting that he and the author had a "long conversation" over Skype before meeting in person. "From the first second it's been an absolute treat and the most positive and fun experience," he said of working with the author. And based on his other comments, as well as the author's own statement, it looks like Rowling is firmly in Depp's corner, controversy-wise.
During the EW interview, Depp referred to his Fantastic Beasts character as "oddly likable," even though he's the villain. "His dream is for the wizard world to stand tall and above," Depp told the magazine. "It's a fascistic element, and there's nothing more dangerous than somebody who is a dreamer with a specific vision that's very strong and very dangerous and he can make it happen." The role is clearly an important one to the actor, and it sounds like he put a lot of thought into how he'd portray Grindelwald.
Still, his statements about the controversy probably won't satisfy every fan, and it's something to keep in mind ahead of the movie's release.
If you or someone you know is experiencing domestic abuse, call 911 or the National Domestic Violence Hotline at 1(800) 799-SAFE (7233) or visit thehotline.org.