People Are Calling For Johnny Depp To Be Removed From The 'Fantastic Beasts' Sequel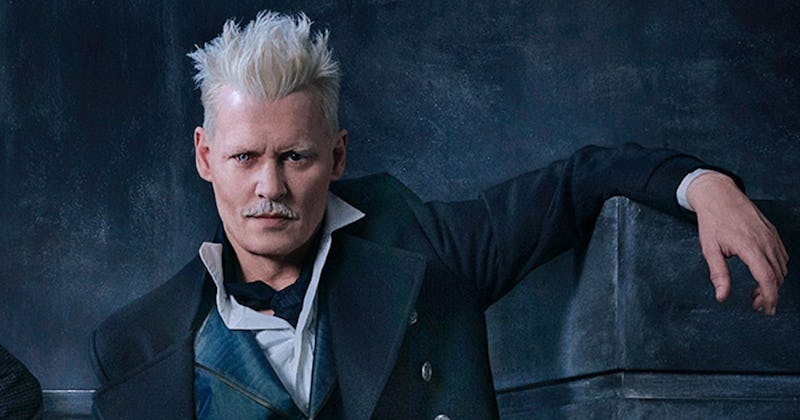 Warner Bros.
Thursday started off with some exciting news: the Fantastic Beasts and Where to Find Them sequel's title was revealed and so was the first cast photo. The movie is officially called Fantastic Beasts: The Crimes of Grindelwald. As thrilled as fans are about this brand new information — and to see the cast in character — fans are bashing Johnny Depp as Gellert Grindelwald. If they could have their way, they would expel Depp from the Harry Potter universe immediately.
If you haven't seen the first movie (*raises hand*), sorry for the spoiler, but its ending revealed Depp as the villainous Grindelwald. As all HP fans know, he is not only Dumbledore's (who is played by Jude Law in the sequel) nemesis, but the great wizard's former friend whom he was in love with, according to J.K. Rowling.
As soon as audiences experienced the reveal of Depp as the wizard after the film's release in November 2016, many were appalled. However, executive producer David Heyman indicated to People at the Fantastic Beasts premiere the casting was very intentional.
"Why did we cast him? Because he's iconic. He's an iconic actor and we needed an iconic actor to play this part," Heyman said. "Johnny's created two or three iconic people, people who are unforgettable. He makes choices, and that was really, really important."
Heyman also described Depp as "an absolute pleasure to work with."
Director David Yates told Get Surrey at the premiere, "What you have to remember about Johnny is that extraordinary talent and that talent never goes away. Hollywood is such a fickle place. People go up and go down." He continued, "He's a huge Potter fan. He loves the world. He was beyond excited about working on this material. In fact he didn't even want to see a script, he just said, 'I'm in'."
During the premiere, Rowling also praised Depp's acting abilities to People and said, "Watching Johnny create a character is really quite remarkable, it's fascinating. It's great as a writer to work with people like that."
Despite their praise, there has been much controversy surrounding the casting choice stemming from Depp's divorce from Amber Heard and her allegations of domestic violence against him. In May 2016, Depp denied Heard's claims of abuse through his lawyer, Laura Wasser, who told People, "Amber is attempting to secure a premature financial resolution by alleging abuse." In August 2016, they settled their divorce, which also brought Heard's withdrawal of her domestic violence restraining order petition she filed against Depp. At the time of their divorce settlement, the former couple released the following statement to TMZ:
Our relationship was intensely passionate and at times volatile, but always bound by love. Neither party has made false accusations for financial gains. There was never an intent of physical or emotional harm. Amber wishes the best for Johnny in the future. Amber will be donating financial proceeds from the divorce to a charity.
Based on this, there were many who questioned why Depp was cast in the first place. Heyman spoke with the New York Daily News last November and said regarding the anger surrounding Depp, "We cast Johnny because he's a great actor. The decision was made before any of this [the domestic violence allegations] came down." While chatting with People at the premiere, Heyman commented again and said, "Here's the thing: Misogyny, abuse, maltreatment of people is unacceptable — but none of us know what happened in that room. So I think it would be unfair for me to be judge and jury, or for any of us to be judge and jury."
And with that, here's how fans really feel about Depp playing Grindelwald.
The Alleged Abuse Shouldn't Be Overlooked
It's a conversation that needs to be had.
He Needs To Be Replaced
That's what happened when Christopher Plummer replaced Kevin Spacey in All the Money in the World.
It's A Huge Betrayal
It's like a slap in the face to many.
Colin Farrell Is So Much Better
Many want justice for Farrell, who played Graves in the first film.
People Want Answers From J.K. Rowling
Some fans are mad at the Harry Potter creator and want her to speak up. After it was announced in November that Depp would play Grindelwald in the sequel, Rowling spoke with Metro about the casting choice and all she said was, "I'm delighted. He's done incredible things with that character." It doesn't appear that she's made further statements about it.
Depp Is The Only Crime Fans Can See
Harry Potter fans have spoken.
This is a beloved franchise and it's clear that Depp's role is tarnishing what should be a happy announcement for all fans.