How The 'Bachelor' Fandom Helped JoJo Fletcher Make Her Clothing Line Dreams A Reality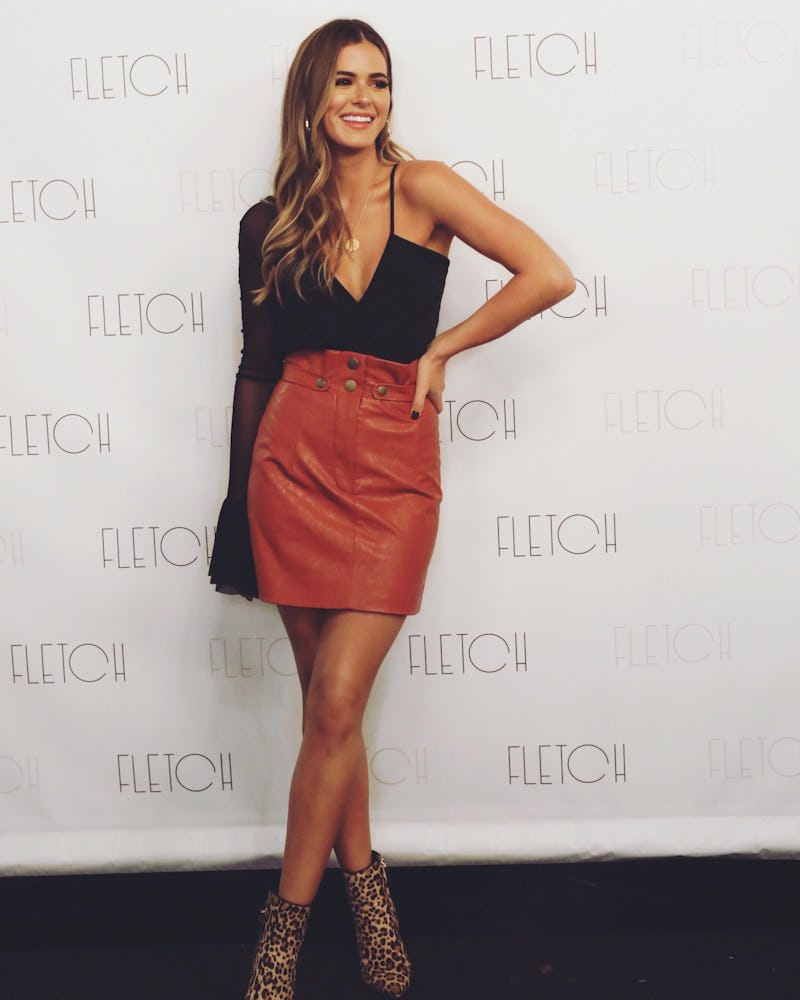 Dayton Klein
After JoJo Fletcher's season of The Bachelorette, viewers wanted three things: her perfect beach waves, her clothes, and her relationship with Jordan Rodgers. Of course, that last one is not a possibility. Regarding the hair, JoJo shares tutorials on her Instagram Stories. And finally, JoJo has her own clothing line called Fletch. This means fans can not only dress like the reality TV alum, but they can wear clothes designed by the fashionista herself.
JoJo recently discussed her new business venture and her relationship with Jordan in an interview with Bustle at her Fletch holiday pop-up shop in Brooklyn, New York, in mid-November. This line has been a long time coming for JoJo, way before her reality TV days, but the Bachelor fandom actually pushed her to get it started.
"It was something I have always wanted to do and had a passion for," JoJo explains. "Then, once I was on the show and I had this following of people, they would always ask me, 'Where did you get your clothes? I love your style' ... So, I just took that leap of faith and did it."
Being a part of Bachelor Nation made JoJo recognizable, but did that help her get Fletch off the ground? Or did her Bachelorette past make it difficult to be taken seriously as a designer?
"It was 100 percent a combination," JoJo acknowledges. "I feel so grateful and lucky for the opportunities that I've gotten. One hundred percent [of] the people who have supported me with this line are the people who supported me during my seasons of The Bachelor and The Bachelorette."
Even though she has support, she does add, "You can't just think that because you have a following that it's going to be a successful brand." She declares, "We work at it every day, we put our heart and soul into it, and I'm hoping that the people who do follow and support me also love what we've done with Fletch."
Sure, Fletch is a lot of work, but the clothing line isn't JoJo's only project — not by a long shot. She stars in a YouTube series called Engaged With JoJo & Jordan. She decorates and flips houses. She has social media partnerships with various fashion and beauty brands. Clearly, JoJo has a lot going on, but all these interests are related.
"I swear to you there is some sort of weird correlation between how you design a home and how you design a piece of clothing... I didn't even know that there was a connection until after I did it," the Dallas native insists. "There is something that I really love about seeing a piece come to life and that has been so fun for me just watching this brand grow."
With all her different projects, plus Jordan's hectic work schedule, how can the couple plan a wedding? Long story short, they're not. JoJo confesses, "We're not even at the place where we're like, 'Oh, we need to figure this out right now.' That is not even a stress to us."
"I think in the beginning, you feel this sort of anxiety that you are letting people down if you don't get married or if you don't have a date set," she says. "It's a lot more chill now. We know what we have."
That doesn't mean that a wedding isn't happening. JoJo confidently declares, "We are enjoying our lives right now. When we are ready, we'll do it. When we do, it will be amazing." Who knows, maybe she will end up designing her wedding gown and bridesmaids dresses.
Everyone expects Bachelor alums to get into short-lived relationships, and endorse the same products over and over. JoJo is breaking the mold. She and Jordan are still going strong, while moving forward at their own pace — regardless of public expectations. She has her own clothing line and she's doing it her way. She's beyond "trying to make Fletch happen." It's happening.