Why JoJo & Jordan Almost Broke Up After 'The Bachelorette' Is Really Relatable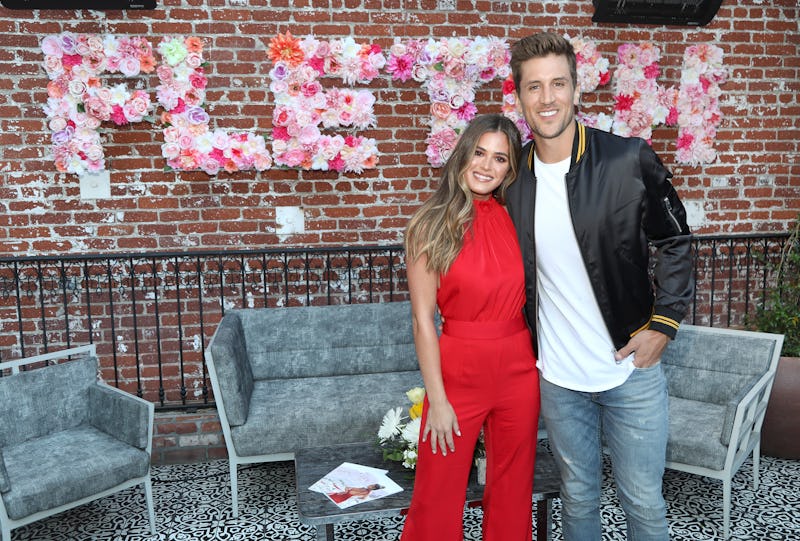 Jerritt Clark/Getty Images Entertainment/Getty Images
These days, JoJo Fletcher and Jordan Rodgers are solid. More than two years after JoJo's Bachelorette finale, the pair is still happily engaged, living together, and starting a web series about their epic love story. But it hasn't always been that way. In fact, JoJo and Jordan almost broke up after The Bachelorette, per a new episode from the couple's web series, Engaged with JoJo and Jordan, as reported by Entertainment Tonight on Oct. 9. So, how'd the duo get to where they are today? In Tuesday's episode, JoJo and Jordan opened up about the challenges they faced early on in their relationship and how they were eventually able to work through them.
Those who've yet to watch the episode: Fair warning, you're in for a pretty emotional ride. With that said, JoJo and Jordan's refreshingly honest conversation in Tuesday's episode — appropriately titled, "Relationship Ups and Downs" — is exactly that. Refreshingly honest. And honestly, pretty relatable, despite the fact that their relationship was admittedly born out of some markedly un-relatable circumstances. Bachelor Nation will probably remember JoJo and Jordan's engagement, which played out during the finale episode of The Bachelorette back in 2016.
At the time, it looked like the both halves of the couple were totally over the moon. But, as JoJo explained during the web series' latest episode, some pretty major relationship hurdles would crop up not too long after that. Speaking about those hurdles, JoJo said,
"I don't think the real difficulties began until after the final rose. That's when things really blew up for us, and we didn't know how to prepare for that."
Audiences know that makes a lot of sense, since forging a relationship inside the Bachelorette vacuum looks very different from maintaining one in the real world, just given all the additional variables. For JoJo and Jordan, those variables — at least at the beginning — came in the form of some vociferous cheating allegations against Jordan, made public by his reported ex-girlfriend, Brittany Farrar. For months, Jordan denied the allegations over and over again, but they just kept rolling in. (Farrar first publicized the cheating accusations when JoJo's Bachelorette season premiered in May of 2016, though her claims would continue to pop up on social media for months to come, even after the finale.)
During Tuesday's web series episode, JoJo remembered how conflicted she felt, understandably, after bearing witness to the lengthy accusations and her fiancé's subsequent denial. "I don't know if I always shared with you how it made me feel," she told Jordan, before adding, "I think there was a part of me that was scared that he would get mad at me." Honestly, even if the context looked a little different, who hasn't been there? Anyone who's similarly let their own feelings go by the wayside in an effort to avoid "rocking the boat" in a new relationship could probably tell you how this one ends.
Or, alternatively, take it from JoJo: "A huge fight. A blowout fight," she said. Ring any bells? Looking back, it sounds like Jordan hit the nail right on the head, as far as the root of their post-Bachelorette issues is concerned. In a prime testament to the merits of healthy communication, especially in the face of emotionally taxing relationship challenges, Jordan said,
"We didn't know how to communicate with each other, and our feelings are both getting hurt. There's tabloids about me, so I'm getting defensive, and hurt. And then I'm like, 'Why are you believing that?'"
But, as Jordan went on to say during Tuesday's episode, the problem wasn't the fact that all those complicated, icky feelings were floating around. Rather, it was the fact that, "I think we kind of held in those feelings," he said, adding, "And that was terrible."
Fortunately, it sounds like miscommunication is more or less a thing of the past for JoJo and Jordan. Judging by the couple's sweet social media activity, their romance-centric web series, and the fact that they're able to have such a candid, vulnerable conversation about their relationship on YouTube, it seems pretty obvious that the couple is very much in love and perhaps more solid than ever. On behalf of Bachelor Nation, thank goodness they were able to eventually able to talk it out.