These Jokes About Bryan's Cheeks Aren't Cool, 'Bachelorette' Fans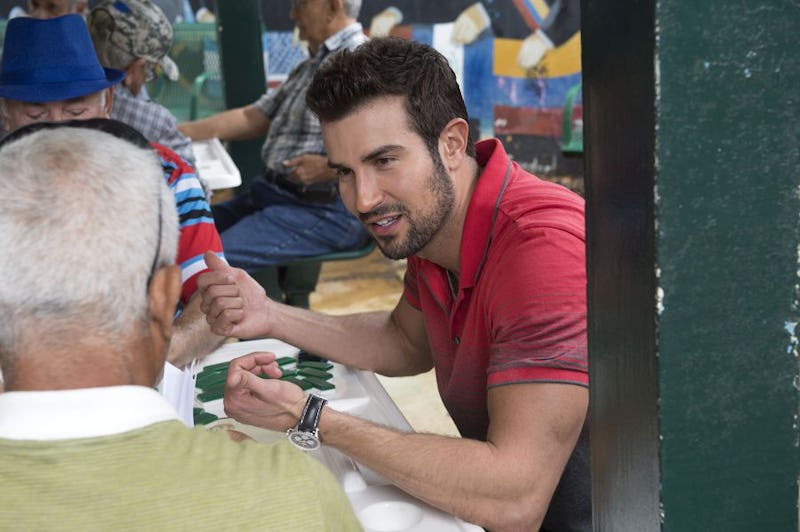 Rodrigo Varela/ABC
I would be a very rich woman if I could collect a nickel for every time a group of male contestants on The Bachelorette got into a fight. Contrary to popular belief, the men on the show are definitely more dramatic than the women. Some of it is funny to watch, but it's not all fun and games, especially when the sniping moves to body shaming. All the jokes about Bryan's cheeks on The Bachelorette aren't cool, even if Peter started it.
Peter is far and away my favorite contestant on The Bachelorette, but his comments about Bryan put a bit of an icky taste in my mouth. On Monday night, when waiting out Bryan's date with Rachel, Peter and Eric were chatting about Bryan's chances, to which Peter said, "In Miami, there's a lot of fake a**es, fake boobs, and fake cheeks." Bryan is from Miami, so there's some shade there, but what about the added shade of potentially insinuating that Bryan's cheeks are not his own? It's not a great look for Peter to be so petty, if that's what he meant by that. Bryan may have his problems (for one, he's way too suave for me and he thinks he's a gift to all women), but Peter didn't need to stoop that low in order to take a shot at Bryan. And, two, he incited a kind of Twitter war against Bryan and his face — which is extra lame. Even if he didn't intend for his comment to be about Bryan, fans took it that way and they ran with it in the worst way. (ABC declined to comment on allegations that Bryan's had plastic surgery. Bryan could not be directly reached for comment.)
It seems that Peter just wanted to hit Bryan where it hurts, and even though I'm not a fan of Bryan, his alleged plastic surgery habits are not my business. If you want to have a procedure that's safe and will make you feel better about yourself, go for it. And, if you don't, that's fine too. Either way, no one should speculate about someone else's looks. There's enough to say about Bryan that Peter didn't need to comment on Bryan's appearance — it's too easy, and it's too low for Peter.