Jonah Hill Sent Lisa Vanderpump The Perfect Drink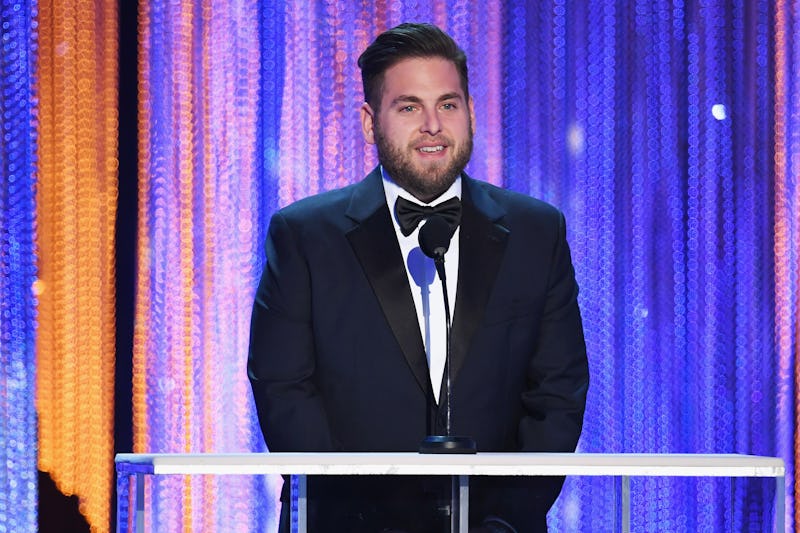 Kevin Winter/Getty Images Entertainment/Getty Images
You ever look at a tweet and think, "Wow, I don't know if I've ever been this proud or this jealous of someone before"? Because that is precisely what happened to me when Lisa Vanderpump tweet-thanked actor and Real Housewives fan Jonah Hill for his thoughtful gift. On Saturday, The Real Housewives of Beverly Hills star tweeted, "Thank you to the sweet @JonahHill for sending me the pink champagne last night…. Very cute."
Holy Giggy, Hill is so lucky. I can't even begin to imagine how thrilling it would be to gift the Queen of the Sexy Unique Restaurant with some pink champagne. And a shoutout tweet on top of that? Wow. What an honor.
Now, if you ever end up in a situation where you get to present Vanderpump with an alcoholic beverage, might I be so bold to suggest you follow Hill's lead and select an alcoholic beverage that looks like liquified rose quartz? I mean, we're talking about the woman who wanted her RHOBH co-stars to call her "Pinky." We're talking about the woman who made a pink carpet happen at the Vanderpump Rules Season 5 premiere. We're talking about the woman who named her house Villa Rosa. "Pink is LVP's favorite color" feels like an understatement.
Sending the restauranteur a glass of yellowish champs would be a nice gesture, of course, but there is a way to take that gesture to the next level. There is a way to prove your Real Housewives fandom. And it rhymes with "zinc brink." And Hill, Real Housewives devotee that he is, seems to understand this this. He seems to get how important the color pink is to Vanderpump. He seems to be a true Bravoaholic.
That, or Hill just has a SUR-xth sense when it comes to picking drinks.