Every Update That 'Bachelor In Paradise' Fans Need To Know About The Jordan & Jenna Saga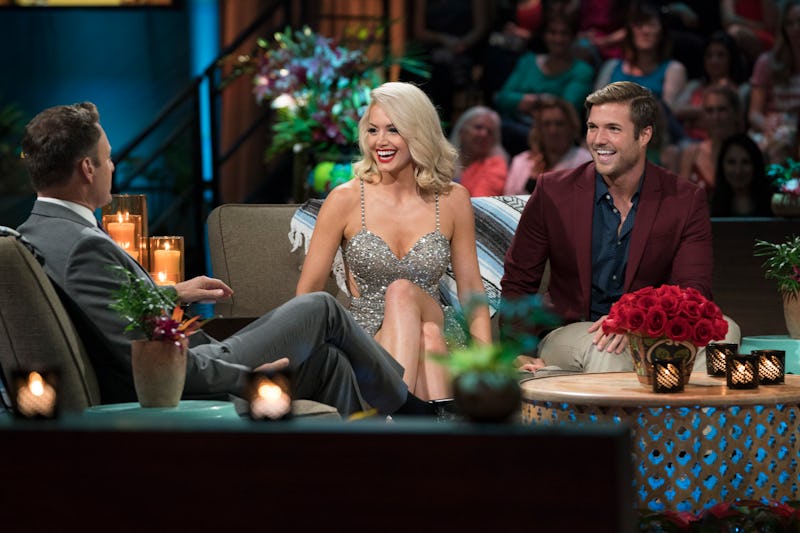 ABC/Paul Hebert
Bachelor in Paradise viewers were rooting for Jordan Kimball and Jenna Cooper throughout Season 5. They were touted as a real-life Barbie and Ken — until some supposedly incriminating texts leaked, along with accusations that Jenna was unfaithful (which she has repeatedly denied). A lot has happened in less than a week. There have been plenty of Jordan and Jenna updates for Bachelor in Paradise fans, who are still reeling from their split and trying to make sense of things.
Bachelor franchise blogger Reality Steve broke the initial story on Sept. 11. The night before, Reality Steve teased on Twitter:
"BIP tonight & tmrw should be REAL funny to watch. Just know when there's evidence out there, it's going to get exposed. There's no discrimination when it comes to who gets called out. Enjoy the show tonight. Come to http://RealitySteve.com tmrw for the real story."
The next day, Reality Steve posted the story and described it as "A Bachelor In Paradise Fraud." He posted quotes and text screenshots from a man who claimed he was "manipulated by" Jenna while she was dating Jordan. The man claimed that Jenna wrote a text that said:
"I told you yesterday and I keep telling you that this is all for my business. You know how much I need the money. Me and Jordan aren't together for real. I don't even like him let alone love him."
That's a lot to take in, especially since Jenna later claimed the messages were "completely fabricated." (Bustle previously reached out to reps for Jordan and Jenna, but did not hear back.) Of course, Jordan and Jenna's relationship was rocked regardless. Since that story hit the internet, there have been plenty of updates, so let's dive in.
Jordan Spoke Out
After the Bachelor in Paradise Season 5 finale aired on Sept. 11, Jordan spoke out for the first time since the scandal broke in an interview with People. He confessed, "It felt like a body drop." He even said, "I got taken down. I'm weak in the knees and I feel like I have rocks in my stomach."
In that same interview, Jordan claimed Jenna was "very anxious" after she saw the Reality Steve tweet the night before. He also admitted, "I know my Jenna, and I read those texts and in my heart, I know it's her."
Jenna Denied The Claims
In the same People story with Jordan's initial comments, Jenna stated,
"I am aware of the allegations being made against me and they are simply untrue. I am choosing to focus on my relationship right now. Thank you for respecting my privacy at this time."
Jordan Confirmed The End Of Their Relationship
On Sept. 12, Jordan opened up about the breakup on Instagram, along with a black-and-white photo by photographer Vivian Arthur. In his lengthy statement, Jordan admitted that he had "come to terms with a decision to remove myself from the relationship." Jordan also removed all of the photos with Jenna from his Instagram page.
Jenna Claimed The Texts Were Fabricated
A day after the text screenshots hit the internet, Jenna denied that she sent the messages. She wrote on Instagram,
"I want to start by saying those texts were completely fabricated, and I never sent them to anyone. I did not cheat on Jordan, and I have nothing to hide." In that same post, the North Carolina resident revealed that she hired an attorney to " investigate this hurtful and fraudulent attack on [her] character."
Jordan Went On Reality Steve's Podcast
Jordan joined Reality Steve for an episode of his podcast to open up about the cheating allegations and how he was processing the situation. At the 4:07 mark of the conversation, Jordan told Reality Steve,
"You have shared the story and you have given me some insight to what this gentleman has, how he's described Jenna. And there's a couple of other things that people don't know about that make this very hard for me not to believe."
At the 36:24 mark of the episode, Jordan admitted that he's open to seeing Jenna in person:
"I feel like we went through a lot together. We had a milestone in each other's lives. I gave her my heart. I thought she gave me hers and I feel like we owe each other that closure to see each other and talk in person. I'm not going to state that it's happening right now. I don't know when it would even happen."
Jordan Declared That He Will Not Lash Out
In a Sept. 12 interview with Entertainment Weekly, Jordan said he "will not lash out" against Jenna. He explained, "I'm removing myself from the relationship with intentions to take care of myself and find my happiness." He also refused to become a petty, vengeful ex. He added,
"I will not lash out, I will not try to convince people that she is a bad person. You will not see me pursue any kind of vengeance on her. I care about Jenna."
Jenna Asked For Patience & Support
On Sept. 14, Jenna asked for patience and support in an Instagram post. She addressed the post to "Jordan, our families, friends, and supporters." She wrote, "please stand by as I prepare to provide the true facts that will demonstrate the fraud perpetrated by terrible individuals." Jenna added, "Please be patient as this takes time."
Jordan Hung Out With Bachelor Alums In Toronto
Listening to Jordan talk with Reality Steve and reading his statements are nothing short of heartbreaking, but at least he did have some good times recently. Jordan joined fellow Bachelor/Bachelorette alums Jason Tartick, Raven Gates, Bibiana Julian, and Blake Horstmann for an appearance in Toronto on Sept. 15.
It's unclear exactly what the future holds for Jordan and Jenna, but it's clear that trust was broken and hearts are hurting. Jordan has been very open about who is and how he feels since his first second in the Bachelor franchise, so it's likely that he will be just as transparent when he and Jenna figure out where they stand.