Jordan's Decision To Break Up With Jenna From 'Bachelor In Paradise' Was Far From Easy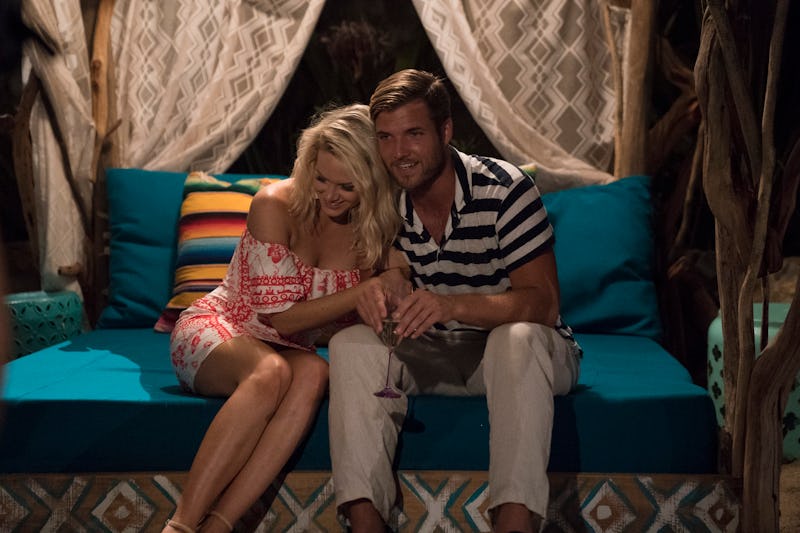 ABC/Paul Hebert
In Jordan Kimball's Bachelor in Paradise finale proposal on Sept. 11, he nervously told Jenna Cooper she'd made him believe in "love at first sight." Now, in an explanation of why Jordan broke up with Jenna, the male model told Entertainment Weekly that he had no choice but give their relationship a second hard look. If there's one thing Jordan made clear in his latest comments, however, it is that the split — in light of infidelity allegations — was far from an easy decision.
Officially breaking the news of the much-speculated breakup, Jordan announced to EW on Wednesday, Sept. 12, that he was "removing myself from the relationship with intentions to take care of myself and find my happiness." Even so, he added: "I will not try to play it off that it doesn't hurt. I would be doing the love that I felt for her an injustice if I were to say that I didn't feel strongly about this."
Don't expect any sort of post-breakup retaliation though, as Jordan further told EW that he wants to be respectful of Jenna, whom he met on the ABC reality series this summer — and truly loved:
"I will not lash out, I will not try to convince people that she is a bad person. You will not see me pursue any kind of vengeance on her. I care about Jenna. Everyone saw me fall at first sight for her and I will never deny that. Just because this has happened does not mean that I will discount how I felt for her."
Their romance did go from zero to 60 in a matter of weeks — the couple had been talking about staring a family kids and even apparently set a wedding date — but, by all accounts, seemed to be the real deal. Rumors that the pair's relationship status may be in jeopardy, however followed a Sept. 11 report from Reality Steve that Jenna had been dating someone else even after Jordan proposed with a stunning Neil Lane diamond engagement ring on BiP.
Reality Steve published screenshots of a series of text messages between Jenna and an unidentified man that she allegedly met before appearing on BiP — and continued to be involved with following her engagement to Jordan. In one of the messages, Jenna allegedly wrote: "Me and Jordan aren't together for real. I don't even like him let alone love him."
For her part, Jenna has maintained that the text messages are fake and denied an affair, telling People in a Sept. 11 statement: "I am aware of the allegations being made against me and they are simply untrue. I am choosing to focus on my relationship right now. Thank you for respecting my privacy at this time."
Still, Jordan, who first appeared on Becca Kufrin's season of The Bachelorette, explained to EW that despite his now-ex-fiancee's denial, he does not want to remain "in limbo" by continuing the relationship. "I just can't wait and hold on to see if this is fake," he told the magazine. "I allowed myself to be played, but I will not allow myself to be fooled by this. If this turns out to be fake, then hey, it's a good thing that I didn't lash out at her ... but I cannot take a chance with my heart."
Along with a professional black and white photo of himself, Jordan further got candid about being blindsided by the heartbreak, in a Sept. 12 Instagram caption, explaining he needs some time to himself to process him emotions. "It breaks my heart to think, feel and fall for this," he wrote. "It's dropped me. Fumbling emotions and being understanding is not easy."
The same day, Jenna explained her side of the story, continuing to defend herself and deny all allegations of cheating as well as the validity of the text messages published by Reality Steve. "I have been extremely open and vulnerable throughout this whole process," she captioned a sad-looking photo of herself. "I was looking for love, and I found it. I was excited to share this journey with all of you. I am hurt by these fake texts, and that anyone would believe this story so quickly without proof."
And she said she's not letting the allegations slide without a fight, adding, "I have an attorney helping me investigate this hurtful and fraudulent attack on my character. We are evaluating all legal remedies available to punish those responsible." (Bustle reached out to Jordan regarding her claim that the texts were fake, but has not yet received a response.)
While the truth may or may not come out in the foreseeable future, Jordan has made his decision about the relationship, and one more Bachelor Nation love story has come to a sad end.
Photo Courtesy Vivian Arthur