Jordan Peele Just Won An Oscar For 'Get Out' & His Speech Will Give You Chills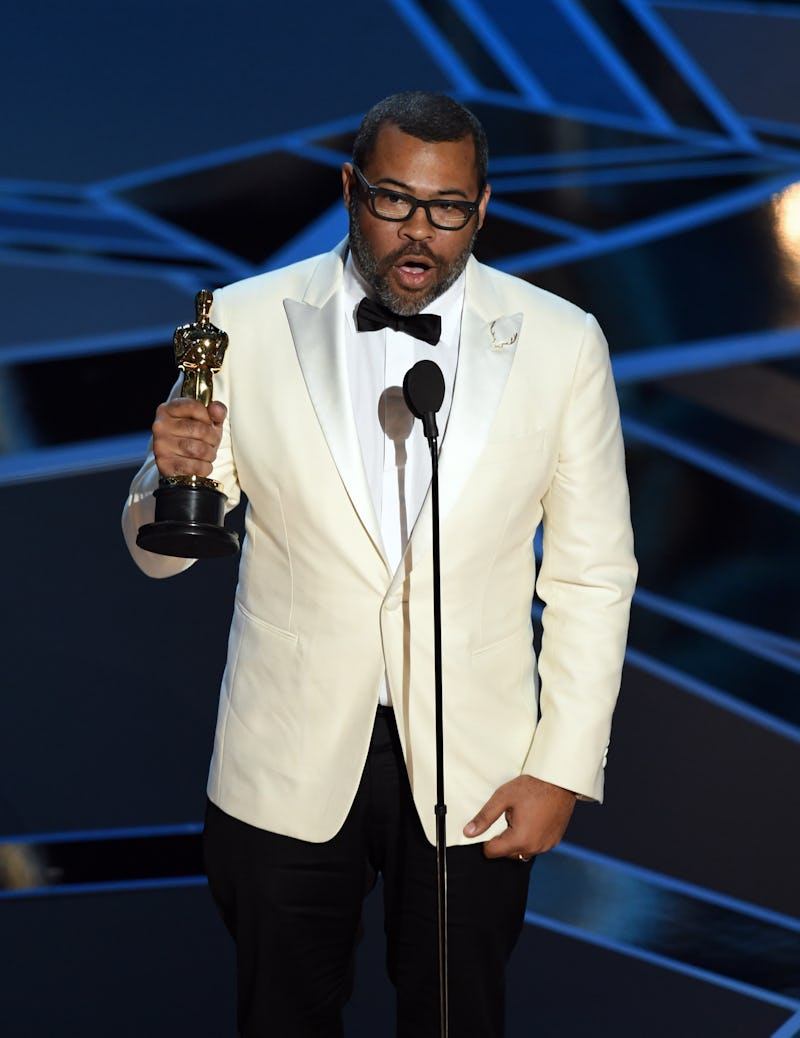 Kevin Winter/Getty Images Entertainment/Getty Images
He's nominated for three awards and the first one is already his. Jordan Peele won the Oscar for Best Original Screenplay at the 2018 Oscars for his film Get Out. After being presented the award by Nicole Kidman, Peele gave a moving speech that shined a light on how much it means that he was given chance to share the story he wrote.
First, Peele joined in on the joke that host Jimmy Kimmel started at the beginning of the night that the person with the shortest speech would be gifted a jet ski. "OK. Thank you. You guys are going to mess up my jet ski, hold up," he started. But, quickly, things turned much more serious.
"This means so much to me," Peele continued. "I stopped writing this movie about 20 times because I thought it wasn't possible. I thought it wasn't going to work. I thought no one would ever make this movie. But I kept coming back to it because I knew if someone let me make this movie that people would hear it and people would see it. So, I want to dedicate this to all the people who raised my voice and let me make this movie."
Of course, Peele was right about people hearing and seeing the movie. Get Out was a major surprise hit last year and grossed $255 million worldwide. It went on to be nominated for four Academy Awards. In addition to Best Original Screenplay, the Peele is nominated for Best Director and for Best Picture since he is one of the film's producers. Star Daniel Kaluuya is also nominated for Best Actor. Get Out has also been nominated for and won many other awards, including a nomination for Outstanding Comedy or Musical the Golden Globes and a wins for Best Feature and Best Director at the Independent Spirit Awards.
In his speech, Peele continued, "Thank you so much to the cast and crew. I love you. Thank you so much. My wife, who supported me through this whole process. My mother who taught me to love even in the face of hate."
The point about his mother stands out as Get Out is an incredibly dark satirical look at race relations in the United States. The film might be very unrealistic in some of the creepier scenarios shown, but the situations in it are still based on very real, very deep hatred that actually exists in the world. If his mother taught him to "love even in the face of hate", that very well could have influenced him in wanting to make a movie like Get Out.
Peele ended his speech by thanking fans of the movie and everyone who saw it. "To everybody who went and saw this movie. Everybody who bought a ticket, who told somebody to buy a ticket, thank you," he said. "I love you. For shouting out at the theater. For shouting out at the screen. Let's keep going."
This was a sentiment Peele also shared when the nominations were announced. He tweeted at the time, "Right now I'm just thinking about everyone who bought a ticket and told someone else to. You did this. Thank you."
He also shared that he had an emotional phone call with Kaluuya:
Peele was nominated for Best Original Screenplay up against Emily V. Gordon and Kumail Nanjiani for The Big Sick, Greta Gerwig for Lady Bird, Martin McDonagh for Three Billboards Outside Ebbing, Missouri, and Guillermo del Toro and Vanessa Taylor for The Shape of Water.
The 39-year-old writer-actor-director was only the fourth black writer nominated for Best Original Screenplay and the fifth black director nominated. He was also the third person to be nominated for Best Picture, directing, and writing awards for his first directing feature.