Jordan Peele's Oscars Nominations Thrilled Fans & They Have NO Chill On Twitter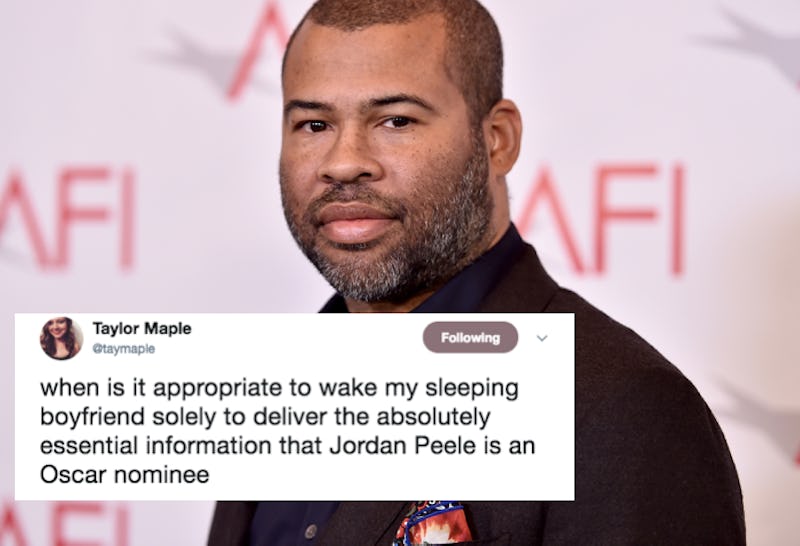 Alberto E. Rodriguez/Getty Images Entertainment/Getty Images
Jordan Peele is already an Emmy winner, but now there's a chance he could be an Oscar winner too. At the 2018 Academy Awards, Jordan Peele is nominated for Best Director (Get Out), Best Original Screenplay, and Best Picture. It's a momentous achievement only done by a few filmmakers in the history of movies. Peele is also only one of the handful of black men to ever be nominated for Best Director. With the Academy nominating Peele three times and Daniel Kaluuya for Best Actor, Get Out has a total of four nominations. Add all of that to the fact that horror films are not typically recognized by the prestigious Academy of Motion Picture Arts and Sciences and Twitter couldn't be happier for Peele.
Fans of Get Out were pretty outraged when the dark film was nominated as a comedy at the Golden Globes. Even though this type of genre mixing has happened before at the Globes (remember how The Martian was also a comedy?) and the production and distribution companies behind Get Out chose to submit the film as a comedy, it still didn't sit well with some people. Plus, Peele didn't get a directing nomination at the Globes. Yet, the Oscars are righting all those wrongs since Get Out will be up for Best Picture, Best Director, Best Actor, and Best Original Screenplay on March 4.
Along with Greta Gerwig, who was also nominated for Best Director for Lady Bird, the internet is overjoyed for Peele and here are some of the best tweets feeling the Oscar love.
He's Making History, Part 1
It has been over 30 years since a filmmaker was nominated for the three categories of Best Picture, Best Director, and Best Screenplay. Peele now joins Warren Beatty and James L. Brooks in this exclusive club.
He's Making History, Part 2
He's also the first black man to be nominated simultaneously for those three categories. And, as The Hollywood Reporter noted, Peele is only the fifth black director to ever be nominated, joining Barry Jenkins for Moonlight, Steve McQueen for 12 Years A Slave, Lee Daniels for Precious, and John Singleton for Boyz N the Hood.
It Was His Directorial Debut
If this is how his first movie was received by the Academy, how many noms will he get for his second solo film?
There's Hope For The Universe
When things seem too grim, remember that Jordan Peele is now an Academy Award-nominated director.
From Key & Peele To Oscars
Sure, he won his Emmy for Key & Peele, but he has still come a long way since his Comedy Central days.
Early Morning Excitement
The news of Peele's nominations probably made you want to wake someone up immediately.
The Irony?
#OscarsSoWhite was only two years ago, so maybe Academy members will replace the Armitage family in Get Out 2.
The Academy Still Needs To Do Better
When thinking of Peele's (and Gerwig's) historic nominations, don't forget that it's the 90th Oscars.
But It's Still Exciting
It's still pretty phenomenal that the two freshman directors of Peele and Gerwig got nominated though.
Where Was His Nom For Keanu?
Peele was also a writer for his 2016 movie Keanu — just saying.
Peele's Reaction
But the best reactions on Twitter have come from Peele himself. Not only did he write that he's in the opposite of the Sunken Place, but he tweeted that he tried to disguise his ugly crying from fellow nominee and Get Out star Kaluuya. He also thanked everyone who bought a ticket to see his film and who spread the word for making these nominations happen.
Yet, anyone who has seen Get Out knows the number one person who deserves the credit for the movie's historical Oscar nominations is the one and only Peele himself. Now fans will just have to wait and see how he fares with all his categories at the Academy Awards on March 4.