Attention 'Bachelor In Paradise' Fans: Jorge The Bartender Is Back For Season 5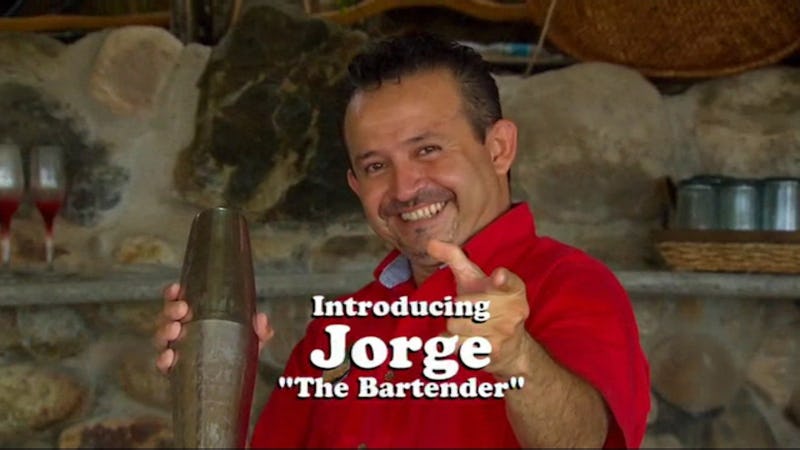 ABC
Raise your glasses, Bachelor Nation, because everyone's favorite bartender Jorge will be on Bachelor In Paradise Season 5, host Chris Harrison confirmed in an Instagram post on Wednesday, June 20.
"Hip hip Jorge!!!!" Harrison captioned the shot of himself and Jorge in a tiki hut, along with other fan faves: The Bachelor Winter Games' Japanese representative Yuki Kimura and Bachelorette alum Wells Adams, who replaced Jorge as last season's BiP bartender.
Sharing the same photo from his Instagram account, Jorge (whose real name is Jorge Moreno) wrote that he was "having fun in paradise" and thanked Harrison as well as producer Elan Gale for inviting him back on the show. He also addressed fans directly, reminding them to tune in to to the August 7 premiere on ABC "to see what happened today."
A quick refresher: Jorge left Bachelor in Paradise after the summer hit's third season and, as such, also left Bachelor fans crying into their vodka sodas. After all, he'd become more than just a bartender. He was also a de facto therapist, a confidant, and a lovable voice of reason for many of the contestants. He once famously — and hilariously — counseled a lovelorn Ashley Iaconetti that she was choosing the wrong suitors. (Who knows, maybe his advice led to her recent engagement to Jared Haibon?)
So it made sense that Ashley I. shared the news of Jorge's departure with Us Weekly back in January 2017. "Jorge is doing his own thing," she told the magazine. "He has his own tour company … so he's building his own company and he won't be here this year."
Of course Wells was a welcomed addition and charmed fans as he stepped in to fill Jorge's shoes, as well as the contestants' glasses in Season 4. And Jorge had no hard feelings, as he noted in an August 2017 Instagram post. "I didn't spend much time with you in paradise to figure it out that you were a great person," he wrote to the BiP Season 3 contestant, who's currently dating Modern Family's Sarah Hyland.
As Ashley I. explained, Jorge went on to operate Jorge's Tourges through Nayarit Uncovered in Sayulita, Mexico, where Bachelor In Paradise is filmed each year. With his expert guidance, fans can visit many of the scenic Mexican locales see on the ABC reality show.
But his new gig wasn't the end of Jorge's TV career. As fans remember, on last season's BiP Jorge played tour guide for Diggy and Lacey on their one-on-one date, complete with horseback riding on the beach and a romantic champagne-filled picnic
In a 2016 interview with Eater, Jorge explained that he originally ended up on Bachelor in Paradise when ABC producers showed up at Playa Escondida, the resort where he was employed. But, get this: He almost didn't get a chance to dispense his trademark advice. "The first five days I was told not to talk to anyone: Send the drinks, don't say anything," he explained to the website. "If you watched that season, you know the first few days I didn't even speak… No conversations, nada."
After lending his ear to the contestants, "everything came up naturally," he added. But even Jorge — who spilled to Eater that low-cal drinks vodka soda and tequila soda are the most popular among contestants — didn't realize he'd soon become a BiP staple. "I thought it was just going to be that year," he added. But just like that, a star was born, and the rest is history.
While it's not yet clear how much of a role Jorge will play in Season 5, the fact that everyone's favorite bartender will be back on the show is enough for Bachelor in Paradise fans to celebrate — for all the right reasons, of course.