Jose Cuervo Launched A Rosé Margarita That's Ready To Drink Right From The Bottle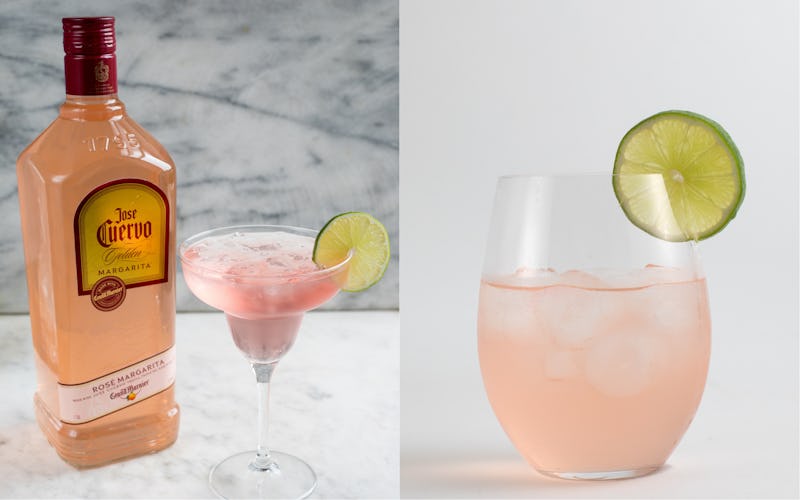 Courtesy of Jose Cuervo/Remixed by Bustle
I have excellent news for anyone who enjoys alcohol, the color pink, and being ridiculously lazy, all three of which happen to be the trifecta of my personal brand. Jose Cuervo launched a Golden Rose Margarita that not only combines your love for rosé and margaritas, but is also so Instagrammy that somewhere in the distance whoever invented the Clarendon filter just started shaking. More to the point, though: you don't have to do anything to this drink. It is already mixed to perfection, your ultimate lazy cocktail in a bottle, so all you have to do is find some good lighting (for the Insta, of course) and pour.
According to Jose Cuervo, the brand new mix is made with Jose Cuervo tequila, Grand Marnier, and real American rosé wine, and has "notes of sweet red fruit, white flowers and melon finished with a refreshing tang of lime". The Bustle offices were able to sample a bottle, and while my palate is not refined enough to pick out individual flavors, I will tell you this: the experimental sip I took for journalistic integrity could have very easily turned into an experimental glug. The dry of rosé combined with the sweetness you're used to in margaritas pack one heck of a delicious punch, almost like a Jolly Rancher, but not as overpoweringly sweet.
The drink itself has the equivalent ABV of a typical rosé at 12.7 percent, but I'd warn that even though it's not up there with hard liquors, you definitely want to pace yourself with this one — it is sneakily good. If you're looking for a bottle for yourself, it's currently available in 750 mL and 1.75L bottles in select grocery and liquor stores nationwide, with a suggested retail price of $14.99 and $21.99, respectively. The drink is so new that it doesn't seem to have hit the Jose Cuervo website yet — that being said, you can use the store locator to find your best bet on getting a bottle of the Golden Rosé Margarita near you.
While this drink is undeniably perfect for chilling and drinking all on its own, there are a few ways you could shake it up, if you're feeling ambitious. Jose Cuervo, for instance, depicts a version of it that pulls a Loopy-Doopy by serving it with a popsicle.
The brand also recommends serving it as a spritz, by combining it with equal parts club soda and garnishing it with the fruit of your choice. I'm not not saying that LaCroix would be a bad idea in place of the club soda, so interpret the confusing syntax of this sentence as you will. (To be clear, this is majorly begging to get Pamplemousse'd, and possibly decked out with frozen raspberries that I do not have the wherewithal to go buy.)
But the bottom line is, you do you. It's the end of the summer and all standards for Instagrammable drinks have gone out the window, and personally, I can think of no send-off for the season quite as appropriate as this.