We Need To Talk About Josh Of Netflix's 'To All The Boys I've Loved Before', STAT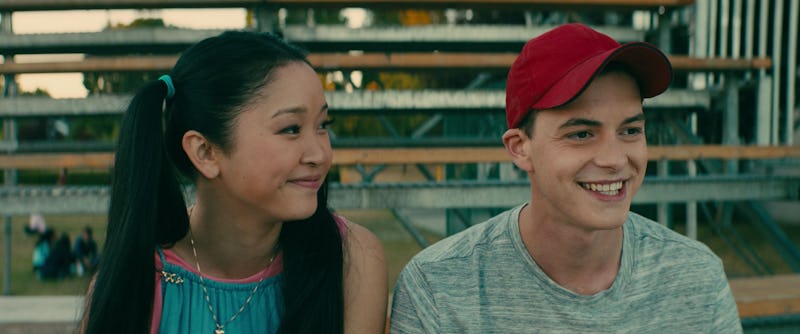 Netflix
Spoilers ahead. It's one of the last few weekends of summer but instead of getting in one last summer hurrah, you're going to want to cancel all your plans thanks to Netflix's new high school rom-com hitting the internet. To All the Boys I've Loved Before, based on Jenny Han's novel of the same name, is now streaming and it's so adorable that I haven't stopped smiling since the credits rolled. But I've got a major issue with the film and I'm going to need Netflix to make things right: Josh deserved better.
That's not to say that I didn't love the movie. To All The Boys is the feel-good teen rom-com I wished I had when I was in high school over a decade ago. Lana Condor stars as Lara Jean Covey, a bright, charming and imaginative girl whose life gets turned upside down when five letters she wrote to every boy she's ever had a crush on — that were never meant to be seen — are mysteriously mailed. Two letter recipients are popular jock Peter (Noah Centineo) and her BFF (and sister's ex-boyfriend), the aforementioned Josh (Israel Broussard). To try and get some of the heat off the awkward sister's ex/her BFF situation, Lara Jean enlists Peter's help to make Josh believe she doesn't have those feelings for him anymore.
It should come as no surprise to any rom-com enthusiast that by the end of the film, Lara Jean and Peter's fake relationships becomes something more. They fall in love with each other for real, shenanigans ensue that threaten their feelings, they confess their love, they kiss, the music swells and the credits roll. Everyone lives happily ever after, right?
Well, not so fast. While To All the Boys has so many great things going for it, from a superb cast (Condor and Centineo are stars) to necessary representation (an Asian-American lead in a mainstream rom-com!), the film totally screws over Josh. Don't get me wrong: I'm thrilled that Lara Jean and Peter end up together and I'm not trying to argue that Josh should have been endgame instead. And I'll admit that I haven't read Han's book upon which this movie is based, so I'm going solely off Netflix's adaptation. But Josh is a nice, sensitive, sweet guy who doesn't do anything wrong... and yet he gets such a tough break. Thanks to his adorable tousled bedhead and sad puppy dog eyes, I have never wanted to reach through my computer screen and hug a fictional character more than I did by the end of To All the Boys.
Let's count the ways in which Josh was done dirty, shall we?
1. He never even knew!
First, and this one is huge, he never knew how Lara Jean felt about him until it was too late. That's the kind of life-altering information he should have been privy to, you know? But I'll get to that in a second.
2. He's constantly taken advantage of by the Coveys
Josh offers to help the Covey family out and drive Lara Jean and her younger sister Kitty (Anna Cathcart) to school every day while his girlfriend Margot (Janel Parrish) is off to college in Scotland, and no one recognizes the generosity and thoughtfulness of this gesture. They all just kind of take it for granted when it's actually extremely sweet and kind, especially because he knows how much Lara Jean hates and is terrified of driving. That's a free taxi service, y'all!
3. His kind gestures are thrown back in his face
Josh set up a Google alert for flights to Scotland as soon as Margot decided she wanted to go to school there and buys plane tickets months in advance to visit her for Thanksgiving as a heartfelt surprise. And she doesn't thank him at all or even appear to be touched. She's actually upset about it! Um, where can I sign up to date someone who would do this for me?!
4. He's publicly humiliated in addition to getting dumped
And when Margot does reveal that she wants to break up after two years (!) of dating, she starts to do it in front of her whole family. Ouch. Plus, she only breaks up with Josh (even though she still loves him) because her mom told her before she died that Margot should never go to college with a boyfriend. It seems like maybe there should have been some conversations about this in the months leading up to Margot leaving town so Josh could have been let down a little easier, and so he could have a say in how, why and when his relationship ends. Just a thought.
5. His best efforts to maintain his friendship with Lara Jean are brushed aside
When Josh started dating Margot a few years back, he was so kind and generous to his BFF Lara Jean that he brought her along on their dates so she wouldn't feel abandoned. He even avoided the PDA in front of her so she wouldn't feel like a third wheel. Dating your best friend's older sister is a tricky, awkward dynamic for all involved and Josh maneuvered it pretty smoothly and with an incredible maturity. I'm really impressed.
6. Seriously, how does no one recognize how good of a friend Josh is?!
Lara Jean calls Chris (Madeleine Arthur) her "only friend, really," even though Josh is literally 10 lockers away from her and just waved to her. Um, rude!
7. And again!
Even after Margot dumps him, he still wants to "kick it" with Lara Jean and continue their friendship, again proving that he sees both Covey women as individuals and equally important in his life despite his broken heart.
8. He's left out in the cold with no explanation
When Josh receives Lara Jean's earth-shattering letter professing her love, he doesn't get to ask her about it because she makes out with Peter to avoid talking to Josh about the letter. When she finally does explain the truth about the letter, she only does it to her imagination's version of Josh, not to the real Josh. And then she climbed out her window and fell off her roof to continue avoiding Josh. Can you even imagine the shock and confusion Josh must have been feeling, finding out his best friend had feelings for him for years and never told him? Girl, you owe him some kind of explanation.
9. His so-called best friend just ignores him
Josh then has to watch Peter take Lara Jean home — and assume they went on a date — still with no explanation of the letter or with any kind of meaningful conversation with Lara Jean. Poor guy.
10. For a whole month!
One month into Lara Jean and Peter's fake relationship, the next time we see Josh, he's watching her from afar in the cafeteria. She's having a good time with Peter and his friends while Josh is all alone, again, still with no explanation of the letter.
11. Lara Jean continues to be rude and cruel to him
When Josh finally does get Lara Jean to talk to him about the letter, she brushes him off on her front porch. And when he tells her that Margot isn't even talking with him, she just walks away. He's lost both his girlfriend and his best friend all at once and still doesn't even know why. She continues to ignore him and tells him that they can't talk. This is just brutal to watch.
12. She finally starts talking to him again ... about *another* guy
It's not until December that Lara Jean finally decides to start talking with Josh again like friends, and only then it's about her relationship with Peter, still not their friendship or the letter.
13. He gets made fun of
When Josh tries to support Lara Jean when she tells Peter to leave after their ski trip fight and he's not listening, Josh gets called a "Bon Iver wannabe." Um, excuse me, he's got great style, *especially* for a high school guy (have you seen those outfits?!). Plus Bon Iver is hella talented! Why this is thrown as an insult is absolutely blasphemous in my book.
14. He gets his heart broken time and time again
Josh also didn't know Margot was home for the holidays and is shocked to see her for the first time since she dumped him when he was trying to defend Lara Jean and getting in a fight with Peter. This guy just keeps having his emotions toyed with all the time and, may I remind you, still has no clue about what's happening with Lara Jean or why she wrote him that letter (and why it was mailed).
15. Important decisions were made for him, without his knowledge
It isn't until after the ski trip debacle that Lara Jean finally, finally, finally has a real heart-to-heart with Josh about the letter and her feelings for him. She explains that she had real feelings for him at one point that she didn't understand until he had already started dating Margot, and then over time those feelings faded and she just missed her best friend. But he never got to confront those feelings and figure out how he felt about Lara Jean, because this all happened in her head without him knowing until it was way too late. What if he had reciprocated those feelings? He's a few years behind Lara Jean's epiphany and now has to reconcile how he feels on his own. And then here's the kicker: she explains she now knows it wasn't love for him because of how she feels about Peter. Again, ouch!
Listen, I'm super happy that Lara Jean finds real love with Peter. And I'm not going to lie, I had real happy tears streaming down my face by the end of the movie when she gets her happy ending. But Josh, this poor, puppy-faced, kind-hearted soul, is left out to dry too many times and To All the Boys I've Loved Before really glosses over this fact. So I'm really going to need a #JusticeforJosh sequel or spinoff movie stat, Netflix. Let's make this right.