The Judge Trump Once Attacked For Having "Mexican Heritage" Has OK'd His Wall Plans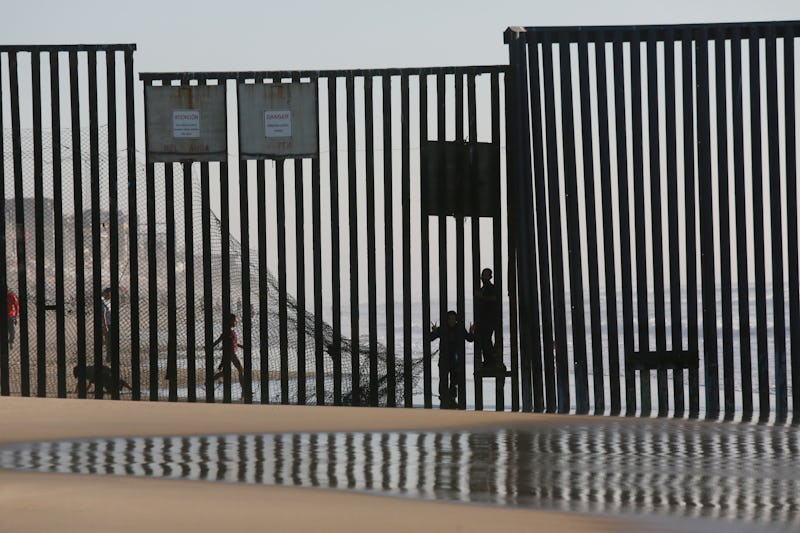 Sandy Huffaker/Getty Images News/Getty Images
On Tuesday, the Trump administration found itself one step closer to one of its most famous goals after U.S. District Judge Gonzalo Curiel ruled Trump's border wall planning can proceed. As it happens, that's the same judge Trump viciously attacked for having Mexican ancestry back before he was elected president.
In a 100-page ruling, the judge found that the Trump administration was authorized to waive a variety of environmental laws and other restrictions in order to commence construction. The state of California and several environmental groups had sued the administration, saying, according to Richard Gonzales of NPR, that it had, "improperly waived environmental laws to begin construction of border wall prototypes and replacements for existing border fencing." However, Judge Curiel found that Trump's Department of Homeland Security was acting within its authority.
Notably, in his ruling, the judge also pointed out the controversial nature of the construction of the border wall, but stated that it was not the court's place to comment on the matter from a policy or political perspective — or to consider these perspectives in its decision:
The Court is aware that the subject of these lawsuits, border barriers, is currently the subject of heated political debate in and between the United States and the Republic of Mexico as to the need, efficacy and the source of funding for such barriers. In its review of this case, the Court cannot and does not consider whether underlying decisions to construct the border barriers are politically wise or prudent.
Beyond Monday's ruling, Curiel also received widespread attention in the past after he was the subject of a brazen verbal attack by President Trump (then candidate Trump) back in June 2016. At the time, Curiel had been overseeing a lawsuit case against Trump University. During an interview with The Wall Street Journal, Trump accused Curiel of having a conflict of interest in the case due to his ethnicity, saying that Curiel's oversight represented "an absolute conflict" because he is "of Mexican heritage." Trump also added, "I'm building a wall ... It's an inherent conflict of interest."
In addition to his comments to The Wall Street Journal, Trump also referred to Curiel as a "a hater of Donald Trump" and "a total disgrace" during a speech in San Diego in June 2016. The Trump University case ultimately ended in a settlement, on which Judge Curiel signed off. The $25 million settlement mandated that Trump reimburse students who said they were defrauded by the university.
According to CNN, Curiel's ruling in the border wall case on Tuesday does not mean that construction of the wall will commence imminently, as Congress has not yet approved funding. However, it does mean that the administration can move forward in its work to seek funding for the wall — and that it likely can continue to build wall prototypes, which had been the subject of the waiver lawsuit.
The Department of Justice was very pleased with Curiel's ruling. with spokesperson Devin O'Malley noting via CNN, "Border security is paramount to stemming the flow of illegal immigration that contributes to rising violent crime and to the drug crisis, and undermines national security," noted DOJ spokesperson Devin O'Malley, according to CNN. "We are pleased DHS can continue this important work vital to our nation's interest."
However, according to NPR, Brian Segee, an attorney for the Center For Biological Diversity, said the group plans to file an appeal following Curiel's decision. As Segee tweeted via the Center's account:
We intend to appeal this disappointing ruling, which would allow Trump to shrug off crucial environmental laws that protect people and wildlife. The Trump administration has completely overreached its authority in its rush to build this destructive, senseless wall. ... This is unconstitutional and shouldn't be allowed to stand.
Overall, Curiel's ruling certainly provides a boon to the Trump administration's plans to erect a border wall. However, the construction of the border wall is not a foregone conclusion, as it remains to be seen whether or not an appeal to Curiel's decision will be effective. On top of that, don't forget that Trump still has to actually secure funding for the wall.