Federal Judge Rules That Trump's Speech Incited Violence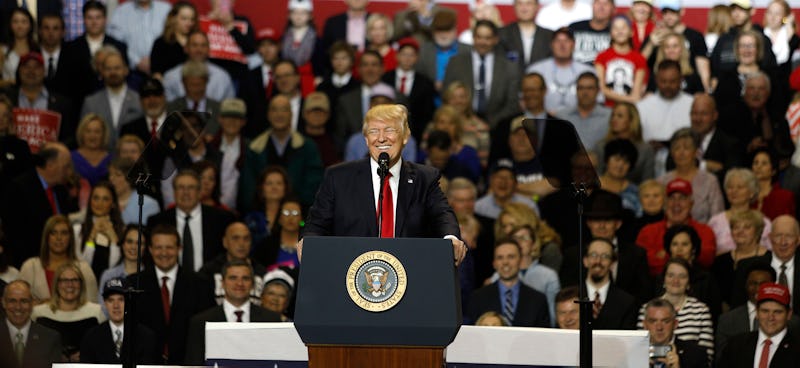 Bill Pugliano/Getty Images News/Getty Images
From the campaign trail to the White House, President Trump has become known for his outspoken temperament. Critical tweets and fired-up speeches are his most recognizable M.O. Now, it seems there are finally some consequences for those words: On Friday, a federal judge ruled that Trump's speech isn't protected by the First Amendment when it incites violence.
The ruling came out of a lawsuit filed in Kentucky. There, three plaintiffs allege that they were victims of physical violence — including punching and shoving — inspired by Trump's speech at a 2016 campaign rally in Louisville. The plaintiffs had reportedly protested the rally, and then-candidate Trump allegedly pointed at the protestors and yelled, "Get them out."
Of course, the Trump team has argued that the now-president was within his First Amendment rights. According to The Associated Press, though, Judge David J. Hale ruled that the crowd's actions toward the protestors were a "direct and proximate result" of Trump's speech, meaning that Trump's speech incited violence. The Supreme Court precedent says that speech that incites violence is protected under the First Amendment. In other words, the lawsuit can continue, and Trump's team may need to tweak its argument — or go up against a Supreme Court precedent.
In his ruling, Judge Hale called Trump's statements "an order," also saying that it's reasonable to believe those words "advocated the use of force." While it's true that much of what the president says — as harsh as it can be — is likely protected by the First Amendment, it's a completely different story when violence arises. That's largely because of a 1969 Supreme Court case known as Brandenburg v. Ohio. In the Brandenburg case, SCOTUS ruled that speech is not covered by First Amendment protection if it is "directed at inciting or producing imminent lawless action," and if it is "likely to incite or produce such action."
Judge Hale's ruling on Friday likely won't be the last you hear of the Kentucky lawsuit. His ruling means that the lawsuit will move forward, adding to Trump's ongoing legal battles. Last week, a federal judge in Hawaii extended the hold on Trump's travel ban, which has been halted until further review by the court. The travel ban lawsuit follows an earlier lawsuit that blocked Trump's first executive order banning certain individuals from entering the U.S.
In fact, the federal judge in Hawaii also took issue with Trump's language. In his ruling, Judge Derrick Watson found that Trump's previous statements about banning Muslims showed that the executive order infringed on the exercise of free religion, another First Amendment freedom. Both the Hawaii lawsuit and the Kentucky lawsuit are still pending, but they could send similar messages to the president about his speech.