The Halt On Trump's Travel Ban Has Been Extended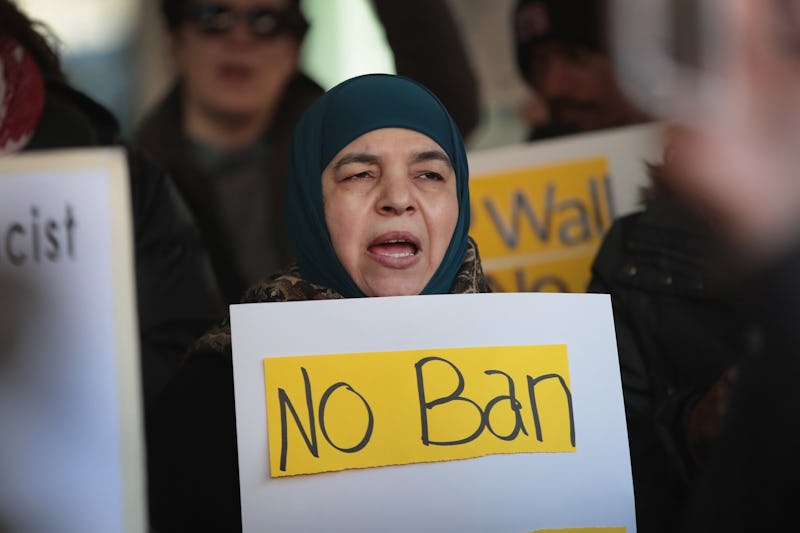 Scott Olson/Getty Images News/Getty Images
Once again, it looks like President Trump's so-called "travel ban" won't be implemented any time in the near future. On Wednesday, a federal judge in Hawaii extended the halt on Trump's travel ban after a request from the state's legal team. Per the court's most recent order, the ban will remain on hold at least until legal proceedings in the Aloha State have concluded.
Proceedings in Hawaii began earlier in March, when state attorneys laid the groundwork for the first lawsuit to challenge the president's revised travel ban. About a week later, U.S. District Judge Derrick Watson ordered enforcement of Trump's policy to temporarily halt, pending further review from the court. On Wednesday, that order was extended by Judge Watson, who issued a preliminary injunction after hearing arguments from both sides of the matter. In other words, the future of Trump's travel ban remains unclear, but enforcement is clearly on hold for the time being.
It's still too early to tell what the court will ultimately find, particularly if appeals are involved after an initial ruling is made by the federal district court. However, the language of Watson's previous ruling suggest that he won't go easy on Trump's Justice Department lawyers.
In that earlier ruling — the one that initially blocked Trump's revised travel ban — the court found that a "reasonable, objective observer" would conclude that Trump's policy was intended to "disfavor a particular religion." To reach that conclusion, Watson considered not just the text of the executive order signed by Trump, but also the statements he made during his presidential campaign relating to Muslim refugees. For instance, the court specifically pointed to the Trump campaign's press release that called for a total ban on Muslim immigration to the United States.
Clearly, the government's lawyers have an uphill battle ahead of them — but that's nothing new. Trump's original travel ban stalled out in court in similar fashion. The revised ban came a short time later, boasting a narrower scope to fit a federal court's ruling. Among other changes, the president removed Iraq from his list of countries prohibited from sending immigrants to the United States.
The biggest question about Trump's travel ban still remains: Will it be implemented? That seems unlikely at this point, but for now, enforcement is on hold. Perhaps Trump will issue a third, revised version of the executive order. Or, perhaps he will move on to another issue entirely, as he encouraged Congressional Republicans to do with healthcare. Either way, there appears to be a long court battle ahead for the revised travel ban as it is currently on the books.