Judy Greer Cried Over How Amazing Her '13 Going On 30' Costar Jennifer Garner Is — For Real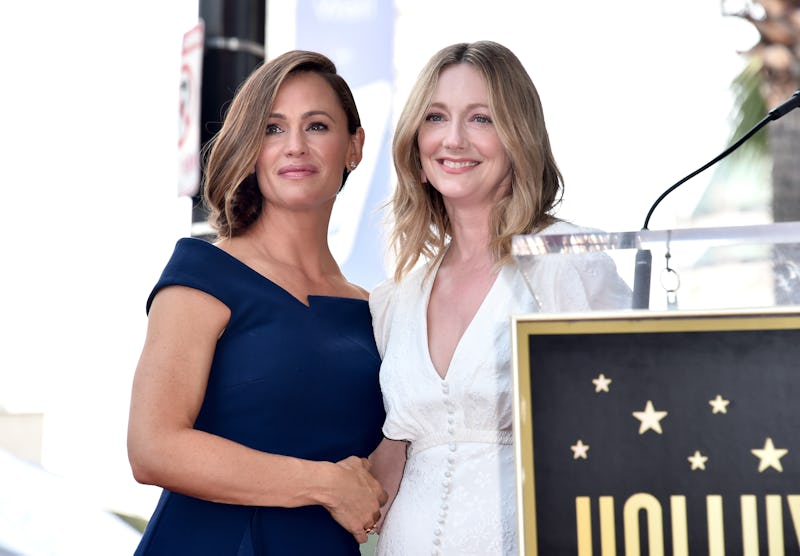 Alberto E. Rodriguez/Getty Images Entertainment/Getty Images
Believe it or not, but Jenna Rink and Tom-Tom are besties in real life. They are so close in fact that Judy Greer cried while praising Jennifer Garner during a sit-down interview with Canada's morning show The Social. The 13 Going on 30 actor gushed about her former costar to the point Greer couldn't hold back her tears.
After watching footage of the speech she gave in honor of Garner's star on Hollywood's Walk of Fame, Greer became very emotional. Through tears, she said about Garner on Wednesday,
"I just really love her so much, and she is such a special person. There's not a lot of people in the world that deserve everything that they've gotten, and all the success, and she is one of them. I'm really happy for her."
She also raved about the Peppermint star as a mom to her three kids, 12-year-old Violet, 9-year-old Serephina, and 6-year-old Samuel. Greer said,
"She's also, like, a really amazing mom! And a really great friend! And I don't understand how she has time for all of it because I do not."
Her words are the absolute sweetest, but it's Greer's actions that can't be ignored. You can tell how much she genuinely cares about Garner and truly believes she is a wonderful person inside and out.
When she gave her speech during Garner's Walk of Fame ceremony (you can watch it below around the 10:05-mark) on Aug. 20, the Kidding actor, again, couldn't help but applaud her dear friend.
She began her speech by saying, "The reason that I'm here today is because 15 years ago someone paid me to be Jennifer Garner's best friend." And here they are as actual best friends. Greer went onto explain how hard it is in Hollywood to stay in touch with people and to maintain friendships. She also said that after her first interaction with Garner, she could tell she never wanted that to happen with the talented actor.
She said,
"From the minute I met JG at our first rehearsal for 13 Going on 30 I knew I really didn't want that to happen. It's really hard work to stay friends with someone for so long in any business, but in ours it can be particularly tough. I was and I still am so inspired by her devotion to her girlfriends — and I'm so lucky to be one of them."
Greer didn't stop there and added, "Making 13 Going on 30 was so special. It was the best job of my life because of so many people, but it started with her. Her attitude at work every single day was an inspiration." She later praised Garner even further be declaring, "I am here to tell you that Jennifer Garner is not just like us, she is better than us. And not because she's a star, but that's just who she is."
When women uplift each other like Garner and Greer, it's just further proof how amazing we can be when we're united. Their love for one another also shows what a real friendship looks like and the greatness that can happen when women support one another.
Even though Jenna and Tom-Tom might not have been friends, it's heartwarming, especially for 13 Going on 30 fans, to see the actors who brought them to life as real-life best friends.