Julie Chen Is Reportedly Leaving 'The Talk' Following Her Husband Les Moonves' CBS Exit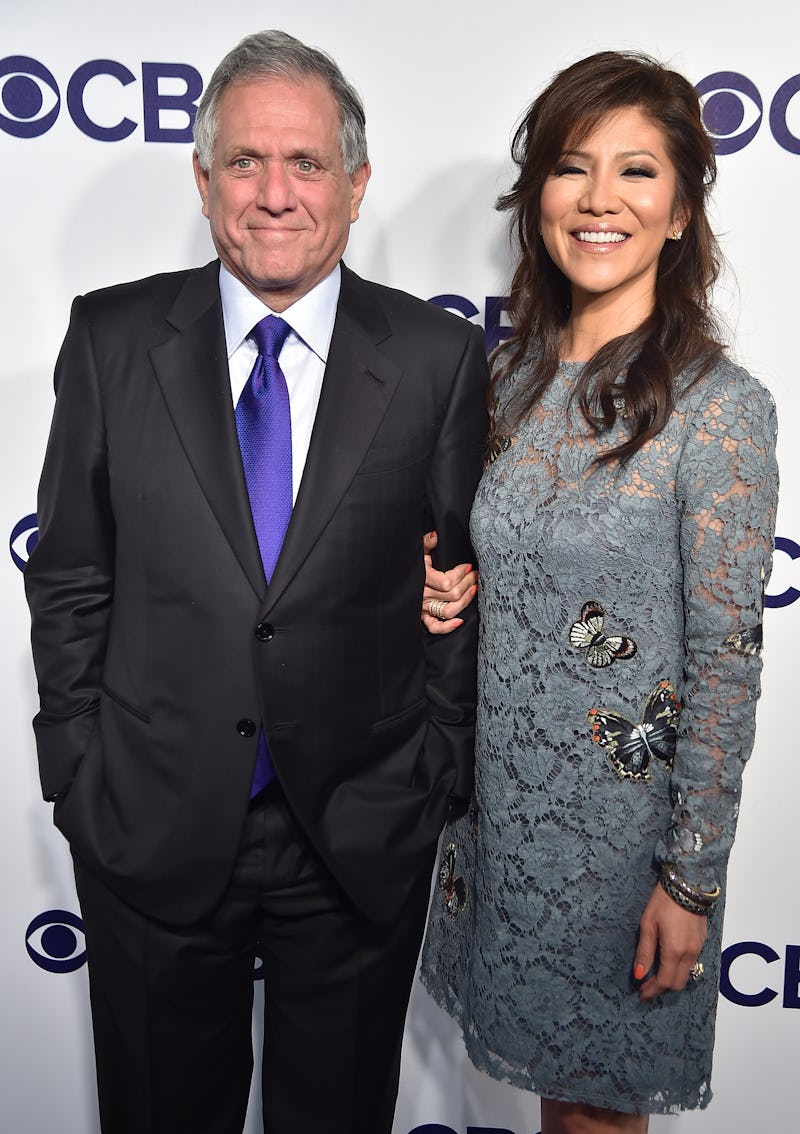 Theo Wargo/Getty Images Entertainment/Getty Images
Just a week after Les Moonves stepped down as CEO from CBS, his wife is apparently making an exit of her own. According to what sources close to the situation tell CNN, Julie Chen will reportedly leave The Talk on Tuesday with a pre-recorded sign-off message. Chen has been absent from the show since news of Moonves' departure broke, and now, it seems like she's decided to make that absence a permanent one so that she can fully support her husband. (Bustle reached out to Chen's manager for comment, as well as reps for The Talk, but did not receive an immediate response.)
UPDATE: On Tuesday afternoon, CBS released the following statement to Bustle about Chen's exit:
"For eight seasons, Julie Chen has co-hosted THE TALK with incredible energy, grace and professionalism. Her talents played a big role in our successful launch of CBS' first network daytime talk show, and in the series growth into an Emmy Award-winning broadcast. All of us here have tremendous appreciation for the dedication and passion she brought to the show every day and for her generous role as an ambassador for CBS Daytime. We are grateful for her many other contributions, respect her decision and wish Julie all the best in everything she does."
EARLIER: "She has decided that her main focus needs to be clearing her husband's name from accusations made 25-30 years ago and tending to her son," the source told CNN.
The insider also claimed that although she's reportedly leaving The Talk, Chen will continue her hosting duties on Big Brother, which she's already returned to. On Sept. 10, one day after news of Moonves leaving CBS broke, Chen released a brief. statement about her future plans with the network.
"I am taking a few days off from The Talk to be with my family," Chen's statement said, according to The Washington Post. "I will be back soon and will see you Thursday night on Big Brother."
In Chen's absence, her The Talk cohosts opened up a dialogue about the accusations against Moonves. As E! Online pointed out, Sharon Osbourne opened the show on Sept. 10 by addressing the allegations against Moonves. Osbourne said,
"Whatever types of hardships I have had over the last eight years, Julie has always been there for me. It's very embarrassing and upsetting to have to talk about her husband. We feel it's right."
Cohost Sara Gilbert added that while she wants to support Chen, "This is an important time in our culture and just because this hits close to home, it doesn't change this story. All women's stories matter and these women's stories matter. This is very serious and the appropriate actions need to take place. I'm happy when women are heard because for a long time they haven't been."
Chen has been vocal in her support of Moonves since sexual misconduct allegations first surfaced against him earlier this summer. (As for Moonves, he has denied the allegations.) In a tweet on July 27, Chen wrote,
"I have known my husband, Leslie Moonves, since the late '90s, and I have been married to him for almost 14 years. Leslie is a good man and a loving father, devoted husband, and inspiring corporate leader. He has always been a kind, decent, and moral human being. I fully support my husband and stand behind him and his statement."
On Sept. 9, Moonves released the following statement to Variety:
"For the past 24 years it has been an incredible privilege to lead CBS's renaissance and transformation into a leading global media company. The best part of this journey has been working alongside the dedicated and talented people in this company. Together, we built CBS into a destination where the best in the business come to work and succeed. Untrue allegations from decades ago are now being made against me that are not consistent with who I am. Effective immediately I will no longer be Chairman and Chief Executive Officer of CBS. I am deeply saddened to be leaving the company. I wish nothing but the best for the organization, the newly comprised board of directors and all of its employees."
CBS has launched an independent investigation into the claims against Moonves, which is ongoing. It's unclear what will happen next. As for Chen, fans only have to wait until Tuesday afternoon to find out if the reports are true and she's indeed leaving.
If you or someone you know has been sexually assaulted, call the National Sexual Assault Telephone Hotline at 800-656-HOPE (4673) or visit online.rainn.org.